FACTOR must end the Artist Development grant
I have an idea to replace it.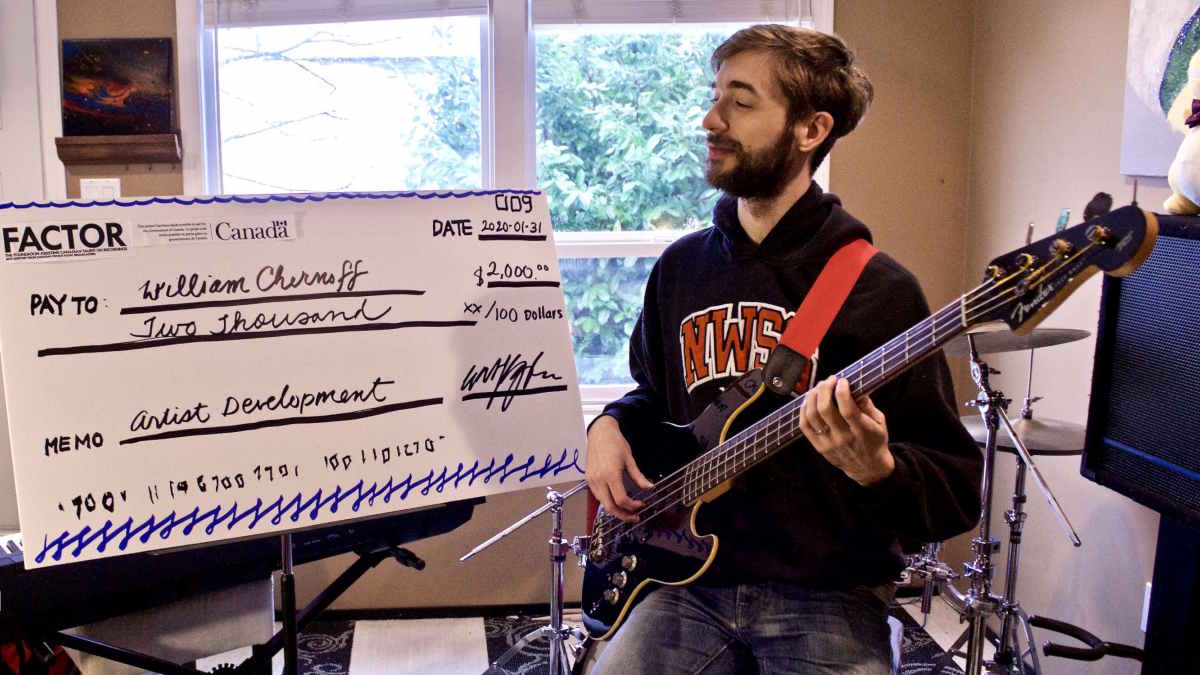 Full disclosure: I am a past recipient, as you see with the homemade giant cheque. I like FACTOR, but I won't recommend Artist Development again. This article is a collection of my learning about the program.
---
The Foundation for Assisting Canadian Talent on Recordings (FACTOR) spent almost C$1 million last year on a bad grant program. FACTOR's Artist Development program must end, and I have an idea to replace it.
FACTOR's accomplishments
FACTOR serves big artists well. I like most of their programs, and some critiques of them are weak. Grimes, for example, did no wrong when she appeared in a management company's successful application for C$90,000.
Unlike the provincially-funded Amplify BC, FACTOR gets funding from both the federal government and from the Canadian radio industry. Artist Development is FACTOR's smallest-budget program. Last year it gave out C$950,000, only 3.45% of all FACTOR's disbursements that year (p. 11).
It's also their the second-most selective program, with 475 successful applications out of 1,241 in the 2019-20 year (see above link, p. 10). And it's the most popular, as its total number of program applications is the highest.
Successful applicants get C$2,000 toward a budget of at least C$2,667. I'm not saying that's not enough cash. Rather, getting it takes way too long.
My own application shows how unhelpful the long timeline can be.
My first FACTOR Artist Development application
When I applied for my Artist Development grant in October 2019, FACTOR asked me:
"Detail where you are in your career, and provide an overall strategy/plan for growth in the coming year. Describe your challenges, ambitions, and where you hope to be after your Artist Development Year."
I planned to find a customer base of 120 people and laid out some steps to get there. The steps were things like email newsletters and live events.
I got the grant, so FACTOR liked my plan. And I gathered those 120 people by this January.
But the plan was too small. The path to 120 was slow, and it didn't grow revenue quickly enough to sustain me.
Attempting to reach an audience quickly helps an artist learn whether or not they have a viable career. Speed provides the artist with feedback on what's good, because they can get new projects in front of people more often.
Why not plan to reach the 120 in one month, not a whole year? If I can't act with that speed, I can't prove that my artist career will be a viable business—and I'm likely to fail.
I need as many chances to find word-of-mouth support as I can get. Otherwise, I pay for publicity and advertising on top of the music production costs.
I didn't know how much some quickness would have helped. Looking back now, I wonder why FACTOR liked my plan that was too slow.
FACTOR Artist Development problems
Planning for one year with a C$2,000 budget subsidy is absurd.
The full timeline is even longer: three-months for application plus one-year for activities adds up to 15 months.
This would be fine for artists who are already big, can take a handful of hours to apply, and just want more subsidy for their great ongoing work. However, this program supposedly gets artists off the ground. What gives?
Canadian writer Alex Danco identified this problem outside of music, for Scientific Research & Experimental Development credits ("SR&ED credits"), in his January 2021 article "Why the Canadian Tech Scene Doesn't Work" (emphasis mine):
"The problem with SR&ED credits, honestly through no fault of their own, is that you have to say what you're doing with them. This seems like a pretty benign requirement; and honestly it's pretty fair that a government program for giving out money should be allowed to ask what the money's being used for. But in practice, once you take this money and you start filling out […] what kind of R&D value you're creating, you are well down the path to destroying your startup and killing what makes it work."
What makes early-career artists work is speed. The speedy artist can react to the demand that they find and become viable.
Unfortunately, FACTOR rewards me and almost 500 other early-career artists like me every year for planning too slowly. On top of that, it takes many more hours of time to apply.
That's malpractice. Where does the speedy artist go to get support? Right now, nowhere, as far as FACTOR or other initiatives like Amplify BC's Career Development program are concerned.
If the flagship funder of early-career artists works on a 15-month timeline, the artists will tell 15-month-long stories, and that doesn't work. So let's speed up the timeline.
The Fast Development idea
FACTOR must end the program and re-allocate the same funds to a Fast Development program, which will allow more early-career artists to be speedy.
The Fast Development grant will run at the same two times per year as its predecessor and award the same C$2,000. But it will finish a cycle in three-months—including applications.
For example, artists will apply in May, with the window open until the day after the May long weekend. Then, FACTOR will judge applications in the last week of May, contact applicants within 7 days, and transfer money in the first week of June. Activities could then take place from June through the end of July.
For this grant to work efficiently, FACTOR must not require final reporting from Fast Development recipients. They can audit an applicant, but they must otherwise trust the applicant to spend this relatively small award. (I'm happy to report that Artist Development moved in this direction recently, as FACTOR stopped requiring budget submissions for it through the pandemic.)
Again, an artist could apply in May, get cash in early June, and finish activities by the end of July. This is in stark contrast with my application, which from the same starting point would've been to apply in May, get cash in September, and finish activities in August the following year.
Conclusion
Early-career artists need to move quickly instead of detailing their work far into the future. Fast Development projects could rank among FACTOR's proudest achievements. Imagine the broad range of applicants who, if encouraged to take a speedy path, will find more demand and become major contributors to Canada's music community.
If FACTOR will not speed up the Artist Development program, they must find something better to do with that nearly $1 million budget line item.
In the meantime, I would relish the chance to raise some Fast Development grants privately, proving the value of speed in arts funding.