Al Muirhead - Live from Frankie's
Al Muirhead, on his album Live at Frankie's and the Yardbird, spends time in Vancouver with a quintet.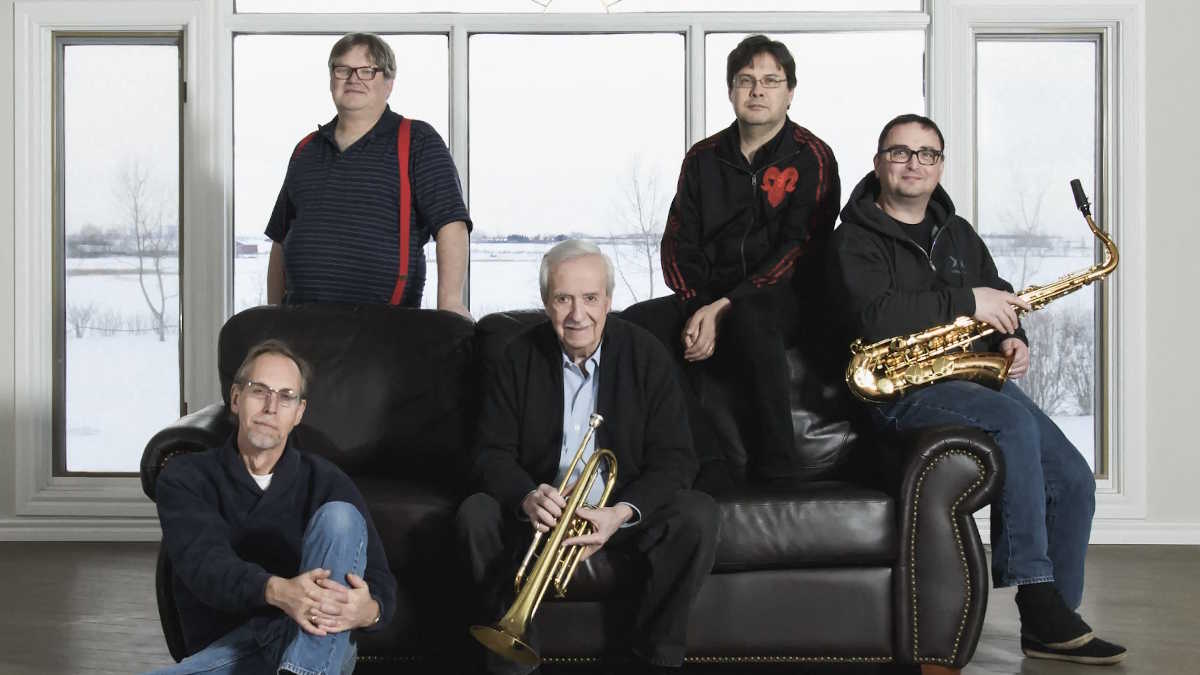 New album: Live at Frankie's and the Yardbird by Al Muirhead Quintet
On the latest album from Canadian brass legend Al Muirhead, Live at Frankie's and the Yardbird, he spends time in Vancouver with a quintet. The album released March 26th, 2021.
Personnel
Chronograph Records made this album out of Alberta. You may remember them from their work on Arancina by David Restivo, covered here in January 2021.
The part of the album recorded at Frankie's Jazz Club in downtown Vancouver spans tracks 2, 3, 4, and 9. On those tracks, Vancouver's esteemed drummer Jesse Cahill plays with Muirhead (trumpet), Kelly Jefferson (saxophone), Reg Schwager (guitar), and Neil Swainson (bass).
However, their time represents less than 18 minutes of the full 51-minute runtime. The rest comes from a session at the venue Yardbird Suite in Edmonton, where Ted Warren plays drums and Jim Head plays guitar.
Muirhead describes in the liner notes how this jumble of personnel happened. First, he states that the main lineup for the quintet is himself, Jefferson, Schwager, Swainson, and Warren. Then, he cites Cahill's and Head's professionalism in Vancouver and Edmonton respectively:
"Ted was unable to play the Vancouver date so Kodi [Hutchinson, of Chronograph Records] hired a very well known and extremely talented drummer – Jesse Cahill. We literally shook hands on the bandstand meeting for the very first time. Listen to how he sounds, as if he had been playing with us all his life."

"When we arrived in Edmonton, Reg had to return to Toronto. Kodi brought in guitarist Jim Head to join us. Listen to how he plays. Wow!"
Like Muirhead's grace and classiness in the liner notes, the album is a lovely document of some of the best in Canadian jazz.
About Al Muirhead
Muirhead has been performing professionally for over 70 years, according to his official bio with Chronograph. He represents the classic jazz musician career, where live playing outweighs studio time by orders of magnitude.
According to a press release, Muirhead's recording career began in 1953. Then, during a night of dancing for guests at Waterton Lakes National Park, he recorded live with the band.
Amazingly, this first gig for Muirhead happened one year before jazz legend Clifford Brown wrote "Joy Spring" at the height of jazz's bebop era, in 1954. And this quintet's recording of "Joy Spring" is my favourite track on the album today!
Al Muirhead on record
It's appropriate that Muirhead made his current album in the same live fashion. Although the band found spontaneity by not over-preparing, they always sound poised, and they swing with joy.
Also from the press release:
"This is an in-the-moment recording that couldn't be replicated, quite different than a produced studio recording. There is no option for overdubs or retakes here."
Muirhead, also in the liner notes, relates how Chronograph produced this album out of a tour for another album they made together:
"A couple of years ago, Kodi Hutchinson from Chronograph Records put together a band to showcase me […] later that year, Kodi sent us out on the road across Canada during summer jazz festival season to showcase the band."
That album was Undertones, and the year was 2018. It features the main lineup of the Al Muirhead Quintet.
They recorded it in the early months, toured that summer, and submitted for the Junos that fall. The project earned a nomination in Jazz Album of the Year: Group at the 2020 awards.
Listening now
Three numbers from Undertones made the setlists of Live at Frankie's and the Yardbird; "A Tune for Cal", "I Don't Stand a Ghost of a Chance with You", and "Four Brothers".
"A Tune for Cal" is the sole composition-arrangement by Muirhead here, other than the humorous, 26-second "Intermission Song" from the Frankie's part. Don't skip it! The other compositions are Tin Pan Alley, swing, and hard-bop standards.
This audience-shot video captures a moment from the Frankie's gig, where Muirhead solos on the bass trumpet:
Funding
Almost $40,000 in grant funding came together to produce Muirhead's work around Undertones and the live gigs that led to this album.
Chronograph earned C$13,442 from FACTOR's Comprehensive Music Company program for their Muirhead file in late 2017, getting ready to produce Undertones.
Additionally, Muirhead received $10,000 from Calgary Arts Development's Individual Artist Program in 2018. He also received $14,000 from the Alberta Foundation for the Arts in Music Individual Project Funding.
The takeaway
This project is a group of many talents and initiatives in full alignment. Everyone has done their best work so that one of Canada's most respected jazz artists has the highest-quality records to his name.
Add Muirhead to the list of veterans who will remain on my mind, and whom I can dream of meeting someday. And take that, Alberta; of the two takes of "Tenor Madness" on this album, I think the Vancouver one is better.
Find this album on Bandcamp here.
The artist maintains the link above. If the link broke, please contact Rhythm Changes, and thank you for the heads-up.