The BC World Music Collective performs for Home Routes
Recruiting the band for the Travelling Goodtime Medicine Show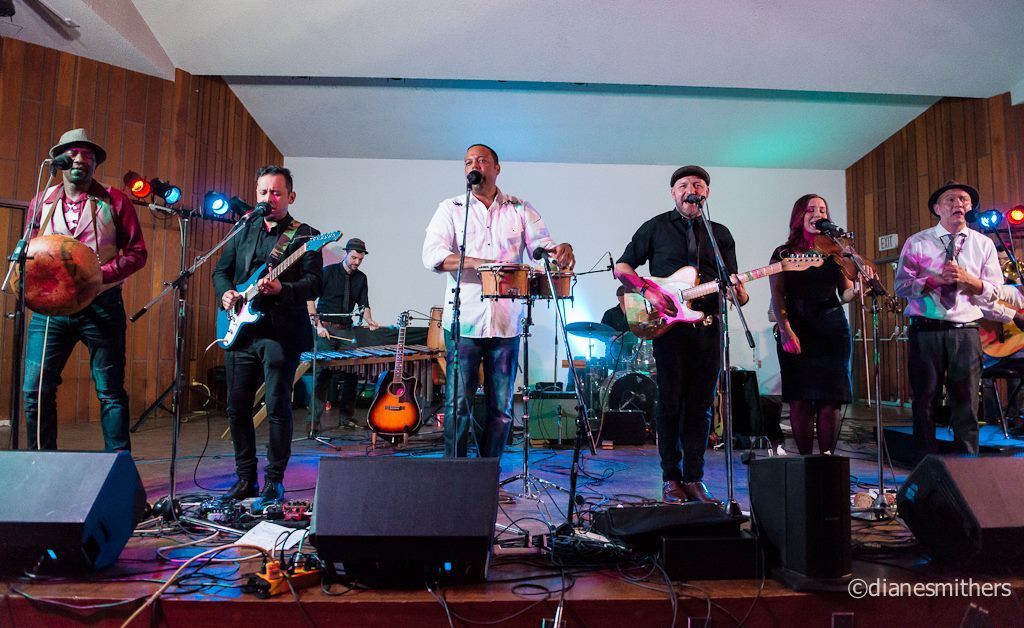 The BC World Music Collective is a folk-festival-style band that Home Routes, a non-profit concert presenter, will feature on Friday through their flagship gig series: the Travelling Goodtime Medicine Show.
The BC World Music Collective
The collective started at the Vancouver Island Music Festival of 2015, coming together in a familiar kind of collaboration: one where the festival smashes together different acts in rehearsal, then puts on a unique live set.
In 2016 – just over a year after that first performance – the collective sounded and looked like this.
And fast-forwarding five years to the Harrison Festival of 2021, they are now like this:
What an increase in production afforded to the band! They sound in peak condition now.
This weekend, for Home Routes and the Travelling Goodtime Medicine Show, you can hear them in the highest-quality production environment they've yet found: Blue Frog Studios in White Rock.
Lineup of the collective
The BC World Music Collective has a four-part core of featured vocalists and songwriters; then, they add more instrumentalists and singers to reach a lineup of roughly a dozen performers.
Tom Landa on vocals and guitars, and Kalissa Landa on violin and vocals, are at the centre of the band's arrangements with Tom also acting as the primary emcee. The Landas are also key members of two other notable bands: The Paperboys and Locarno.
Ronnie Dean Harris, who performs under the name Ostwelve, is an indigenous rapper. He is the alternate emcee throughout most sets.
Tonye Aganaba is a multi-faceted artist who has performed at a high level in folk, rock, and R&B; one place to catch up with them is on this episode of the Resonant Rest podcast with Oceaan Pendharkar.
Adonis Puentes, also on vocals and guitars, is often the first member of the collective to pick up the spotlight during a set; and his twin brother, Alex Cuba, just won a Grammy Award for Best Latin Pop album!
On guitars, Celso Machado and Pedro Mota contribute different sounds, primarily acoustic and electric lead guitar respectively; Celso also plays percussion, and Pedro adds vocals too.
Nick La Riviere on trombone is the main horn player.
The percussionists include Kurai Blessing, Robin Layne, and Liam MacDonald, while Ronnie Swirl is the current bassist.
Home Routes
Home Routes is simply a unique organization in a world where people throw around that word too easily. They're the meaning of folk.
They presented my former band twice, so based on that experience, here's a breakdown of what they do:
They collect potential hosts, who want to put on concerts in their home without expectation of profit, in various cities within a region of Canada
They organize these hosts into routed tours, and they book artists to tour through them
Artists take most of the admissions, while Home Routes keeps a small commission to cover their organizational costs
At least, that's what they did until the pandemic; Early Spirit's last Home Routes tour was in February 2020. (It's when I cut my hair before letting it go!)
After two years away from the live show business, Home Routes will plan their return for September 2022 – and they need to comb through their roster of hosts, finding out how many are still interested. They'll need as many more hosts as they can find, hence the need to get the word out about what they do.
The Travelling Goodtime Medicine Show
I don't usually quote directly from press releases, but this backstory intrigued me:
"In August 1980, Winnipeg Folk Festival founders Mitch Podolak and Ava Kobrinsky produced a tour across Alberta called The Travelling Goodtime Medicine Show. The tour was a school bus full of now legendary musicians - Sylvia Tyson, Stan Rogers, Connie Kaldor and Jim Post - travelling from town to town, bringing one-day mini-festivals to each of these communities.

"This tour was an important catalyst for the founding of The Calgary and Edmonton Folk Festivals, also laying the theoretical framework for an organization that would begin to take shape 25 years later: Home Routes.

"The 2022 version of the Travelling Goodtime Medicine Show is a series of 5 streaming concerts from premier music venues in Winnipeg, Toronto, Calgary, and Vancouver, available to everyone, everywhere. What could be more folk than that?"
I can answer that question: born on a festival stage and passing the spotlight to its members in-the-round, it's the BC World Music Collective!
The win-win for Home Routes and the BC World Music Collective
So, Home Routes really needs a marketing push to come back to life this fall.
And the BC World Music Collective, equally eager to get back at it, needs a premium studio to capture them like they've never been captured before.
Good for them for finding each other right when they need it. If you want to hear some of Canada's finest roots music performers at their peak, now's the time.