Bobby Wiens: Talking Drums
Wiens' convivial first album makes you believe in the jazz tradition's life force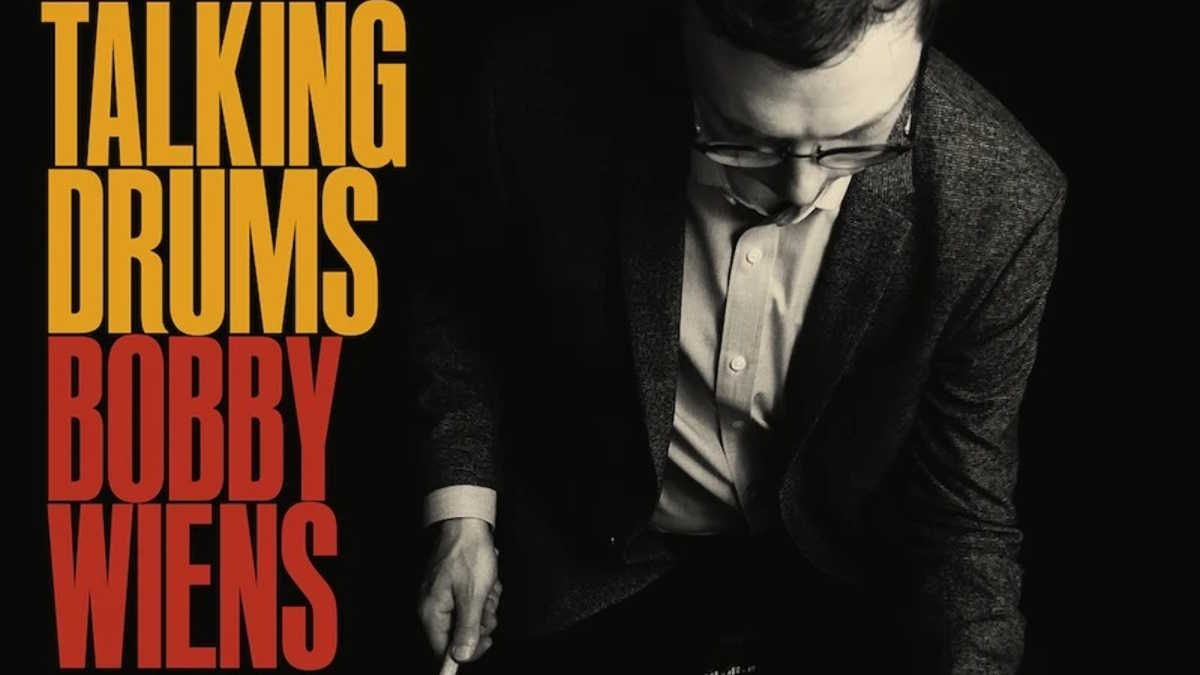 Here's a Rhythm Changes Premiere for a jazz album! It's Talking Drums by Bobby Wiens, a Canadian drummer who now lives in the Denver, Colorado area.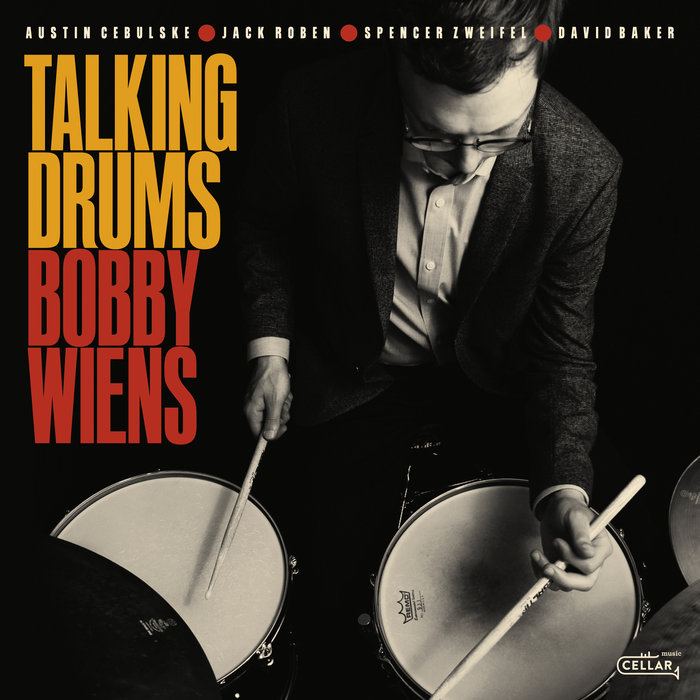 This Friday, November 6 is the release date for Talking Drums, Wiens' first album as a bandleader. He recorded it mere months ago at the University of Northern Colorado on July 24, 2020 with the following musicians joining him:
Austin Cebulske (tenor saxophone)
Jack Roben (guitar)
Spencer Zweifel (piano)
David Baker (bass)
Background
Wiens was born and raised in Alberta, but I knew him in Vancouver from approximately 2014-2015 when he finished his undergraduate education in music. After that, he started to live and work in the United States.
This album was supposed to be a Master's recital by Wiens. The recital would have had roughly the same track list as this album, but without the three original tunes: "Speaks Volumes" (Zweifel), "A La Georgie" (Cebulske), and "Bill" (Wiens).
In that case, they would have added some more material from the post-bop canon, like Cedar Walton's "Martha's Prize".
At first, the band only intended to perform something so Wiens could graduate with his Master's degree. However, he made space for the original compositions and made the most out of the opportunity once the session shifted.
The band ended up recording 11 tracks in total that day! (They kept eight for this album.)
Zweifel was at William Paterson University in New Jersey when the recital was scheduled originally, so his appearance on this album is a blessing from the circumstances.
Mixing happened within a week, and Cellar Live Records signed up to distribute it. Wiens writes in his liner notes about "a deep feeling of joyful swing that simply MUST be danced to [...] evocative of the spirit of jazz", and that perfectly matches the ethos of Cellar. So, the two partners are very well-aligned!
Wiens notes that in particular, "So Sorry, Please" and "Little Rascal on a Rock" were tunes he has played on gigs. He spoke of often performing as a guitar trio with Roben and Baker.
Speaking of which, let's dive into the fun, insightful interview Wiens generously gave to me!
The interview
This interview has been edited for brevity:
---
WILLIAM CHERNOFF: Tell me about composing your tune called "Bill".
BOBBY WIENS: "It's named after a combination of two of my favourite composers: Bill Evans and Bill Stewart! When I compose I have a melody in my ear, or a specific rhythmic motif, and then I develop it from there. But I don't think too much about the drums initially. I'm thinking more about coming up with a coherent melody and interesting harmony."
What does the UNC recording studio look like?
"It's a gorgeous studio. Pretty big rooms, because they're equipped to record an orchestra if need be. The session day was soon after the building re-opened in summer, very hot. The heat contributed to the emotional energy."
You wrote in your liner notes that you had "really no expectations as to what these recordings would become". I'm wondering if you have in mind a counterfactual to it. Are expectations good?
"We all brought an intensity to the session. It's good to have a plan and expectations. All I meant in my liner notes was that we just wanted to have fun! It was pretty new, playing together again after being self-isolated for so long. It was a really refreshing experience, and I wanted to let that be the vibe: not any perfectionist expectations."

"Jazz records were blowing sessions, from the 50s and 60s especially. They were recorded in that way. As part of the tradition, I figured it would be okay, and it turned out fine!"
I messaged David Baker, your bass player, and he said about you, "He has always challenged me to learn and listen to deeper records than I knew at the time." What are some records you turned him on to?
"Probably Mel Lewis. What Mel did outside of the Thad Jones orchestra. He's one of my favourite musicians ever, one of my biggest influences on the drums."
---
EDITOR'S NOTE: Let's take a moment here to respect the albums name-dropped in this interview. I didn't get them all on the record, it was fast-moving!
Here's five albums just by Mel Lewis or Elvin Jones that Wiens named. Let me know if you check them out:
The Lost Art - Mel Lewis Sextet
The Thad Jones - Mel Lewis Quartet
Puttin' It Together - Elvin Jones
Live at the Lighthouse - Elvin Jones
Live at the Village Vanguard - Elvin Jones
Okay, back to the interview!
---
And what did they turn you on to?
"Jack likes Grant Green, Jim Hall, especially Peter Bernstein. Then, he has some more off-the-beaten-bath influences like Pasquale Grosso, a guitarist who plays the music of Bud Powell. That's probably why we played [Bud Powell's tune] 'So Sorry, Please'."
Tell me about working with Cellar Live Records.
"Once I decided to release these recordings, I gravitated to Cellar. I reached out in August and shared rough mixes, asking if [label owner Cory Weeds] had interest. He replied immediately and said he'd listened to it in its entirety, and expressed interest. I was expecting a no because we were a bunch of young college students. It was really easy to work with him, and we got it out so fast."
"The Beehive" was recorded by Harold Mabern, John Webber, and Joe Farnsworth. I heard that rhythm section play live in Vancouver a few years ago. What does their influence mean to you?
"I had a 3-month residency to study drums with John Riley in New York, from the Alberta Foundation for the Arts. When I think of Joe Farnsworth, I think of how' he's carrying on that super-swinging—Philly Joe Jones, Art Taylor, Roy Haynes—pure swing tradition. There's that band in New York called One For All…

"When I played 'The Beehive', I wanted to have a burner on the record."
I often associate you with the tune by Cedar Walton "Bolivia", and your opening track sounds like that.
"Our engineer said the same thing. Billy Higgins has always been one of my favourite drummers. Greg said, 'This has an Eastern Rebellion kind of feeling to it.' It's that mix of New Orleans and swing. 'A La Georgie' has that feeling as well. It moves my soul!"
Referencing your liner notes again, what does it mean for musicians to "go beyond doing their job"?
"The job is playing the right notes and good time, playing in tune and matching the vibe. Beyond that, everyone has a deep love for the music. When it's primarily improvised, having really big ears and listening to the nuanced things that everyone else is doing. Compassion and empathy for the people you're playing with is definitely a big part of the band.

"I've always struggled with this thought of whether this is the time to put out a record. It's my first one as a leader. I'm always happy to be a sideman [...] but there's an insecurity where I'm thinking this has to be big.

"I put that aside. This is a chance to document what I'm into, the people I'm playing with."
---
More about the bandmates and their playing
If the job is musicianship, the art is interaction. As for the ensemble, I can hear how Roben vibes like Grant Green, with his ear always locked-in to the melody, finding tuneful additions.
Cebulske's smart articulation and rhythmic grounding on the tenor reminds me of George Coleman in the best possible way. You can hear Cebulske, like Coleman, oozing rhythm all the way down through his feet and uniting with the rhythm section.
Zweifel is endlessly supportive of his bandmates, even on his own tune "Speaks Volumes", and that speaks volumes about how he's such a pro! I like when he gets down and dirty with some improvisation influenced by McCoy Tyner, where you can't separate the left hand from the right without losing the magic.
Baker grooves unmistakably hard on the bass, sounding poised like he's ready for anything. He is equally deferential, jumping into the spotlight mostly on the guitar trio tracks. But his sound makes me miss the Tangent Cafe and your equivalent of the community jazz hang, where you can sit so close that you hear mostly the acoustic instrument and not the amp.
The takeaway
Wiens' convivial first album makes you believe in the jazz tradition's life force. His skill on the drums is undeniable, as is his quiet confidence as an ambassador for jazz.
-William Chernoff
PS. The next Rhythm Changes will be covering a live gig for the first time! Email me if you want to watch it with me (it's virtual).