Caity Gyorgy & Mark Limacher: You're Alike, You Two
Her fourth album is a vocal-piano duo of Jerome Kern songs, plus one original at the end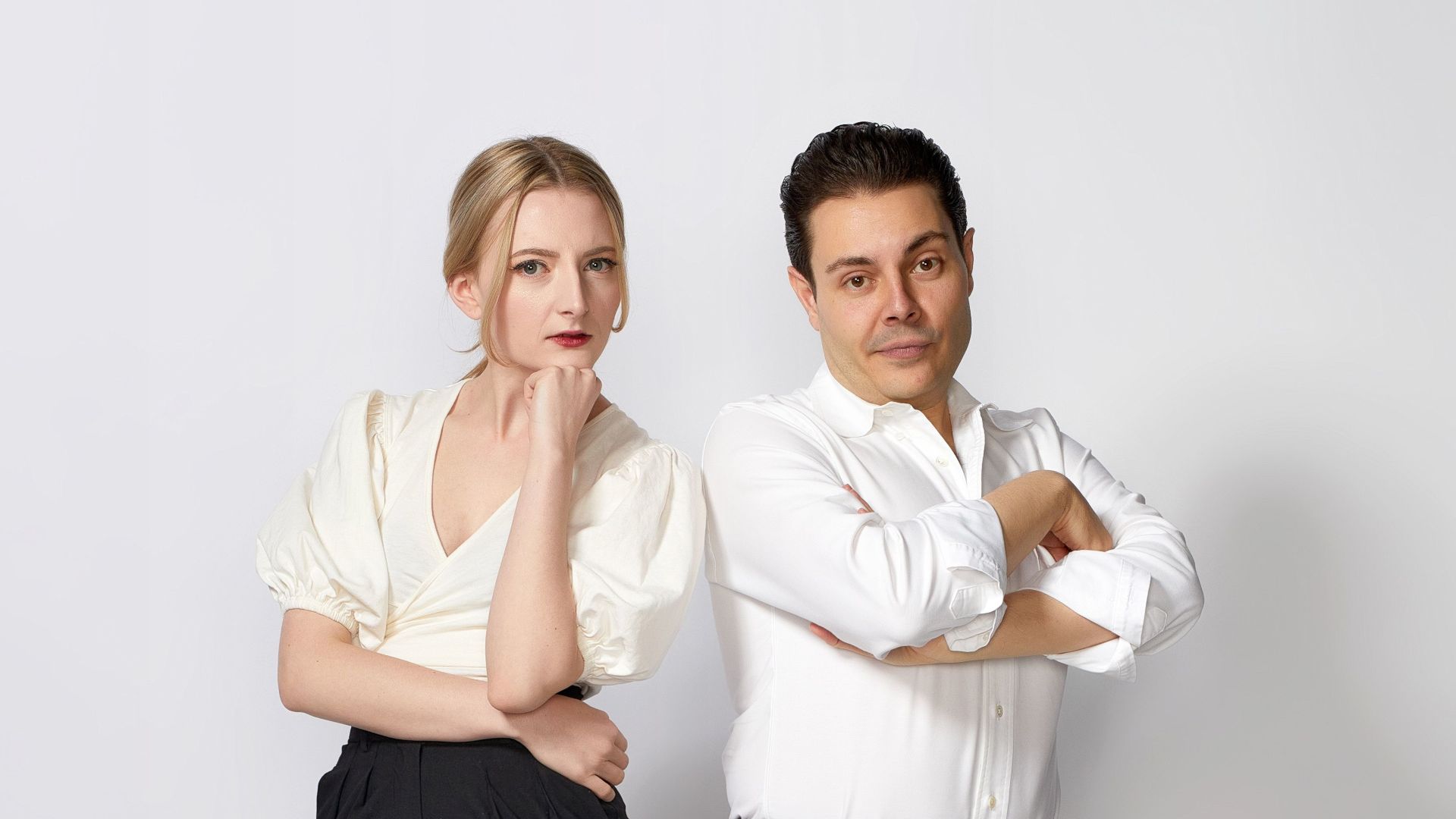 Caity Gyorgy and Mark Limacher released their vocal-piano duo album of Jerome Kern songs – plus one original – You're Alike, You Two on July 21, 2023.
On one hand, this fourth album is a change of pace for Gyorgy. After collaborating with many musicians on 2022's Featuring and 2021's Now Pronouncing as well as touring with Scott Bradlee's Postmodern Jukebox, the focus of accompaniment duties onto just piano definitely narrows the spotlight toward her.
But she also dropped two lively singles in 2021 with only Ilhan Saferali on piano: the standards "I Won't Dance" (written by Kern!) and "I Get a Kick Out of You". You're Alike is a more polished continuation of the approach from those two singles.
Limacher, for his part, has two albums out as a composer/improviser.
No, Gyorgy and Limacher don't play "All The Things You Are". The first two songs cover both sides of the relationship coin: the celebratory "Nobody Else But Me" and the biting "A Fine Romance". After the short, haunting "Yesterdays", "I'll Be Hard to Handle" reverses that bite.
The emotional mood turns more towards gratitude on "You Couldn't Be Cuter". When Gyorgy sings, "My ma will show you an album of me that'll bore you to tears," I chuckle at the double-meaning humour that's permitted by leaving out the word photo.
The vocal recording has enough reverb, and the piano is live enough, that you expect to hear applause from the room at the end of some numbers. Gyorgy has a penchant for restraining the dynamic level of the song for almost the entire track, then suddenly growing at the climactic point to new heights.
"April Fooled Me" has the title lyric and is the album's softest ballad, with Limacher suavely leaving all the space as he rolls along through the arrangement.
"Pick Yourself Up" is a quick bit of advice, unlike most of the songs, which tell about a lover — giving way to some easygoing trading between scat and piano.
"I used to dream that I would discover the perfect lover someday," Gyorgy sings to set up "Bill". I can't help but imagine a self-aware theme for the singer who, newly eminent as the belle of the ball in our niche of the world, finds new ways to stay grounded among her day-ones. Ah well, to speculate on that too much is to miss the straightforward fun of the record; "I'm Old Fashioned" is one of those laid-back swinging tracks.
However, then there's "The Bartender", the lone Caity Gyorgy original on the album. She sings: "While I love a classic as much as the next [...] why might I restrict my brewing to the same repeated motions?" There's more to the lyrics than that, but it's interesting to hang onto that line and consider the two-time Juno winner's successful artistic direction.
You're Alike, You Two is a wonderful record by a well-matched duo, demonstrating that whether she has a big band or just 88 keys around her, Gyorgy's potential in the vocal jazz tradition knows – as her first album said – no bounds. Having performed three times in Vancouver earlier this summer, she is clearly well-loved here and will likely continue trekking west often to make the most of it.
You're Alike, You Two: Nobody Else But Me; A Fine Romance; Yesterdays; I'll Be Hard to Handle; You Couldn't Be Cuter; Bill; I'm Old Fashioned; April Fooled Me; Pick Yourself Up; The Bartender. (36min)
Personnel: Caity Gyorgy on vocals; Mark Limacher on piano.