Live music
Bassist Conrad Good on his studies, motivation, & playing
"Bass playing is a great opportunity to focus on the well-being of others," Conrad says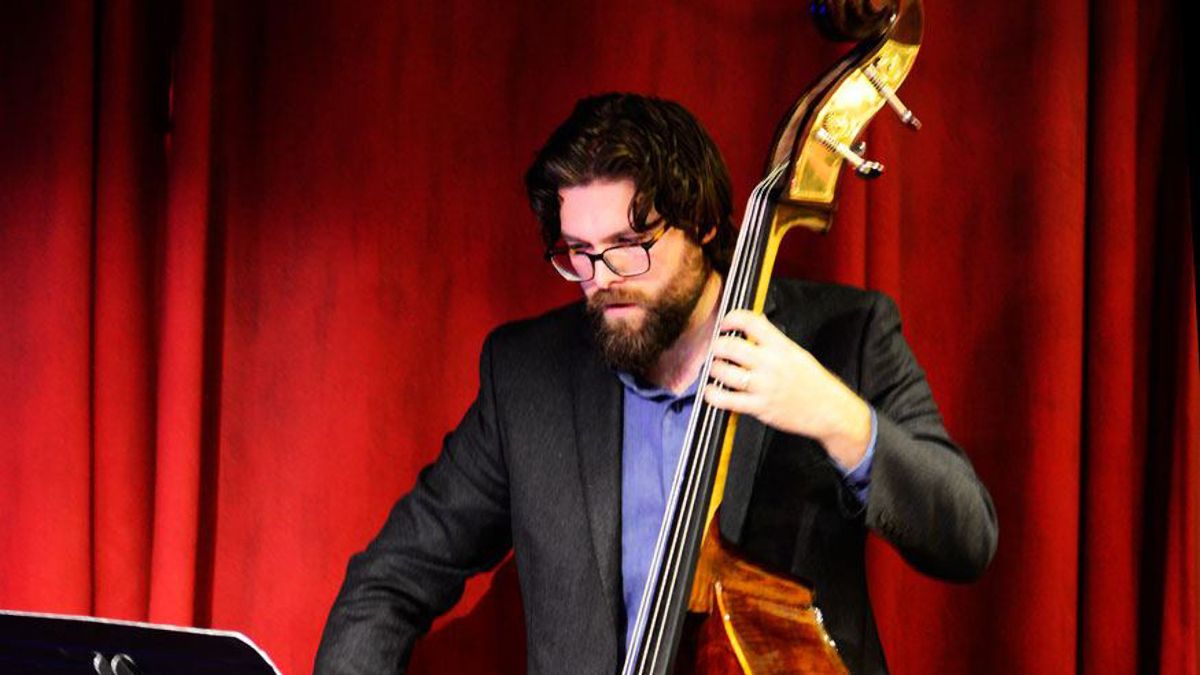 Like so many other jazz fans I have become rather enchanted by bassist Conrad Good's playing over the last several years. I've been fortunate to be able to sing with Conrad in various settings and I've also heard him perform with many other instrumentalists and vocalists. Conrad is in great demand these days and he is certainly an integral player in our jazz community. Lucky us!
No matter what else might be happening "behind the scenes" and in life in general there is a palpable connection to the music when one listens to Conrad's playing. He's a deep listener and musically commits to the song/piece no matter the tempo or the groove. He sparks musical excitement in his improvisation and simply – not necessarily simple – lays down solid and enticing bass lines and motifs. When Conrad plays ears perk up and people pay close attention. That is a fact!
KARIN PLATO: Conrad, I know you started playing the cello when you were five years old and then began to play the bass when you were ten years old. Who were some of the influential teachers you've had along the way to becoming the professional musician you are today?
CONRAD GOOD: My first music teacher was Audrey Nodwell, at the Vancouver Academy of Music. I studied with Audrey for 11 years. She taught me so much. I'm really grateful to her for developing my sense of pitch, and spending so much time with me working on technical aspects of string playing, like shifting, vibrato and arco.
My second teacher was VSO bassist David Brown. We started working together when I was 10 and I studied with him until University. David is incredibly generous. I remember long lessons, and the sense that he had so much to share about bass and music. I still have all my old lesson books with his handwritten notes. I still come back to those sometimes when I need to get something together! I think if I study bass again with a teacher privately I'll take lessons from David. I feel like I only scratched the surface of what he has to share.
My first jazz teacher was Phil Dwyer. I went to his music camps through high school. Lots of the things he has said have stuck with me to this day. I love spending time with Phil. I always end up feeling uplifted and inspired.
The teacher who has had the greatest influence on me is certainly Chris McCann. When I went to McGill I happened to end up in a combo that he was coaching. I was so knocked out by how he taught and what he was offering that I knew I had to study with him. A school policy at the University was that you had to have completed a certain amount of your playing exams in order to study with an instructor who played a different instrument. I raced through those exams so that I could study with Chris in second year, and I stayed with him until the end of my degree.
I believe it is a great fortune to have found a teacher like that, someone who is interested in the transformation of the student, as a whole person, into what they want to become. He certainly transformed my experience of music, and does to this day. There are musical things that I worked on with Chris that I'm still working on, developing now. When I have the chance to get together with friends who also studied with Chris, we invariably end up speaking lovingly of him. If we're lucky, and life/time permits, we also play some really slow triplets.
KP: Do you remember what it was about the bass that drew you to the instrument?
CG: On cello I was mostly playing classical repertoire with no improvisation. Meanwhile at home, my dad was playing CDs of great music from many different genres. When I would see a band play, the closest thing to the cello was always the bass. At some point I got a cello workbook that had a classic blues bassline written out, and I would play it over and over. Something in it resonated with me.
So when I was ten, I asked to play bass as well. Audrey Nodwell recommended two teachers, one who taught German bow and one who taught French bow. The cello bow hold is very similar to the French bow hold, and we decided that made most sense to stick with. That's how I connected with Dave Brown.
When it was time to get a bass, I remember going with my dad, Ed Good, and our family friend Zal Yanovsky – a great musician who was one of my earliest influences – to the Long and McQuade on Granville. Initially I remember that the switching back and forth from playing and sight reading tuned in fifths and in fourths was a challenge, but eventually it was second nature.
KP: Do you find regular time to practice your instrument? What is important within your practice regime?
CG: These days it is more challenging to find a regular practice time. I look back at myself in University a little enviously when I had all those hours to play and practice. So, something important with such a physical instrument like the bass, is to have a maintenance routine. Mine involves extremely slow scales through all keys. The specifics are too detailed to go into here, but I share them with students and colleagues who are interested. When I have more time available for practice, my focus can shift to developing and evolving my playing and musical abilities.
KP: Who are some musicians you are interested in listening to within any genre?
CG: There are too many to list. My record collection and CDs are really diverse. The majority is jazz and classical, mostly instrumental. However, in the last decade lyrics have started to become more important to me. I never really heard them before.
KP: What is it about jazz-oriented music that you are drawn to?
I love the feeling of the rhythms, whether it's swung or straight. I love the harmonies. Likely what brings me back again and again is getting to play with others, that knife's-edge experience of creating with other musicians. You never really know what could happen. I also love that in jazz, you always have the possibility to grow and evolve. One solo might not go the way you want, but the next one could be better.
KP: Are there other instruments you play or are particularly fond of?
CG: I still play cello, but mostly for myself and my family. I love the Bach cello suites. I'm slowly trying to get my guitar playing together. We have an upright piano in our house, and I use it for ear training and understanding harmony from a different perspective.
KP: Have you faced certain musical challenges in your earlier studies i.e., sight reading or ear training or did much of what you have learned come easily to you?
CG: If you spend 30 years studying music, eventually you're going to get some stuff together! Sight reading was part of my studies early on, and since I was also an avid reader of books, I think the skills were mutually supportive. So I was a good reader by the time I got into playing with youth symphonies. Ear training was more difficult. Because of the focus on reading written music, I didn't start to really work on those connections between ear and pitch selection until I needed it for improvising.
However, playing in tune on a stringed instrument is sort of ear training all the time. I think what came easy were some of the qualities that made it easy to learn from others. The ability to listen, to retain teachings, to apply teachings conscientiously, the ability to focus for long stretches – these seemed to come naturally. The other thing that I think I got was an expressivity, an ability to connect with the emotions and feelings of the music I was playing. I think that's the quality I'm most grateful for, and can explain the least.
KP: Do you compose your own music? Who are some of your favourite composers?
CG: I haven't done much composing. There's some sort of block there that I haven't yet undone. I think sometimes I'm overwhelmed by the incredible vastness of the music that's already been composed, and it feels daunting to try to add anything to that. That being said, I sure am glad that there are people composing today. I'll name some of my favourite lesser known composers: Chris McCann, Simon Millerd, Mike Bjella, Thad Bailey-Mai, Justin Grounds, Dan Reynolds.
KP: These days when you listen to recorded music do you prefer streaming, CD's, vinyl, or a combination of various platforms?
CG: I have a record collection and a CD collection. I appreciate them because they are tangible, and somewhat permanent and some have been gifts as well as passed down from loved ones. I also use Apple music. Having access to a big digital library is really helpful for learning tunes for work.
KP: Do you have some suggestions for students who are relatively new to jazz but who are committed to the music?
CG: If you love it, stick with it, in whatever form works for you. Jazz is a big space with many different types of players. I think there is room for everybody. Develop your craft, learn what moves you artistically, and then also investigate why you're drawn to playing music. What is the meaning for you? Those are pretty generic suggestions, and I have a lot more specific guidance that I share with my students as it relates to their individual needs and aspirations.
KP: Where do you look to find inspiration for your creativity?
CG: As a younger player, I used to look more to the music and its details, or other people's playing, for inspiration. Who do I want to play like? Who do I want to sound like? Can I impress people with my playing? Who do I want to get to play with? Who can I compare myself to and feel superior or inferior? Now, I tend to look within to inner qualities: what kind of person am I, and how do I express it to other musicians and the audience? How do I play in a way that moves me, and has the potential to move another? How do I find that experience of joy and freedom and experience it with others?
Bass playing is a great opportunity to focus on the well being of others. In any playing situation I can aim to help make whoever I'm playing with be their best in that moment. I've been so inspired by great musicians, teachers, colleagues and friends over the years, and I want to be that way for others. Creating music in the moment becomes more and more free, as I remove the inner blocks to its natural expression. There is an innate inner creativity that we all have the potential to discover, and so I'm working on facilitating an environment for myself and others where the music can flow unrestricted. Music offers some of the highest experiences possible in a human life, and I feel fortunate to be able to devote myself to the music.
KP: Thank you Conrad!