The Fox Cabaret is an unexpectedly good jazz venue
This quartet, Raagaverse, inspired me last week.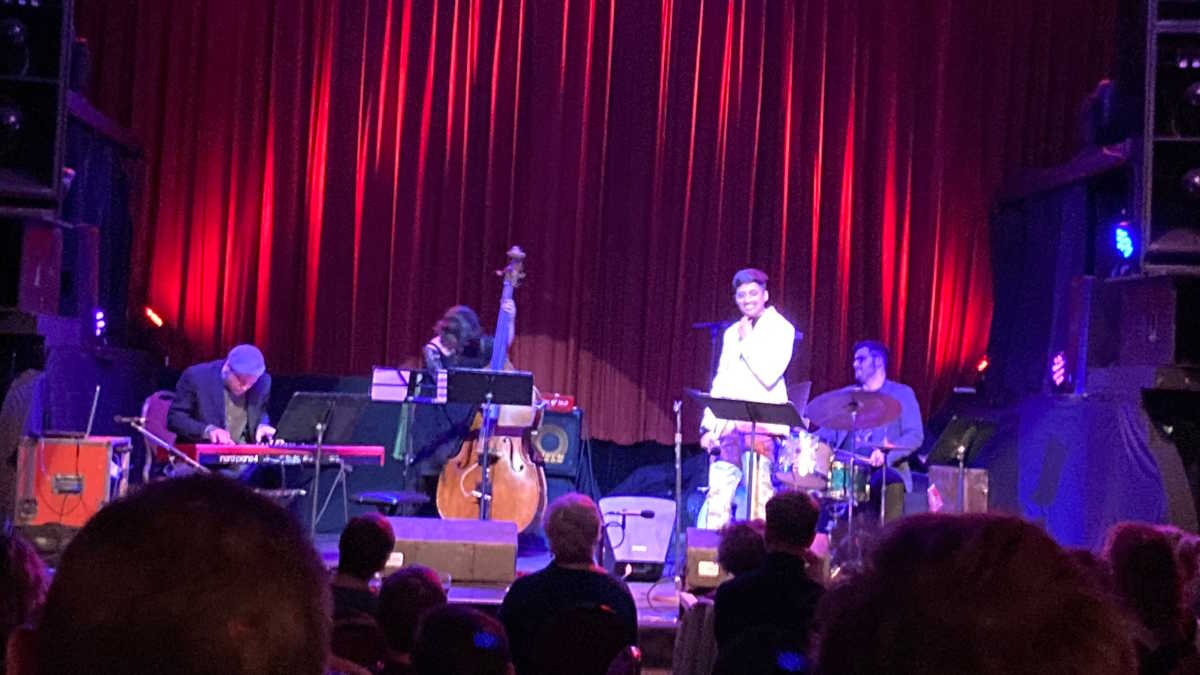 I heard Shruti Ramani lead a quartet called Raagaverse at the Fox Cabaret last week, as part of Music at the Cinemas. That's a concert series produced by The Vancouver Independent Music Centre Society, or VIM House for short.
The last time I went to the Fox, it was what you'd expect from that venue: an indie pop/rock show. Later in this article, I'll tell you what that gig was.
But first, a bit about the Raagaverse gig itself; then, more on the Fox's potential as a Vancouver creative music venue.
Raagaverse by Shruti Ramani
I enjoyed the compositions and loved Shruti's vocals. Noah Franche-Nolan, contributing on keys and as a co-composer, also deserves praise for his fiery performance.
In the band with Shruti and Noah were Jodi Proznick on bass and Nicholas Bracewell on drums, and in an unusual turn of events, I had just heard both of them the night before, on a different gig!
I wrote about how Jodi and Nick had played on that previous gig:
This band understands that they are speaking to one another, and they want to make sense. That's why all four band members used a bounty of jazz licks and phrases in fun strings of sound. They sound fluent.
That "fluent" sound wasn't there with Raagaverse: the band had few familiar licks and sounded fascinating but all-over-the-place, with their mix of North Indian music and jazz.
Raagaverse had only performed together once before, at the 2nd Floor Gastown a month-and-a-half ago, according to Shruti's Instagram account. Nick Bracewell didn't play drums there: Arvind Ramdas did instead.
But even though this band was quite loose, I got drawn in by this new kind of energy happening at the Fox.
The last time I went to the Fox Cabaret: not a jazz gig
The last show I attended at the Fox was The East Pointers, touring in support of their folk album in 2019, Yours to Break.
I'm grateful to have seen and heard the late Koady Chaisson performing with one of my favourite Canadian folk bands. And I don't know if I'll ever have a more special show there from now on, given the circumstance.
Others would have their own special memories of shows at the Fox, but few of those shows would fall into the creative music space. The Fox is an indie venue for popular music genres.
The Fox's potential for jazz
What Vancouver jazz yearns for is a fresh venue to be at.
You know what it feels like to sit in Frankie's, what kind of person would frequent that venue, and what you'll get. It's a known quantity; less charitably, it's stale - especially for the avant-garde scene.
You could say the same about the 2nd Floor Gastown, or even the Tangent. Maybe this is why Numbers feels refreshing and why it has moved tickets quickly and consistently across its first four gigs: it's fresh.
And a bigger venue?
Sign me up.
When I entered the Fox for Raagaverse, I landed in a space where I can feel like somebody other than the jazz fan I'm used to feeling like. Then, the music can really transport me.
This feeling unlocks new fans and gets people out to see gigs.
So, based on what I heard from Shruti and the band last week, let's get more presenters bringing creative music to the Fox.
---
I originally published this edition of the Rhythm Changes Update for subscribers-only and have since made it available for anyone on the web. Please enjoy browsing this website for more content.