It is possible
Have a 10-year passion -> build a 2-year project -> get a job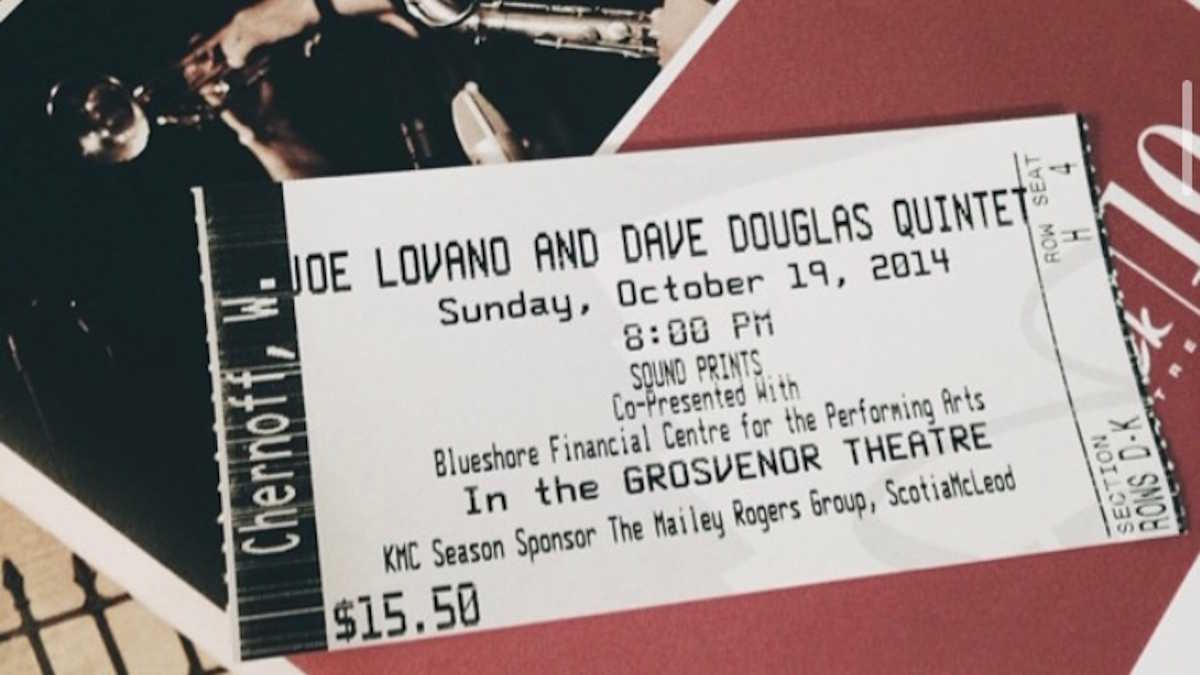 2022: it's been weird. A whole decade I've spent in Vancouver music, two years with Rhythm Changes here, and now, as the people say, I have some personal news.
But first, let me tell you about that concert ticket – Dave Douglas and Joe Lovano for just over 15 bucks, which seems like an absolute steal in hindsight.
It felt expensive back then, as a 19-year-old. October 19, 2014. I had just played the worst gig of my life ten days ago (another story).
Though I didn't know it, I was about a month away from attending another concert that set my first album in motion. That's also a separate story.
This concert, whoa. The rhythm section in the Sound Prints Quintet: Lawrence Fields on piano, Linda May Han Oh on bass, and Joey Baron on drums. That gave a lift of inspiration to me and my new friends, new relationships in this scene who were there that night.
Dave, and Joe Lovano, played such a rarefied kind of music. It's so simple to say but it was just cool.
And kind of like Cory/Cellar here, Dave leads an artist-run label in New York, called Greenleaf Music.
I forgot how cool that all was, during the period when I fell out of the jazz scene and played in my band. I had to remind myself after coming back via Rhythm Changes.
I don't know, I just started writing two summers ago, just because. I wanted to participate and get better as I went: no roadmap.
Two years later, this is a small and growing community. Hundreds of you read, hundreds listen, and a core group of you are paying subscribers. Thank you!
But imagine my surprise when someone I've met as a writer, who knows me as 'the Rhythm Changes guy' and as another face in the Canadian jazz media world, recommends me for a job this summer.

Before I knew it, I had an email in my inbox from Dave Douglas.
So that's the punchline: I work at Greenleaf Music now, at his independent label. (For those interested in titles, mine is Coordinator, Greenleaf Music & Dave Douglas.) Dave has ties to Canada, especially through the Banff Centre. I'm actually working with Canadians in the online team right now, which is a nice surprise.
And I didn't even want to announce this at all. It's not like there's a conflict of interest or anything else to flag; I cover Canadian jazz releases here, and Greenleaf is American.
There will be some tweaks to the free weekly article and to the podcast as I clear more time in the day to do the job...
But why mention this new development here at all?
Well, I've not exactly had a peaceful career trajectory, though it's my passion and I refuse to slow down or give up. Even when every day you get something that you just aren't ready for, or can't solve yet.
I'm not alone on that; few people have smooth sailing.
So can we take this as a reminder that you can have a decade-long passion, build a project aimlessly for 2 years while trying to figure out what to do, and still get a job from people who find you?
It is possible.
It's probably not likely – certainly I've been fortunate – but it's possible. I bet you could do it in a much less headstrong and risky way than I've done it.
So thanks to Dave, for sharing awesome music with us in Vancouver that night in 2014, and for bringing me aboard at Greenleaf Music in 2022. Dave says hi, by the way. You can check out the label here.
---
I originally published this edition of the Rhythm Changes Update for subscribers-only and have since made it available for anyone on the web. Please enjoy browsing this website for more content.