Live music
Wynton Marsalis & Jazz at Lincoln Center: concert review
Marsalis and the Jazz at Lincoln Center Orchestra played the Orpheum on October 10, 2023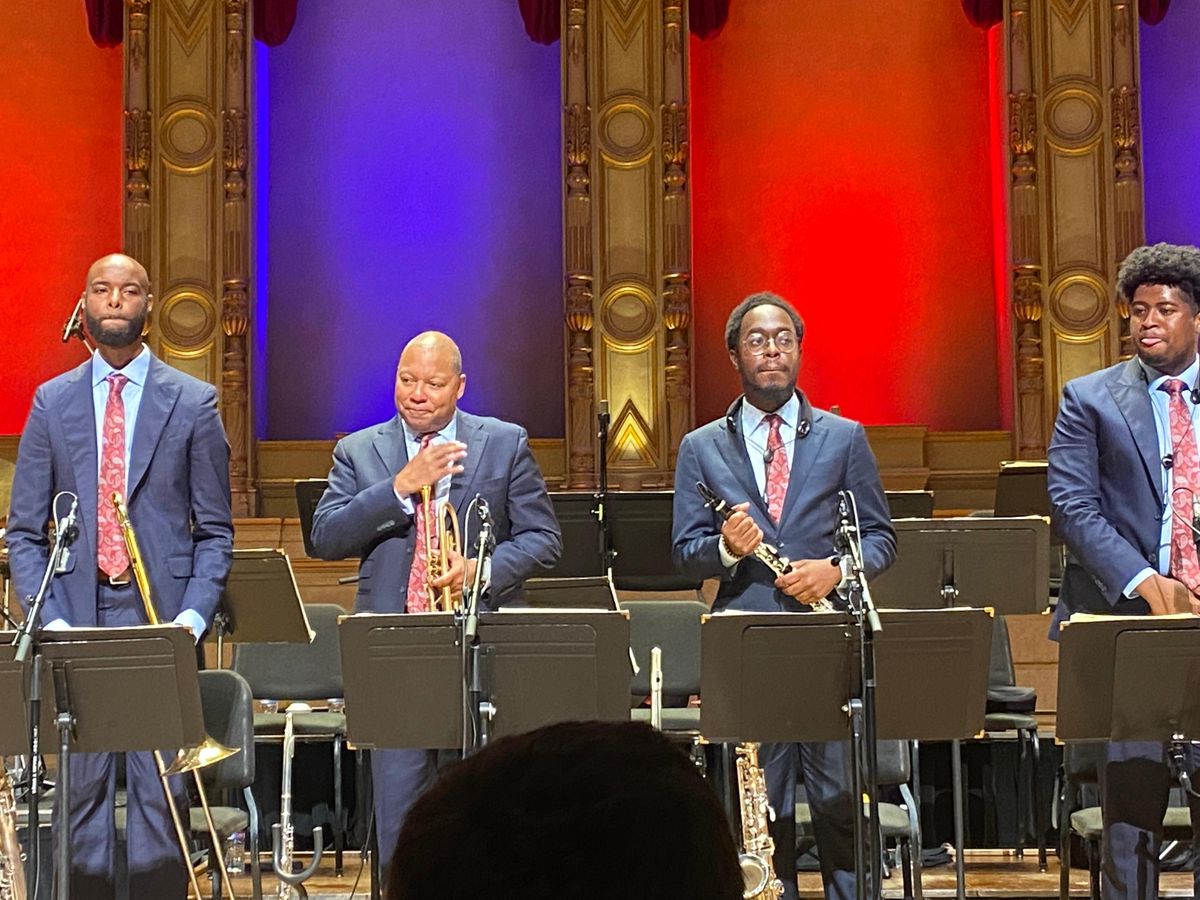 I didn't think I was qualified to write about trumpeter Wynton Marsalis and the Jazz at Lincoln Center Orchestra's show at the Orpheum, presented by Coastal Jazz on October 10, 2023. Until the last month or two, I'd never listened to any of Marsalis' recordings. However, lack of knowledge has never stopped me from gabbing about music before…
I was slow to start down the jazz listening road; it wasn't until the mid-late '90s (while in my late 'teens and '20s) that I began listening to a lot of contemporary jazz, soul jazz and other jazz-adjacent stuff of the time: Sexmob, Medeski Martin & Wood, Wayne Horvitz's bands Pig Pen and Zony Mash, John Scofield, Soulive, Canada's own Metalwood, etc.
At the same time, I was also discovering older jazz from the early '70s, '60s, and eventually '50s. Because of my age, I skipped a couple generations of great musicians, like Marsalis, who came to prominence in the late '70s through the early '90s.
I also overlooked Marsalis because I discovered most jazz musicians by listening to the recordings of the sidemen on records I was really digging.
The usual route for a "successful" jazz musician has been to work as a sideman, eventually getting to make records and perhaps tour as a leader, while continuing to record as a sideman. Marsalis took a different path. He started as a sideman for Art Blakey and the Jazz Messengers in the early '80s, but then he scored a big major-label recording contract. He proceeded to tour and record as a leader with his own all-star band. He did not continue to work as a sideman. I have two of his live recordings with Blakey from the early '80s. Until recently, these recordings were the extent of my exposure to Marsalis' work.
Despite not being very familiar with Marsalis' music, I've always been interested in him and in his family. The Marsalises are one of many incredible musical families from New Orleans, along with the Andrews, Nevilles, Batistes, Jordans and others. Musical families are just one example of many uniquely New Orleanian cultural phenomena resulting from the importance of music to New Orleans' culture, and the city's birth of rhythm and blues, rock 'n' roll and, of course, jazz.
Over the course of my many visits to New Orleans in the past 25 years, I've had the good fortune to see Marsalis' late father Ellis (piano), and bothers Delfeayo (trombone) and Jason (drums and vibraphone) perform. I've never seen his other brother Branford (saxophones) perform, as he and Wynton left New Orleans as young men. However, I did check out some of Branford's work over the years because, like many Grateful Dead fans in the early '90s, I first heard him from his occasional performances with the Dead and his killer feature on "Eyes of the World" on their live album Without a Net.
I've also always paid attention to Wynton Marsalis' interviews. There are many good ones out there due to his relative fame and how quotable he is. His interviews are always interesting because he is highly intelligent, learned, and opinionated. Marsalis' thoughts and views on jazz, music in general, and the music industry are great reads, whether you agree with him or not.
Recently, in anticipation of the show, I listened to three of Marsalis's recordings as a leader:
Hot House Flowers (1984) – his second as a leader: The killer band included his brother Branford on saxophones, Jeff "Tain" Watts on drums, Kenny Kirkland on piano, and Ron Carter on bass. It also includes a string section and other orchestral accompaniment – not really my bag.
Unforgivable Blackness: The Rise and Fall of Jack Johnson (2003), the soundtrack to a Ken Burns documentary. This is a cool soundtrack with lots of short tunes covering many styles: blues, traditional New Orleans jazz, modern jazz.
Democracy! Suite (2021): his latest, which features a septet subset of the Lincoln Center Orchestra. This record, a fiery and swinging small group recording. is much more my speed.
While I enjoyed these records, none prepared me for the Lincoln Center Orchestra's concert. Contrary to the information given in the recent interview with Marsalis in Stir, it was not a program of Marsalis originals, but their usual type of show honouring great compositions from the '20s through the '70s. Marsalis introduced each piece, naming its composer and the arranger, and giving a bit of its history.
The orchestra played a tight and well-paced 90-minute set. It was a 15-piece with five multi-reeds players, three trombones, four trumpets and a rhythm section of piano, bass and drums. Each member of the orchestra got at least one or more featured solo spots.
The setlist was:
"Grand Central Getaway" – composed by Dizzy Gillespie – featured a burning alto solo, and then Marsalis and the piano player trading off solos.
"Swedish Suite" – composed by Gil Fuller for Dizzy Gillespie – featured a beautiful muted solo by Marsalis.
"Lost Waltz" – composed by Dave Brubeck – this had sections in both three and four and featured killer double time trombone and baritone solos in the 4 / 4 sections.
"Le Soucrier Velours", the 3rd Movement of the Queen's Suite – composed by Duke Ellington - this featured the saxophone section on the beautiful melody, and no solos.
"The Crave" – composed by Jelly Roll Morton – featured a great piano solo and a Latin-tinged arrangement.
"We See" – composed by Thelonious Monk – featured a great, "Monk-y" trombone solo and a burning tenor solo.
"The Mooche" – composed by Duke Ellington – featured three clarinets for the melody, along with a great solo by Marsalis that seemed to delight both the audience and the rest of the orchestra. It also featured a fun trombone solo with mute, mimicking the human voice and laughter. This is maybe my favourite Ellington tune, and it was a great arrangement.
"Man from Tanganyika" – composed by McCoy Tyner – featured one of the trombonists playing sousaphone. It also featured flute and clarinet in the melodies, and really nice tenor and drum solos.
Encore – this was a traditional New Orleans jazz piece that wasn't introduced. It sounded kind of like "St. James Infirmary", but I'm not sure, as they only played a bit of melody then traded solos. It featured a smaller band septet version of the orchestra and short, hot solos: clarinet, Marsalis on trumpet, trombone, a two-clarinet section, then Marsalis trading off with one of the clarinets and the trombone.
The concert was well attended, and the appreciative audience gave a standing ovation at the end. My highlights (but the whole show was fantastic) were "Grand Central Getaway", "Lost Waltz", "We See", and "The Mooche".