Live music
Juno Hamilton on playing at Frankie's After Dark & Tyrant
At After Dark, a trio with Jesse Cahill & Ethan Birnie; at Tyrant, Juno is the leader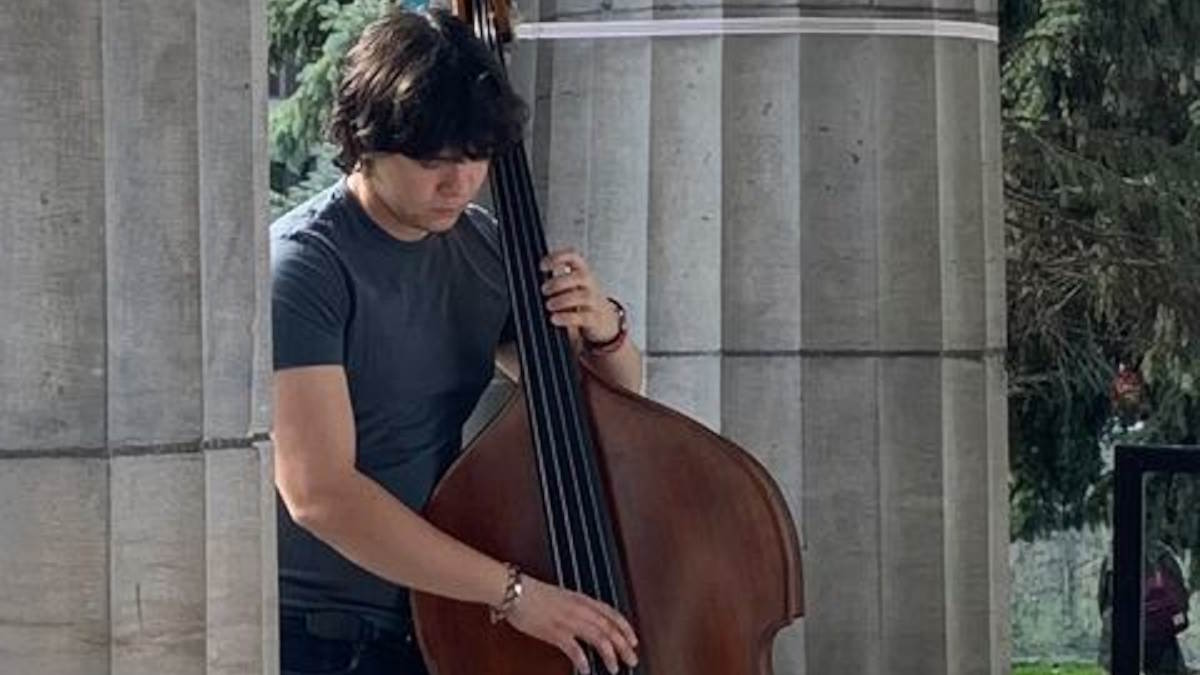 On bass, Juno Hamilton has two gigs this weekend; their first is at Frankie's After Dark in a trio led by Jesse Cahill with Ethan Birnie, and the other is at Tyrant Studios – where they are the leader.
The Tyrant gig is billed as My Friend Wrote This – where a band of jazz students will play the compositions of their peers. Joining Juno there are Gordy Li on saxophone, Rick Son on piano, and Karl DeJong on drums.
Juno, who is in second year at McGill University, talked to me before making the trip back to Vancouver this week. In their most recent visit to Vancouver, the bassist worked at the VSO School of Music program and played a couple small gigs. "Nothing like this," Juno says of those summer 2022 gigs.
The Frankie's After Dark gig with Jesse Cahill
How did this gig come to you?
"I have no idea! I was in Vancouver, it was the day before I left [for McGill this fall], and my friend Harmeet [who is also a bassist] said, 'Someone wants to call you, can I give you their number?' It was Jesse!

"He said he had a thing in December and asked if I wanted to come and play. In high school, I thought the big milestone would be to play at Frankie's, at least to do that during my twenties – let alone doing it now at age 19! – so I jumped on the chance.

"So that spawned, 'Oh, what if I played at Tyrant as well? What if I brought in my friends' music?' All the things that led to the two nights of music."
Do you know Ethan Birnie, who will join you and Jesse on saxophone?
"We met through the VSO camp last summer. He was a breath of fresh air, he has a very charismatic energy to him, and I was happy to play one restaurant gig with him before I left Vancouver last summer. Playing with him again will be a dream come true."
The Tyrant gig
How did you decide on the theme for the Tyrant gig, where your band will play the compositions of your peers?
"I put the cart before the horse with this one. I knew that I wanted to play at Tyrant, but I didn't know what it was going to be.

"In August, I expected it'll be so easy if I just write two hours of music between now and December; I'll premiere it with my friends, and it'll just go like that. As I'm sure you know, that's not exactly a realistic timeline!

"But once I found that it wasn't realistic, I had a better sense of, 'Let me just take a step back, experience what I was doing this term, and it'll give me a better image of what I can do.'

"What I felt was that in Montreal, I'm fortunate to play music with far more experienced composers than I am. Their music sounds incredible! I thought, 'Could I just use their music, with their blessing, and perform it when I come back home?'"
It strikes me as something that could become a recurring presentation for the band, featuring new music each time.
Any preview of what it'll sound like?
"It's a lot of modern and eclectic music. I've spoken to each of the composers about their take on it, and it's very nerdy jazz music that is also artistic and beautiful; I think a lot of it derives from the Chick Corea and Pat Metheny-isms of the jazz universe, but it goes all over the place. [On bass] I'm not even walking [basslines] really, which is exciting for me."
How'd you make your connections with the band?
"I have to give a shout-out to Daniel Marmer for this one. He introduced me to Gordy and EJ Bown, and then through EJ I met Karl, and then through Karl I met Ricky [Rick Son]! I had known of Karl maybe, and that's about it. I wasn't into the Vancouver jazz scene until grade 12, very late, so I met all of them going into university during my last summer in Vancouver. Through that, we collaborated every time I'm in town."
Juno at McGill
how are you finding second year?
"In your first year, you move to Montreal and the drinking age is low, and everyone wants to go out and party, and I definitely fell prey to that. But I think second year, once I got to be comfortable around more of my peers, It's much more pointed and directional. There's far more of an idea and a clear picture of where I want to be, I guess."
Who are those peers?
"Most of them, they're all Vancouver musicians, funnily enough! Being around Tony Wang and Julian Ferrer was a big influence, and then coming back home and talking to Karl DeJong and Gordy Li, they all have a clear image of what they're doing. There are very young musicians who see them as idols, which is amazing. Being around that and having the experience that they can impart onto me is very good."
What is this clear image – is it maturity?
"Talking to them, especially Julian, from the musical context he has such a deep pocket of knowing so much history, what he likes to listen to. I think there's more a sense of realization that if you want to be a musician, you have to understand what that entails. They have to approach it more as a business thing than as just hanging out with friends and playing tunes."
What about for you?
"I'm certainly not there yet! There's been a lot of mistakes made this year, especially this term. It's so easy to fall into, 'I'm this young kid, I don't need to have responsibilities'. I've fallen prey to not treating music as a serious thing and just relying on, 'Oh, I'm spending four years having fun' as opposed to 'I'm spending four years at a university, it might be worth my time to understand what I'm doing before I'm heading out [of university].'"
And what are you listening to?
"Last year, I had a friend of mine where we both came into McGill in our first years, we're both from Vancouver, and he's very talented so he had much more of an idea of the history and tradition before I did. He would get me hip to a lot of Miles' music when I had just listened to that Miles second great quintet. This term, I've been making an effort to expand that. A lot more of the past Miles with Chick, all the way to Moonchild, and then before Miles with Charlie Parker and Bix Beiderbecke."
If Juno has caught your interest, be sure to make it out to Frankie's or Tyrant this weekend.