The New Thing at Red Gate Gallery
Feven Kidane played free jazz at the newest DIY series in town.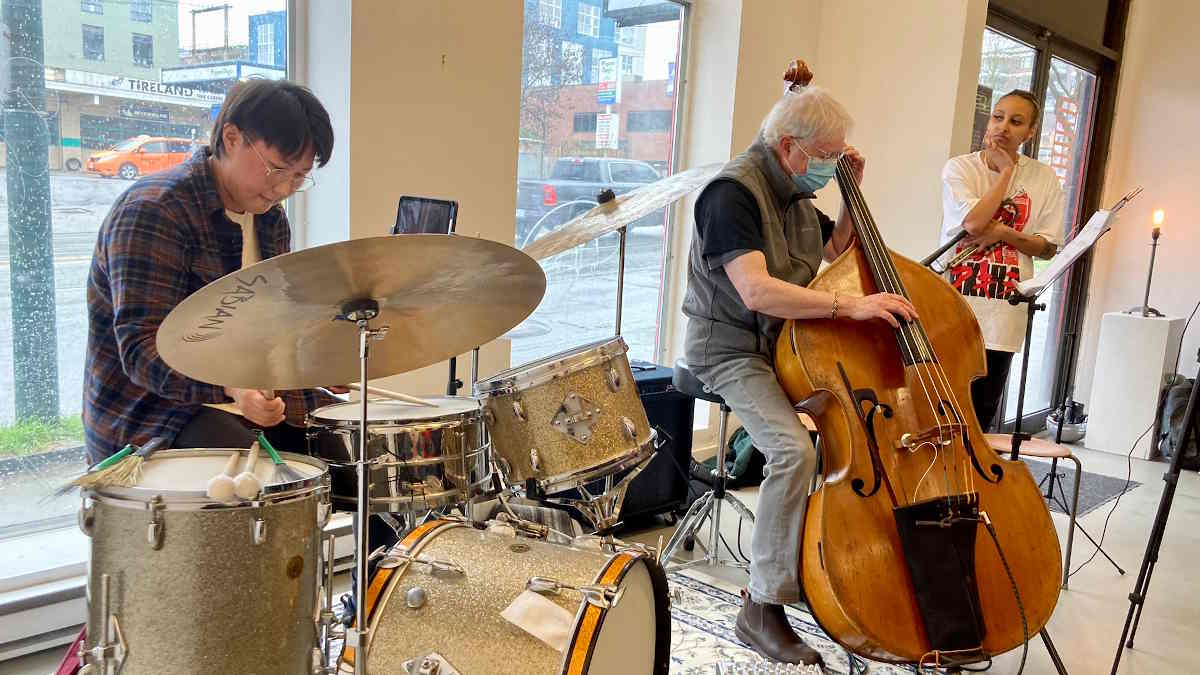 Note: this event is now New Thing at Tyrant Studios, changed from the New Thing at General Strike you see below.
Launching the New Thing at General Strike Coffee
Yesterday, Tim Reinert launched a monthly event series called New Thing at General Strike. The first gig featured a free jazz trio of Feven Kidane on trumpet, Clyde Reed on bass, and Jamie Lee on drums.
Tim is the host of The Infidels Jazz, which is a radio-style music show on Mixcloud. Before the New Thing, he also started a monthly concert series at Numbers Cabaret on Davie Street, which has had four sold-out shows since the fall of 2021.
The location of the New Thing is a unit within the Red Gate building on Main Street, where Kevin Romain — who is a jazz drummer — runs a solo barista venture called General Strike Coffee. That's where the series' name comes from.
It's a small room: Tim and Kevin had space to set out only 27 seats, so by the time the music started, new arrivals had to stand. "We couldn't have squeezed another person in that room if we tried," Tim wrote after the gig on his Instagram account.
Other than the common tactic of making an event seem scarce and on the verge of selling out, why did this launch work so well? Here are my same-day takes.
Feven Kidane with an intergenerational collab
Clyde Reed is a veteran of free jazz, so having him perform with Feven — who is the most exciting Gen-Z exponent of that genre in town — is a draw. Having been in a band with multiple generations, I can attest that it makes things more interesting!
Meeting Feven was an exciting moment for me personally: she will undoubtedly appear on Rhythm Changes more often in the future.
People feel like they have to be there
I speculated yesterday morning to a friend about who would attend this gig; I thought it would be a very young crowd, eager to support Feven.
However, I was a bit off. Instead, it was a who's-who of the avant-garde side of Vancouver jazz (the Ironworks scene, if you will), of which Tim has been a fan for as long as I've been alive.
Tim probably invited these people personally; he's meeting demand that he would have seen building up this fall and winter, through his Jazz at Numbers series downtown. People feel invested in something when you bring them in with the personal touch. They feel like they have to be there.
Zero overhead
And Tim and Kevin have no overhead costs for the New Thing:
Kevin already has the General Strike Coffee space active on this Sunday afternoon
His drum set, and a bass amp, are already on-site
No marketing expense (small capacity gets filled pretty easily)
What's next
The New Thing at General Strike is now a monthly series, with Tim promoting the gigs on his Facebook Page for The Infidels Jazz – as well as on his Instagram account.
Feven will play again at the Tangent on Wednesday night, with a bigger and younger band. In the meantime, she has a Bandcamp that you can check out.
Please take this away from the New Thing launch: lots of people are ready to do things again. Put something on among friends, no matter how small, and meet that demand.
---
I originally published this edition of the Rhythm Changes Update for subscribers-only and have since made it available for anyone on the web. Please enjoy browsing this website for more content.