Jenny Xu on Project Sock Retrieval by her Friendship trio
Jenny on piano wiith Ben Feldman (bass) & Kofi Shepsu (drums), ft. François Chanvallon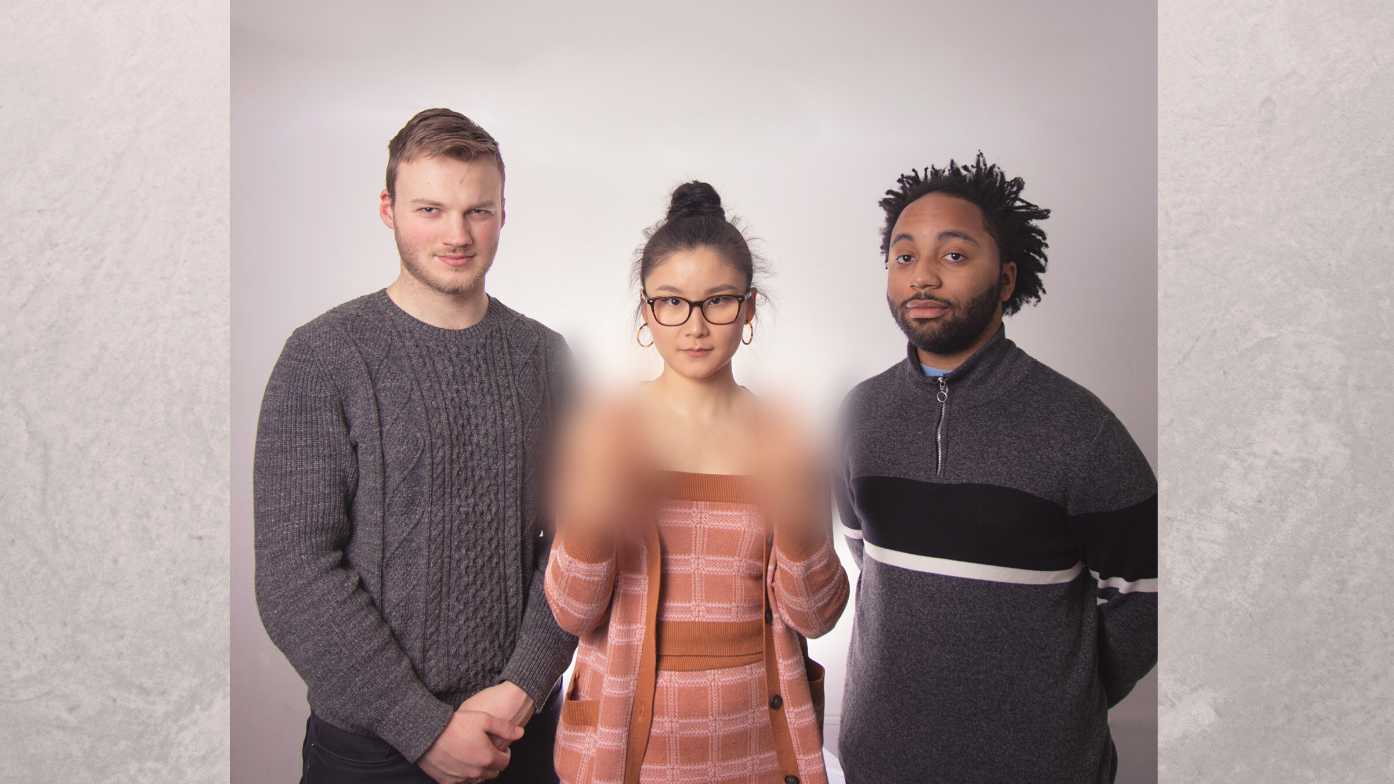 Jenny Xu, Ben Feldman, and Kofi Shepsu released an instrumental jazz trio EP/album, Project Sock Retrieval, on October 10, 2020. They released it under the name Friendship for their group.
Jenny, who plays piano, wrote every composition on Project Sock Retrieval.
However, Jenny emphasizes that Friendship is not her group. It has no leader; it's a three-way equal partnership between Ben on bass, Kofi on drums, and herself.
Friendship happened to be the last live group I heard in-person before the pandemic. Jenny brought her bandmates to a small community arts centre in March 2020 and they played mostly standards, impeccably.
It was the kind of jazz audience that remembered the words of Tin Pan Alley standards. When Jenny discovered this audience knowledge she—being an expert performer at a young age—began to do an impromptu, solo vocal and piano version of each standard before digging into it with the trio. And she knew all the lyrics too!
From then on, I couldn't wait for her original music to release later this year.
Jenny grew up in Surrey, BC, but now lives in New York, where it also rains a lot:
"I've walked in really heavy tropical storms, pounding rain, but I prefer 'horror' weather because in the sunny weather, the parks get really crowded and people don't have masks on."
"Everything was literally written within a month, in November 2018."
Jenny recalls watching movies with Ben and Kofi, among other friends, on October 31, 2018. They also vented about Jenny's recent breakup.
With the album, you get a digital package for the project that Jenny narrates with text about this breakup. Here's an example:
"GATHER YOUR TWO MOST TRUSTED COMPANIONS; IT IS TIME TO WAGE WAR."
Jenny's two companions are the rhythm section of Ben and Kofi. That's why they named the group Friendship.
"I wanted to make a statement."
Soon after the Halloween hangout, Jenny quickly wrote the composition featured on track one and posted it to social media. It's energetic post-bop that sounds like Chick Corea, the trio of Keith Jarrett, Gary Peacock, and Jack DeJohnette, or Bill Evans' album Portrait in Jazz.
But after about three minutes, it breaks into a different, slower tempo with a heavier riff. Unusually, it fades out.
Jenny continued to write tunes soon after breaking the ice with this first one. In the practice rooms used by her fellow Master in Music degree students, she "rocked out on the piano" and quickly wrote the others within the same month:
"I was so prolific in a short period of time […] I had no intentions of making an album. It was really a drive to express the feelings".
Project Sock Retrieval brings in a fourth member, guitarist François Chanvallon, for track two: "Special Spectrum."
Jenny—like me and many of our mutual friends—used to participate on social media in something called Jam of the Week. Jenny and François met through Jam of the Week when he commented from France under one of her videos. He then showed up, as a new Berklee student, to Jenny's first-year recital there.
Immediately approachable and already an exceptional musician according to Jenny, François joined in on sessions throughout the following year. Although he moved back to Europe, Friendship scheduled their first recording session so as to include François while he remained in New York.
On November 10, 2019 in a Brooklyn studio called Acoustic Recording, Friendship tracked "Special Spectrum" with François and also tracked "A Sullen Boy", the third track on this project. "We didn't like any of the takes of the other ones enough," Jenny laughs.
François crushes his solo on "Special Spectrum" with Kurt Rosenwinkel energy. The tune as a whole reminds me of my favourite tracks from up-and-coming Vancouver drummer and composer Jamie Lee's album Introspective.
For this session, Jenny remembers dressing like a modern jazz musician in dark hues and a leather jacket. According to her, the piano in Acoustic Recording had been played by Bill Evans but was beautifully maintained.
"A Sullen Boy" is proof of the enduring trio potential of Friendship.
Jenny insists that this is her dream group, that the partnership will continue indefinitely, and that they can catch a magical interplay that she calls "riding a thundercloud". She and I both find this feeling in the powerful drum solo at the end of track three, "A Sullen Boy".
However, when speaking to the title Project Sock Retrieval, Jenny says, "Technically the project failed: I didn't get the socks back."
At the time of our cross-continental phone interview, three years had passed since the breakup that launched the project's story. For those keeping track, that means Jenny's burst of composing in late 2018 already had some hindsight on the relationship.
She asserts, ""I'm just so over it [now]!" but says she had discussed it a lot with Ben and Kofi. She found catharsis mostly through bringing together this project. Project Sock Retrieval captured the spirit of sharing their day-to-day lives in dorm rooms with open hearts.
In a smaller studio in Seattle, they finished tracking the project in two days.
I had to note that track four was called "Last Thanksgiving" and that Jenny and I were speaking on Thanksgiving Monday in Canada. Jenny says about this coincidence:
"It's been a while since I had a Thanksgiving back home. It's been since 2016. When I'm back in Vancouver, I say, 'Oh yeah, I'm a New Yorker.' But when you're in the other place, you do say where you're from. It lets me stand out either way!"
Jenny's control of her trio's arrangement is in peak form on "Last Thanksgiving". And I feel like I'm in the room with Kofi's lively drumming, feeling the floor vibrate and the air circulate around the different cymbals. But the overall sound of the tracks is quite dark, with the bottom end emphasized.
I enjoy that at the end of this track the band let it roll long enough to retain Jenny's exasperated but excited outburst: "THAT WAS THE ONE!"
The fifth and final track, "If Lies Were Flowers", evokes Robert Glasper's (or Brad Mehldau's?) well-known instrumental cover of Radiohead's song "Everything in its Right Place". But it doesn't hold Project Sock Retrieval to be another typical outing with the typical kind of music that educated young jazz instrumentalists play.
As a group, Friendship have a mentor in Buster Williams.
Ben, who had bass lessons with Williams in his academic courseload, brought Jenny and Kofi into the lessons to demonstrate his trio playing.
Ben is a confident young improviser with a wonderful sound. Jenny says that Ben pays close attention to her piano voicings and that it makes him and Kofi the ideal rhythm section for her:
"He's such a big piano fan. I play the most uniquely when I play with them. They feel for me so hard. I'm always rewinding and discovering moments when we respond to each other."
Jenny contrasts this loving environment with the trends she identifies in contemporary jazz:
"Jazz is steadily growing more and more elite. It isolates people. [We want a] new movement in jazz where it's all about inclusivity and love, where there's a story behind it instead of just playing what's really killing."
Whether or not you've experienced what Jenny alludes to here, her group's intentions are admirable.
Project Sock Retrieval is a leading light in independent modern jazz. I'll listen for more and watch for these desired social contributions to the jazz community.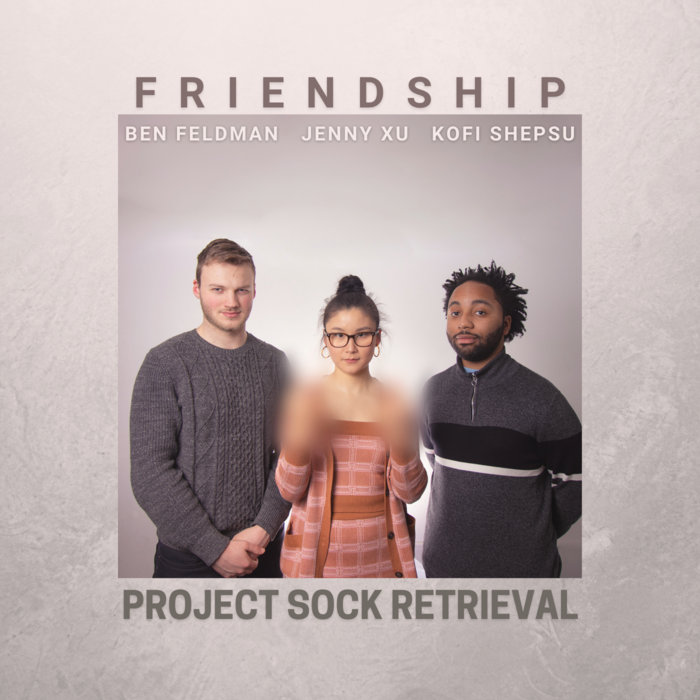 Project Sock Retrieval: I Want My F*cking Socks Back; (Please Indicate Where I Fall On) The Special Spectrum; A Sullen Boy (Takes Multiple Hard Shits on an Unsuspecting Girl's Feelings); Last Thanksgiving (Was His Thankstaking); If Lies Were Flowers (You'd Fill Oceans with Sakura). (27min)
Personnel: Jenny Xu on piano; Ben Feldman on bass; Kofi Shepsu on drums; François Chanvallon on guitar.