It was a quartet after all, and more
One random guy said a clueless thing, but it came true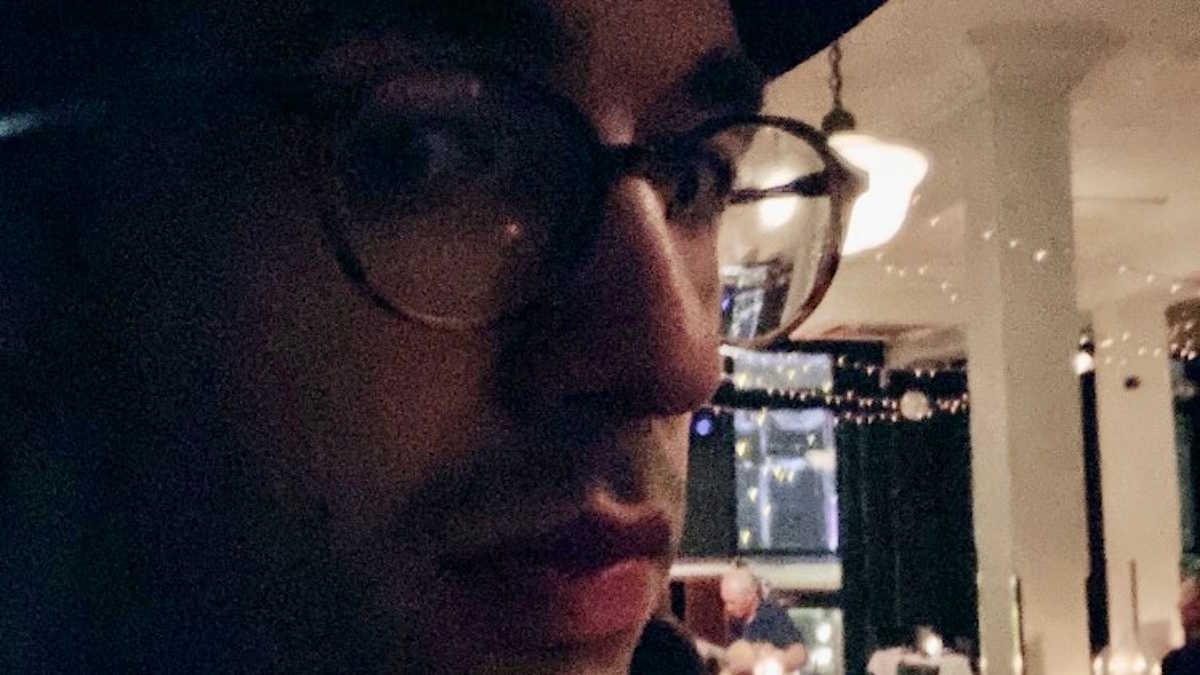 "Look, a jazz quartet," said a Gen-X guy walking up to the 2nd Floor Gastown from the Water Street Cafe's main floor and seeing the Chris Davis trio. (Disclosure: I emceed and got in for free.)
You might be thinking, that guy was wrong: it was just Chris with Bill Coon and Jodi Proznick in the trio.
But he was onto something.
Last night, Chris was playing not just trumpet, but drums too. He set up a drum set in the corner and stood in front of it, stage left, to play trumpet.
But why? Maybe he gets bored between solos and wants more interplay with the band… I was too impressed to ask.
So I waited. And in the first tune, "So What", Chris sat down at the drum throne and started playing time with brushes for the second chorus of Bill's guitar solo.
Chris even took a full chorus of drum solo later in the arrangement. He came in to spice up Bill's solo again in "Pensativa" and played with a swing in his bossa nova groove.
A Herbie Hancock thread lurked in the gig. "Pensativa" is a tune by Clare Fischer, who influenced Herbie, and then Chris and the trio played "Oliloqui Valley" from Empyrean Isles.
Or you could say – perhaps more appropriately, because trumpet – a Freddie Hubbard thread; Freddie played on both recordings I just linked.
Chris led the group with a mellow mood, even scatting the melody on "A Night in Tunisia" while still getting up from the drum throne to play trumpet. He was actually the first jazz trumpet player I ever saw on a gig in Vancouver, when I attended the release show of The Many Deeds of Cory Weeds back in the summer of 2010. That was all fire, no mellow – but tonight was different.
Anyway, I told you the Gen-Xer guy was onto something when he said quartet. And you could count that Chris' multi-instrumental talent fulfilled the criteria...
But this guy was actually telling the future. For the second set, three other Gen-Xers – Steve Maddock, Carman Price, and James Danderfer – were in the house.
Chris invited Steve up to sing "Alone Together" with James coming in for a clarinet solo, too. Chris played drums for the whole tune and didn't touch his trumpet.
That's technically a quintet. The quartet clairvoyance really happened when James stayed up with the trio for "Out of Nowhere" – or, I think, some other tune written on top of that one. Clarinet, Harmon-muted trumpet, guitar, and bass.
Carman got up and sang "In a Mellow Tone" to close out the night. Hearing Carman and Steve sing so immediately after each other, I felt that Steve sang with the all confident fire of 2010 Chris Davis and Carman sang with the easy chill of 2022 Chris.
And then it was over, I heard "Soak up the Sun" by Sheryl Crow blasting up the stairwell from the main floor speakers, and I wished that more people than the 10 or 12 present last night had gotten to enjoy it.
---
I originally published this edition of the Rhythm Changes Update for subscribers-only and have since made it available for anyone on the web. Please enjoy browsing this website for more content.