DJ Kookum, Sierra Baker, and Missy D at Winter Jazz
Side Door streamed this live showcase on behalf of Winter Jazz, presented by Coastal Jazz and Granville Island.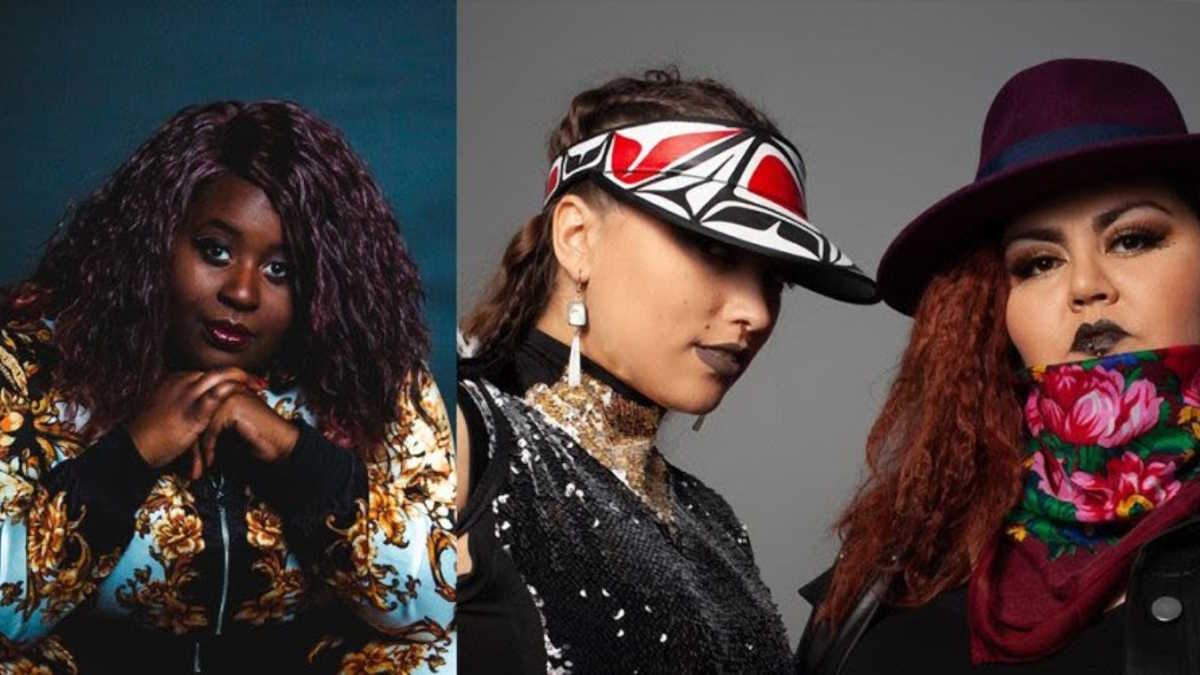 This past Friday, Side Door streamed a live showcase on behalf of  Winter Jazz, presented by Coastal Jazz and Granville Island out of Performance Works.
It featured two Western Canadian-based acts: DJ Kookum (pronounced "koh-kom") on the turntables accompanied by fellow creative Sierra Baker, followed by R&B/Hip-Hop artist Missy D. First up, let's chat about Kookum and Sierra.
DJ Kookum & Sierra Baker
For those who aren't familiar with what Kookum brings to the table DJ-wise, this was a very good introduction. They started off their set with an iconic Missy Elliot sample that, regardless of your age, was guaranteed to garner a reaction. The virtual crowd was then blessed with a blast from the past with "Ring My Bell" by disco queen Anita Ward. Within a short few minutes it was obvious that the Vancouver-based artist had put a lot of thought into the setlist, making sure that every age demographic was covered. Consideration mixed with a genuine passion for music. Is that what truly makes a good DJ? Judging by the amount of people in the Zoom call smiling and dancing, I would have to agree.
I couldn't help but tap into my inner music nerd while enjoying this performance.
I was taken back by how many genres Kookum had showcased in just forty-five minutes: Hindi, Afrobeat, Reggaeton, World – and it wouldn't be a modern DJ set without some 2000's R&B/Hip-Hop throwbacks. Kookum was able to transition from one corner of the world to the next and make it sound seamless. I never would have thought that a traditional powwow vocal chant leading into Red Hot Chili Peppers while playing over a reggaeton beat would excite me and so many others the way it did.
Crowd engagement is an obstacle that every performer has to find their way through. With online performances, that challenge has proved itself even harder. Luckily, fellow Indigenous creative Sierra Baker was able to lend a helping hand with exciting dance appearances throughout the set, each time popping up with a new prop. All bases were covered with this set, and I couldn't have been happier.
Now that the crowd has been hyped up, it was time to bring us back down with the soothing yet energetic stylings of Missy D.
Missy D
Missy wastes no time getting her message of self care out with her first song. Preaching love and compassion throughout her set, she didn't forget about the people that tuned in to watch her perform; she interacted with the digital crowd by calling out people's screen names and requesting them to join in for a few vocal chants, a sure testament towards her crowd engagement skills. There was even a moment where she had asked viewers (the ones with their cameras turned on) to find something in their house that was valuable to them and to hold it up, reminding us that even in the safety of our own homes, we can still connect with each other and our favourite artists.
Social awareness didn't go amiss during D's performance. In honour of Black History Month, the bilingual Rap and Hip-Hop artist performed her song "Melanin", which was released last March.
With more emotional songs like "Au Revoir" and "Home", she did a great job showcasing her versatility and vulnerability. The crowd received a nice surprise as Missy performed an unreleased track called "Triggers".
The musical genius of DJ Kookum and Missy D aside, there was an important lesson to be learned here. Scouring the Zoom chat to see where everyone hailed from, I was pleasantly surprised. Watchers tuned in  from places like Nelson, Arizona, and even Brooklyn. What's that lesson? No matter which part of the globe you come from, how old you are, or what your skin tone is, music truly does bring us all together.
Jazz fans can also read Rhythm Changes' coverage of the Jamie Lee Trio performance the following morning, or the show by Gordon Grdina the following evening.