Amber Tsang & Alvin Brendan - Autumn Nocturne
Track-by-track on a key vocal & guitar duo debut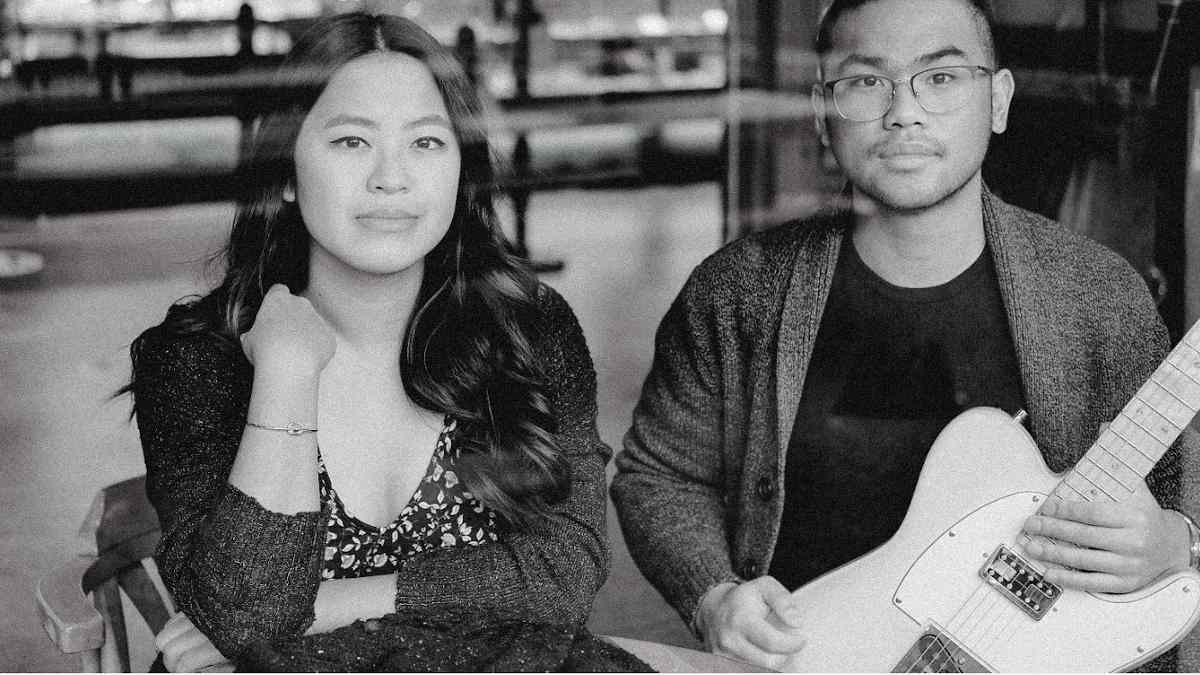 "I Love The Way You're Breaking My Heart"
This is one of those sad old ballads about being bad at hiding your sadness amid a breakup—a tried and true method for lyric writing. Not exactly the peppiest way to start a record, but I don't think they're going for pep on this project.
Nevertheless, a fine vehicle to showcase Alvin Brendan's guitar tone and Amber Tsang's ability to interpret lyrics in a meaningful way. This is also a great number to communicate that you're working with a broad repertoire of standards and not just the most common tunes, which brings us to track two.
"Beautiful Love"
Off to the races! The head of this track is compensating for the ennui provided by track one. "Beautiful Love" is one of the more high energy and uptempo tracks on the album performed without accompaniment by veteran Vancouver bassist Michael Wagler, which doesn't seem to hinder either of them.
The tempo and energy level is a contrast to the first track and to the only other duo guitar-voice recording of this song I am aware of, which is Shirley Horn's life-pausing rendition featuring Toots Thielemans on her final record You Won't Forget Me, which clearly the duo (namely Amber) are borrowing from throughout this record.
"Up Jumped Spring"
For what is quite literally a change in pace, Amber and Alvin introduce Michael Wagler on bass to accompany them for Freddie Hubbard's 1962 waltz, "Up Jumped Spring". Michael adds a much appreciated foundation to the group, affording some breathing room for Alvin on his solo which proves to be one of his strongest on the album.
Amber returns to sing the head out, sans lyrics. I had hoped the outro vamp would be a little longer to allow for more exploration, especially since Amber hadn't taken a chorus. All the more reason to see this group live!
"Lil' Darlin'"
I love a tune with two omissive apostrophes in the title, so you know I'm rooting for it going in, but this is easily my favourite so far.
The guitar intro is cute, a sort of nod to Count Basie whose band had originally recorded the tune. Amber renders Hendricks' lyrics skilfully, not hamming anything up too much but still achieving the general mood of the poetry.
However, this is really the track that allows Alvin's beautiful Telecaster tone to shine. The sustain he is able to achieve here is truly a feat of engineering. It invokes the tonally dynamic long tones of a wind ensemble or a luscious and flowing tone of a B3 organ with the Leslie spinning on "chorale" mode.
Given the arrangement and level of comfort that they approach this tune with, this is probably a tune they've played a million times together and will probably play a few million more.
"I'm Old Fashioned"
Hmm, this one only has one apostrophe… let's see how it goes. Oh wait—no, no, it's still really good. While this is another more oft-played tune, Amber and Alvin let you know that they're paying attention by pulling out the original verse to start it off. And after that, they hit you with a tight arrangement to keep you engaged.
Both solos are great, Amber's solo struck me in particular as an example of her fret-like vocal precision, wishing that I had heard a bit more of it up until this point.
"That's All"
I love this standard and playing it with a Latin feel is a very smart move in the duo context. Speaking as somebody with experience doing it, Alvin's job here is fun, but not necessarily as easy as he makes it sound.
Using the strong and clear rhythmic framework of a bossa nova feel keeps things from getting out of hand, and it works like a charm here. Alvin plays another strong and skilful solo here, making me think of Ed Bickert playing "Estate" with Lorne Lofsky off of This Is New.
"Tricotism"
Another deep cut but this time in the bebop direction, which is gutsy. Amber gets to show off a bit more of her vocal agility here by playing the head along with Alvin, once again bringing in the ringer Mike Wagler to pound away on the bass.
This ends up being the closest thing to a "cutting contest" on the record with all three of the bandmates taking a solo. We already got a taste of Amber's impressive bebop vocabulary during "Beautiful Love", but I feel like she lets just a little more loose on this cut, likely due to the added support of bass in addition to guitar.
As for Alvin, all I wrote in my notes was "Alvin Coon" so that should tell you as much as you need to know.
"Autumn Nocturne"
At long last, our eponymous track. "Autumn Nocturne" is a perfect example of what I would consider a "true ballad": a song that is written to be played as a ballad and a ballad only where interpreting it in any other way would only do a disservice to the music (other examples include "The Peacocks" or "I Loves You, Porgy").
Having said that, Amber and Alvin know nothing of doing disservices to music, and this is no exception. "Autumn Nocturne", like "Lil' Darlin'", sticks out to me as an elevated performance on the album. Alvin steers the ship like he just made his last payment on it while Amber hangs by the masts and sings her heart out.
This track in particular has a few sweet moments of range as well as a little bite from Amber, which I always appreciate. Truly no wasted notes on this track.
Comparisons
I think a close analog to this record on the whole is Chet Baker's Embraceable You, one of my favourites. Vocals by Chet (with a little trumpet here and there), guitar by Dave Wheat and bass by Russ Savakus, just playing standards. (It even features a track title with two omissive apostrophes!) It's billed as a Chet Baker record, not as a trio or duo, just Chet. While Alvin's playing is certainly not covered up or in the background, it still has the feeling of being primarily an Amber Tsang record, which makes sense. She's the one singing all the words, heads in and heads out. This was likely the intention.
But if we're talking about guitar/voice duo, Joe Pass and Ella Fitzgerald are the gold standard. To me, the key to that sound is in their playfulness. Two titans in the height of their careers, having played every standard a thousand times and just revelling in the process of it. They don't have to worry about missing a cue, skipping a beat or even forgetting the words, anything that can be considered a flaw just becomes a charming and characteristic blemish that just wouldn't be the same if it weren't there. They need each other as much as they don't need each other at all. Obviously, this is a wildly unfair comparison, but that doesn't mean that it can't inspire future endeavours.
Takeaways
Autumn Nocturne is a well-presented project that does a splendid job at showcasing not only the musical talent of the two featured artists, but also their well thought-out tracklist curation and attention to detail with regard to each composition they chose. Namely on tracks like "Lil' Darlin'" where a less common tune is unearthed and dusted off like a priceless relic, but not so much as to sanitize it. Just an impressively thoughtful presentation.
Amber has a sweet and pleasing vocal tone that never waivers or loses steam. She has a fast and agile voice and clearly has a keen ear for "singing the words" as well as singing the notes. Alvin, as a good accompanist should, plays tastefully throughout. He clearly knows the tunes inside and out, knows his instrument and nails the tone. That dreamy, sustain-ridden jazz telecaster voice but still keeping a touch of its inherent twang. A clinic. Awesome job, Alvin.
To bring back a quickly explored boat metaphor from earlier, playing duo is much like operating a waterbound vessel. The likely anxiety is that lack of hands on deck at all times will lead to capsizing, causing shipmates to go white-knuckled and hoarse. Or if somebody goes overboard, the remaining sailor's workload has increased twofold, and now they also need to pull somebody out of the water. But the way I see it, a crew of two means a smaller watercraft, fewer orders to bark and more legroom.
So feel free to move about the cabin—wait that's a plane metaphor. What I mean is take your opportunity to stretch out and enjoy the view.
The artist maintains the link above. If the link broke, please contact Rhythm Changes, and thank you for the heads-up.