Curtis Andrews - Speaking Hands
Released independently by percussionist Curtis Andrews on Friday, April 2nd, 2021 is the album Speaking Hands.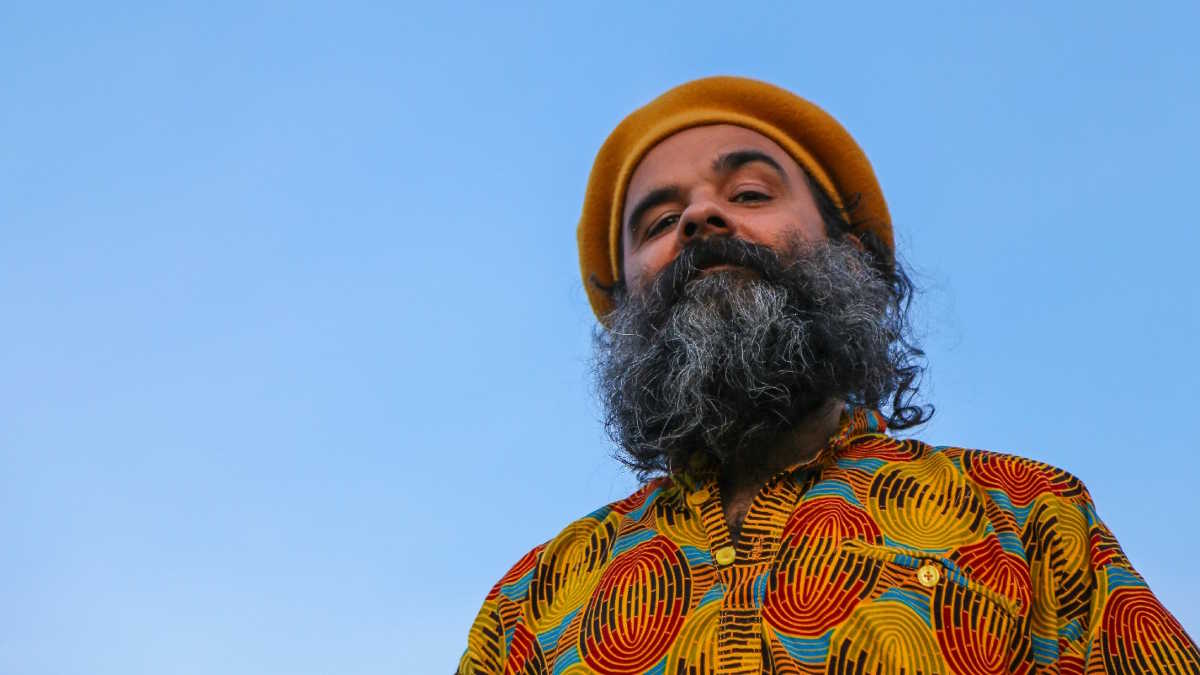 Released independently by percussionist Curtis Andrews on Friday, April 2nd, 2021 is the album Speaking Hands.
At New Westminster Secondary School, we had many cool band teachers. Arguably the coolest of them all was saxophonist Colin Maskell. He now lives and works in Smithers, BC, and even though I never had him directly as my teacher, he influenced me.
In the two years we shared at the school, I saw Maskell both inspiring students in the classroom and performing widely as a freelance musician. Neither pursuit suffered at the whims of the other, at least to my eyes. And one of the musicians with whom Maskell played often was Curtis Andrews.
I saw the band called The Offering of Curtis Andrews a few times, memorably at Cafe Deux Soleils but also at Presentation House in North Vancouver. My teenage jazz education had been so short that Andrews' musical prowess as bandleader, composer, and performer blew my mind, seeming beyond all reach. His collaborations with musicians from around the world, especially South India, also felt monumental.
The album Speaking Hands unites the nations of Canada, India, the United States, South Africa, and Ghana in its personnel. According to a press release, Andrews claimed that he wished to retire from recording more music, before this project reignited his interest.
I've not met Andrews, but he was always among my local idols. He is both local and global in a fascinating way. He's a one-of-a-kind mix of long-running musical traditions, the Myspace / Web 2.0 era of independent artist promotion online, and contemporary excellence in musicianship.
Guitarist and educator Jared Burrows, working at Capilano University, has been a major force in sharing some of this global music with Metro Vancouver students. He plays guitar across the entire album.
Exploring Curtis Andrews' music on Speaking Hands
"Tom TaTom TaKaTom TaKiTaTom" is a wonderfully onomatopoeic title that kicks off the groove with aplomb. Maskell plays saxophone on this track. The second tune is still energetic, but using the flute as a pentatonic melodic instrument changes the mood considerably.
Recorded in the pandemic, Speaking Hands keeps alive Andrews' decade-plus practices of travel and multi-discplinary study. Music cultures that influenced him particularly are West Africa and South India; therefore, this album features on percussion Andrews' guru, Dr. Trichy Sankaran, as well as musicians from Ghana.
Further details from the press release on these two music cultures illuminates this masterful album:
"The compositions are reflective of the various sounds, aesthetics, and influences that Andrews gravitates towards with an open heart and mind: the intertwined rhythms and polyphonies of vodu-derived traditional music from West Africa, the micro and macrocosmic play of time and pitch found in Carnatic traditions of South India, the open field of improvisation, and the intersection of all of these as one cohesive and original sound."
Andrews has deployed the same reverential apprenticeship-learning model that drove jazz music's evolution, across multiple music cultures. "To all that have come before me," Andrews gives thanks (among many people) in his liner notes.
Other session musicians from Canada and across the world on this project include South African bassist Sandile Jwaii; bansuri and alto saxophone multi-instrumentalist Neelamjit Dhillon, who resides in California; South Indian violinist Kaushik Sivaramakrishan, based in Edmonton, and Canadian vibraphonist Mark Duggan.
Sivaramakrishan's violin drives arguably the most epic cut, 13-minute "The Rainmaker". Violin and drums set the pace for Robin Layne's vibraphone and Burrows' guitar solos, before Sankaran takes centre stage.
Context
The attention-grabbing whole tones of the intro to "Locomotion" made me see myself while listening to this album. When I think of Andrews' music, I think of blistering unison melodies, played by a global assembly of instruments, giving way to a variety of well-staged free improvisations. That certainly happens here, just like it did at those live gigs I saw during the past decade.
A metaphor to draw from it? We can all come together, then make space for everyone's own experiences and talents to shine.
The year 1999 seems foundational for Andrews, now 43, as it marks the start of his relationship with Ghana and also roughly the same with Sankaran. In 2017 and 2020, Andrews earned funding from the Canada Council for the Arts' Explore and Create: Concept to Realization program totalling $60,000.
Production notes
The ensemble recorded "The Rainmaker", "The Speaking Hand", and "Chapu Tala Malika" live in 2018. For "Locomotion", "Kobla", "The Shapeshifter" and "A Frayed Knot", they continued recording live at the beginning of the pandemic with precautions.
Finally, the first three tracks were recorded from people's homes and with Andrews at Monarch Studios. I wanted to know the story behind the title "30 for -32 in 25". The press notes tell the story, and reveal that Andrews composed those first three tracks—recorded in a distributed fashion—at the Banff Centre:
"30 for -32 in 25 was written in a tiny practice hut (#25) at the Banff Centre for the Arts during a winter residency in January 2020. The music is centered around a rhythmic cycle of 30 beats. The temperature outside was a balmy -32C, which resulted in an impressive ice beard for Andrews […] the same period also produced two other compositions on the album ("Tight Rope, Short Walk" and "Tom TaTom TaKaTom TaKiTaTom")."
Great timing to attend the Banff Centre then!
Takeaway
I admired this segment of Andrews' bio from his own website and will print it here verbatim:
"Music as a career is second to music as a vehicle for growth and exploration. In my own creations and travels I try and gain more insight into who I am, what I am doing and try and to foster love, understanding, truth, wonder and excitement for being alive."
This worldly album has great depth, and it deserves a long look as a document tying together the creative process before, at the start of, and through the pandemic. It's a celebration of paths crossing and relationships bearing fruit. Andrews' journey in particular is so broad that of course his practice would continue, undeterred, past it all; that's what he's been doing for a lifetime.
Hear the album on Bandcamp here.
The artist maintains the link above. If the link broke, please contact Rhythm Changes, and thank you for the heads-up.