Dean Thiessen Big Band follow-up
Emphasis on the social aspect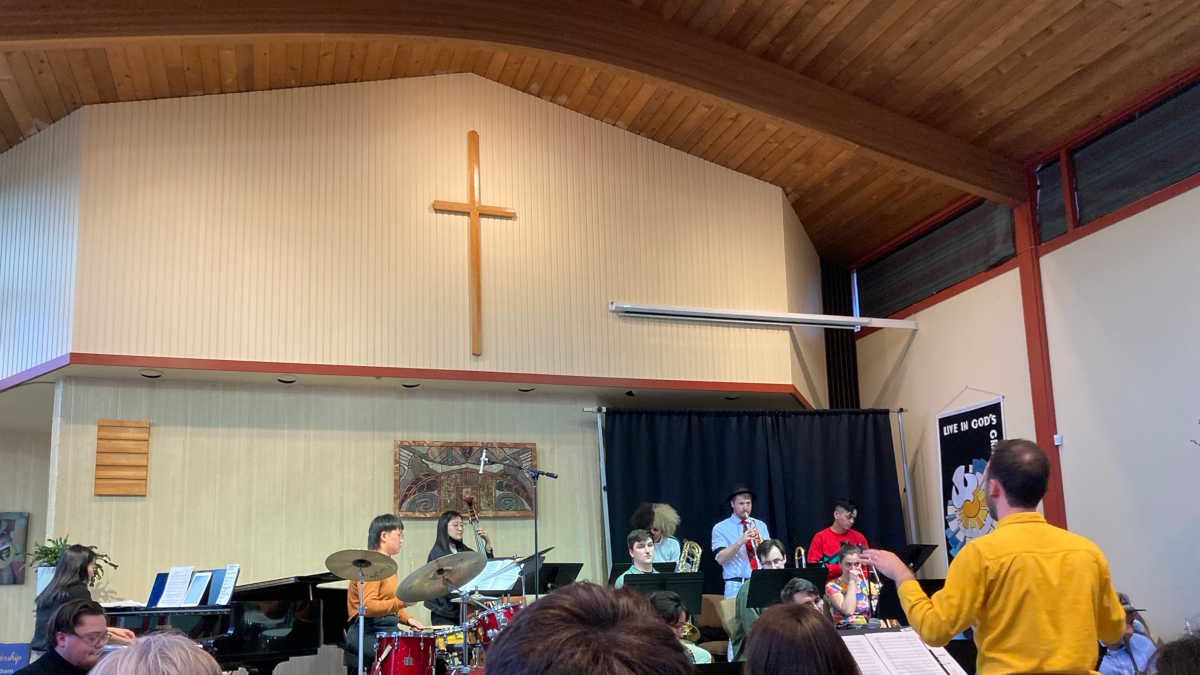 This past Saturday, Dean Thiessen put on the social event of the year so far for my generation in this scene.
A bunch of my friends hung out in the venue for two hours after the set.
It was the Stranger Friends Orchestra: previously covered in my free weekly article, The Dean Thiessen Big Band debut concert.
Band lineup
Saxophones: Brent Mah (alto), John Nicholson & Ardeshir Pourkeramati (tenors), Sofia Avelino (bari)
Trumpets: Rory Hislop (lead), Thad Bailey-Mai & Feven Kidane
Trombones: Gregory Dent & Janine King, George McNally (bass)
Rhythm: Chris Fraser (guitar), Suin Park (piano), Jen Kim (bass), Jamie Lee (drums)
Set list
All compositions by Dean Thiessen
Click the links to hear older versions of four tunes; one of them is by the Hard Rubber Orchestra!
"Sweet Thursday"
"Purple"
"Yellow"
"Thou Art a Foolish Chicken"
"Watermelon Sun"
"Freddy C"
"Places"
Dean is influenced by John Steinbeck; his two titles "Sweet Thursday" and "Thou Art a Foolish Chicken" reference the author.
But I didn't know until now that Duke Ellington also honoured "Sweet Thursday" on the B-side of this record:
Good company!
The most dramatic composition was "Yellow", and the best thing about it was the clapping.
After a cool intro with hand drumming on the kit and flute doubles, some band members started clapping as a middle section built to a climax. Then, the whole band left space for a single, synchronized clap to ring through the church.
The full band picked up again after that clap. Turns out it was foreshadowing – the arrangement's finale was another single clap. Steinbeck would be proud.
Dean and the Stranger Friends Orchestra rehearsed over five separate times leading up to this show. Watch out for any group of young musicians willing to team up, work hard, and devote that much time to a project.
---
I originally published this edition of the Rhythm Changes Update for subscribers-only and have since made it available for anyone on the web. Please enjoy browsing this website for more content.