Earth Tones roll out their new EP slowly, patiently
The first release that I checked out in 2021 was the debut single "All I Got" from an indie soul quartet, Earth Tones.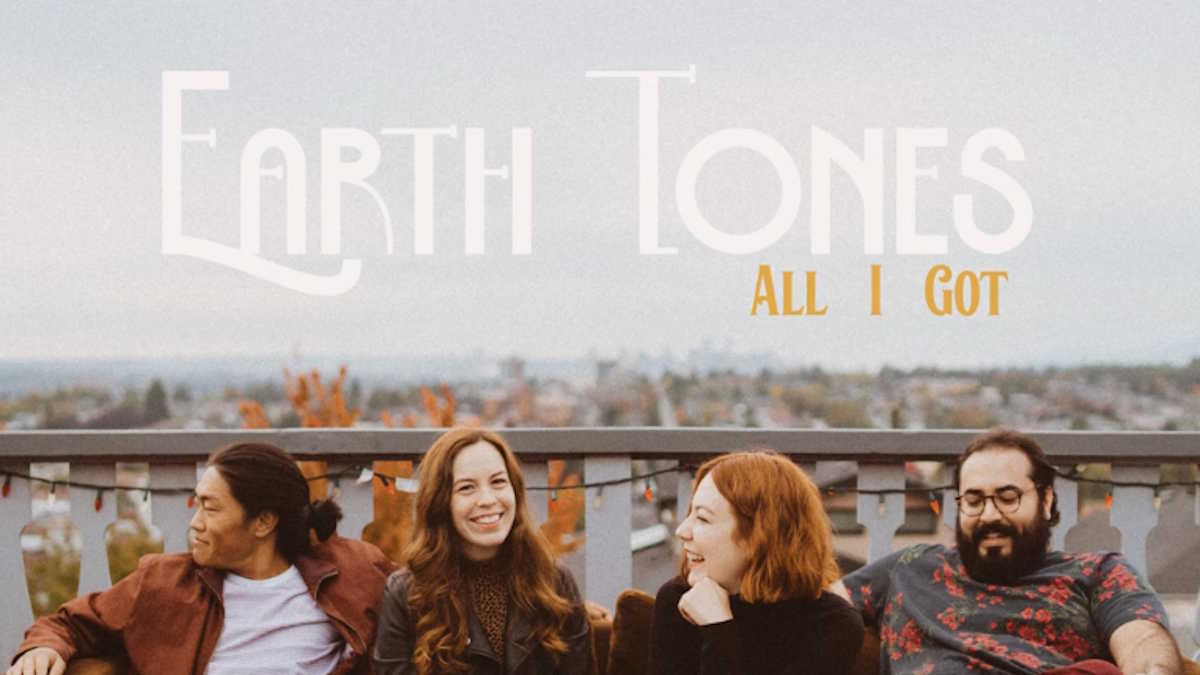 The first release that I checked out in 2021 was the debut single "All I Got" from an indie soul quartet called Earth Tones. They've since released the EP of which "All I Got" was the lead single.
This self-titled project dropped on Friday, March 19th, 2021:
The fact that the four band members—Karen White on vocals, Yamil Chain-Haddad on guitar, Sydney Tough on bass, and Jamison Ko on drums—co-wrote all four tracks casts them as a democracy, a collective, or a partnership of equals.
But I identify Yamil as the bandleader, because Earth Tones distributes their music to YouTube through his own channel. He also led the post-production of the EP, after the band recorded live instruments at 12TH ST Sound in New Westminster.
As the primary singer, Karen is approachable and crystal-clear; she presents a journey across the four tracks that will translate well at live gigs.
The rhythm section of Sydney and Jamison is tight throughout and always classy, never overplaying. It's evident that this bassist and drummer are in-demand in other local groups like Spindle! and Harlequin Gold, respectively.
Yamil—whether he is really the leader or not—demonstrates with this project that he is a thoughtful guitarist steeped in R&B, funky soul, and Motown sounds. He also has a vision for the full cycle of making music with an independent band today, with his fingers in every piece of the process.
More about the music
"All I Got" is Motown rock. The well-planned harmonic movement in the intro sounds like a jazz school classroom, especially because it features only voices.

Then, we get R&B pop-rock chord progressions, real tambourine (it makes a difference!) to keep it moving, and drums holding tightly in the pocket.
"Her" is a 70s-flavoured soft rock slow jam, with string pads and classy bass playing by Tough. After that, the drum production leads a shift from retro pop-rock to Tom Misch influences.
On "Warning Signs", the bedroom soul-pop feel isn't retro at all. The lyrical themes are especially current: "disconnected", "caught up", "feels like we're losing sight".
The band ensures that all of their songs have jam sections with gang vocals or harmonies, ready to play live. These parts would also suit the afternoon driving, hanging-loose in the evening playlists that abound for soul music.
"Kid Cool", the closer, can't escape the strong pull of Lake Street Dive that already informs the first two tracks. The band fronted by Rachael Price is such a reference point for Earth Tones, especially with the vocal inflections.
Slowly introducing themselves
Earth Tones have not shown many of their cards yet. If you want to learn more about them, you have two options so far.
One is Instagram. The other is a playlist under Yamil's name that shows many other influences beyond Lake Street Dive for the band:
How is the strategy of slowly and patiently rolling out a band into the world? Many acts seem to share everything as quickly as possible—or as often as they can commit consistently on a schedule.
Earth Tones have taken their time recording this EP, releasing one single, and following up with the full project two-and-a-half months later. They could have anything up their sleeve at this point.
If an artist's name lacks presence in the community, this strategy won't work. The audience needs to know you a little bit before the desire to learn more can germinate.
In this case, with four active musicians in Vancouver's jazz and indie scenes, people know what the band could be capable of.
It worked on me: now that they introduced themselves this way, I'm eager for more.