Live music
Isabel Leong on the Ghibli Jazz Orchestra
An interview with Isabel and with bandmate Andrés Coronado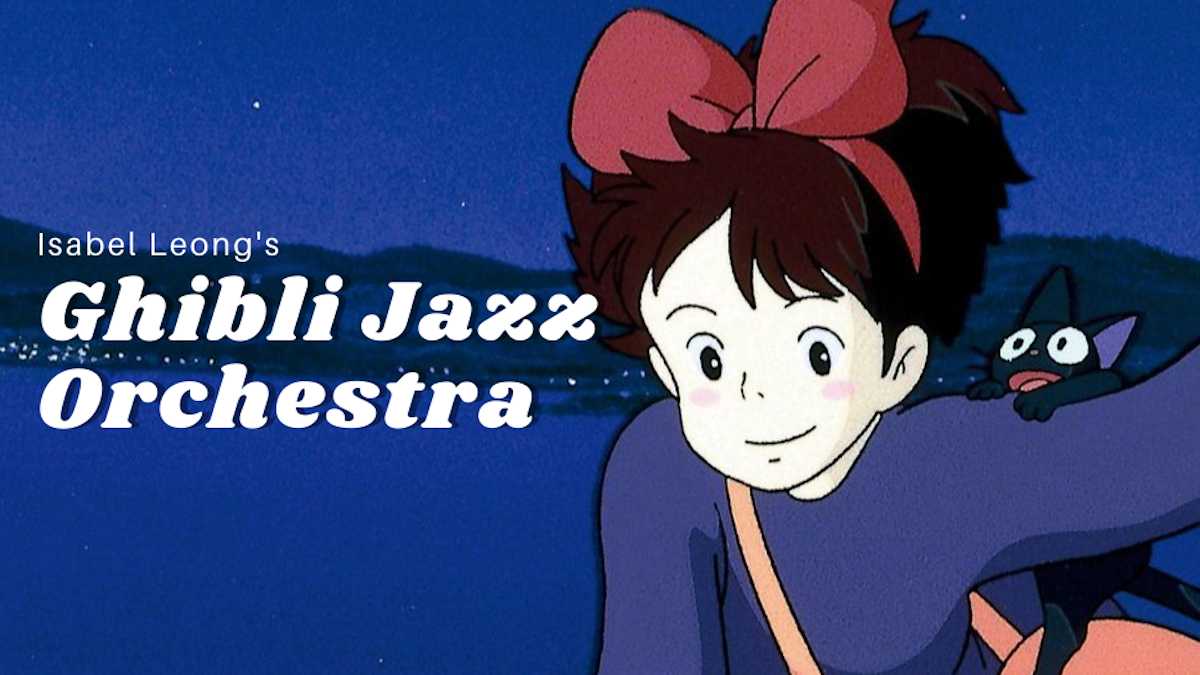 Isabel Leong presents her new Ghibli Jazz Orchestra big band on Friday, August 19th at Brentwood Presbyterian Church.
Recently, at the 2022 Fort Langley Jazz Festival, Isabel played guitar in the Leading Ladies Little Big Band. "It's such a good vibe among all the ladies in the group," Isabel says.
This will be Isabel's first time leading a band:
"My main passion is definitely teaching and education, and I think most of that energy goes into my work at Cap itself, as well as my work at Muzewest – our whole thing there is we're trying to spread music education to those who can't access it. But I've always wanted to perform, and this is kind of my way in."
Isabel's personal top three Studio Ghibli films are Nausicaä of the Valley of the Wind, Princess Mononoke, & Kiki's Delivery Service. (Mine would be Mononoke as well, Castle in the Sky, and The Tale of the Princess Kaguya.)
Band personnel
Woodwinds: Kayla Ferguson (flute), Nicholas Wise (alto 1), Jamal Foster (alto 2), Brodie Jones (tenor 1, soprano, clarinet) , John Carpenter (tenor 2, clarinet), Sofia Avelino (bari)
Trumpets: Robin Comeau, Matthew DeMarcus, Nick Pataky, Marisol Cruz
Trombones: Casey Thomas-Burns, Ricardo Galvez, Dave Pagdonsolan, George McNally
Rhythm: Andres Coronado (guitar), Josh Young (piano), Riley Poystila (bass), Elijah Tisalona (drums)
Getting it done
Isabel has persevered through the startup phase of the band, lauding her collaborators often but also going above and beyond with her own efforts:
"We've had a couple issues with subbing because it's bigger than a regular big band, like we have a designated flute and soprano chair, in our sax section.

"Then we had to cancel a rehearsal, and I was so frustrated because I knew things were coming up. I sat down and in a one-and-a-half day period, I pumped out an entire chart, and then I did it again a week later."
Those two arrangements are of Fantasia from Nausicaa and The Wind Forest from My Neighbour Totoro (links to piano recordings by Joe Hisiashi, who is the composer).
Six other musicians have arrangement credits for this program: Brodie Jones, Josh Young, Michael Millo, Nicholas Wise, and Robin Comeau...
And Andrés Coronado, who told told me about what he arranged – but first, he had a confession to make to Isabel:
I disclosed to her [...] that I had never ever watched a Studio Ghibli movie before (this has changed recently). Since I didn't personally know the music, she provided me with a list of tunes that were pretty cool. I immediately saw the name "Catbus" in the list and thought it was hilarious as a concept. I listened to the tune and a bunch of ideas instantly sparked.
About the Catbus arrangement, "There's hints of classic big band music in there, salsa, some creepy atonal stuff," he says.
Get a sense of the band's spirit as Andrés continues:
"As soon as I brought it to rehearsal, Isabel loved it. The band thought I was insane. It was perfect. I continued working on it, bringing a new section or two each rehearsal in order to traumatize my fellow Ghiblians.

"By the end of June, the arrangement was complete and it was beautiful. Out of nowhere, the title of the arrangement had evolved; Joe Hisaishi's Nekobus suddenly became Andres Coronado's Garfbus, a playful yet horrifying representation of the threat that feline public transport vehicles pose to Vancouver. The Garfening is coming."
Look for that playful voice to show up on stage as well as in the music presented.
"I had the idea for the band for a really long time, but I never thought I would even have the means to do it," Isabel says, "because all of us are kind of full-time students and we're all working." This concert by the Ghibli Jazz Orchestra will be a summer project that couldn't happen at another time of year.