How I'm building a new podcast audience this summer
Up-close and personal with plans for Jazz Office Hours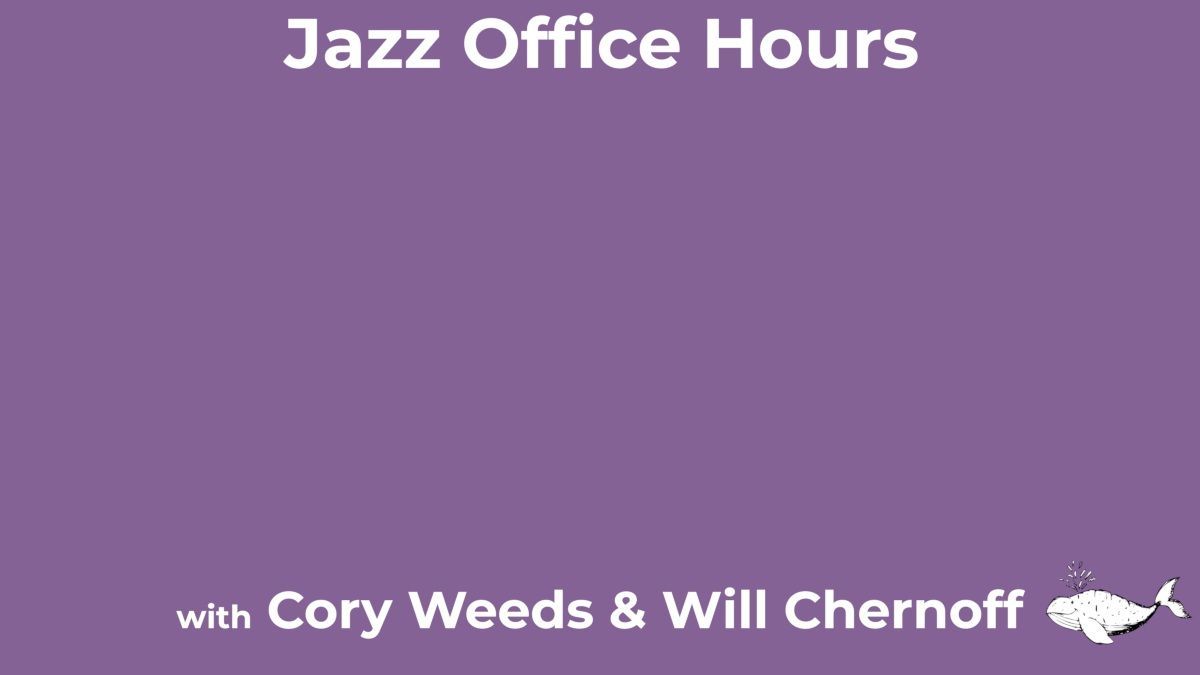 Introducing Jazz Office Hours
Cory Weeds and I are planning something new together in the world of podcasting.
Let's look at my plan for drawing listeners to the show; maybe it'll help you with your own audience-building situation.
Jazz Office Hours is name of our show, which we'll start recording this month.
It's not the first rodeo for either of us: Cory has made traditional jazz radio shows for longer than I've been playing, and I shared the super-ugly, ugly, bad, and good of my audio production journey with you last week.
So I know something important now: podcast listenership doesn't grow on trees.
And Cory is a busy man: I certainly feel his support going into this project, but I won't be leaving audience growth all on his plate, that's for sure.
Here's what I'm thinking about how to tackle that problem.
An audience-building strategy for the podcast
Jazz Office Hours is for both professional (or aspiring/student) musicians and involved fans of the music: anyone who has questions about how it all works and who wants a no-BS approach to learning.
That's a broader audience than the Rhythm Changes Podcast, because it goes beyond just Vancouver. Maybe the campuses of every jazz school in the country, or jazz fans in the big five Canadian cities.
But how do you get in front of them?
I built my former band on Facebook ads. (A story to tell later.) That's my bread-and-butter when it comes to online audience acquisition.
Facebook ads can target those jazz schools and major cities, no problem. The key question then becomes: how do you make the ads?
Facebook ads: how retargeting works
It goes kind of like this:
Write articles that your people might like to click on if shown
Run ads for those articles; some amount of people will click on them at least once
Make new ads for Jazz Office Hours, and show them to the people who clicked on your previous stuff
That's called retargeting, for those who haven't done it before.
Jazz Office Hours already has 14 written articles on-deck thanks to Cory's effort (and my heavy writing habit). We've split the authorship 50-50 so far. Topics are things like: how to approach a club owner, why I dropped out of Cap's jazz program, how to get on your local music scene and book gigs...
Deeper into how it works
And this is where it gets quite far into the nitty-gritty, but here's how that'll actually play out:
I'll make a campaign on Facebook ads called, "Jazz Office Hours Launch"
The campaign will have two ad sets: "Articles" & "Listeners". The "Articles" ad set will have 14 ads: one that links to each article. The "Listeners" ad set will have 3-4 ads with different wordings, that all link to the same page with podcast app links (Spotify, Apple Podcasts)
Only people who have already engaged with the "Articles" ads will see the "Listeners" ads. That's super important.
In Facebook ads, you spend money by the impression – the more your ads get seen. So, efficiency of who sees your ads is key.
That's why I'll put out feelers for the audience with the articles, and then retarget those people, only then inviting them to listen.
Hope you found it useful – I'll want to return to this topic in more concise ways in the future for sure!
---
I originally published this edition of the Rhythm Changes Update for subscribers-only and have since made it available for anyone on the web. Please enjoy browsing this website for more content.