Live music
Jen Hodge is back in town: All-Stars, Big Bang Jazz Band
The bassist is at Guilt, Frankie's After Dark, and more in her band plus a bigger ensemble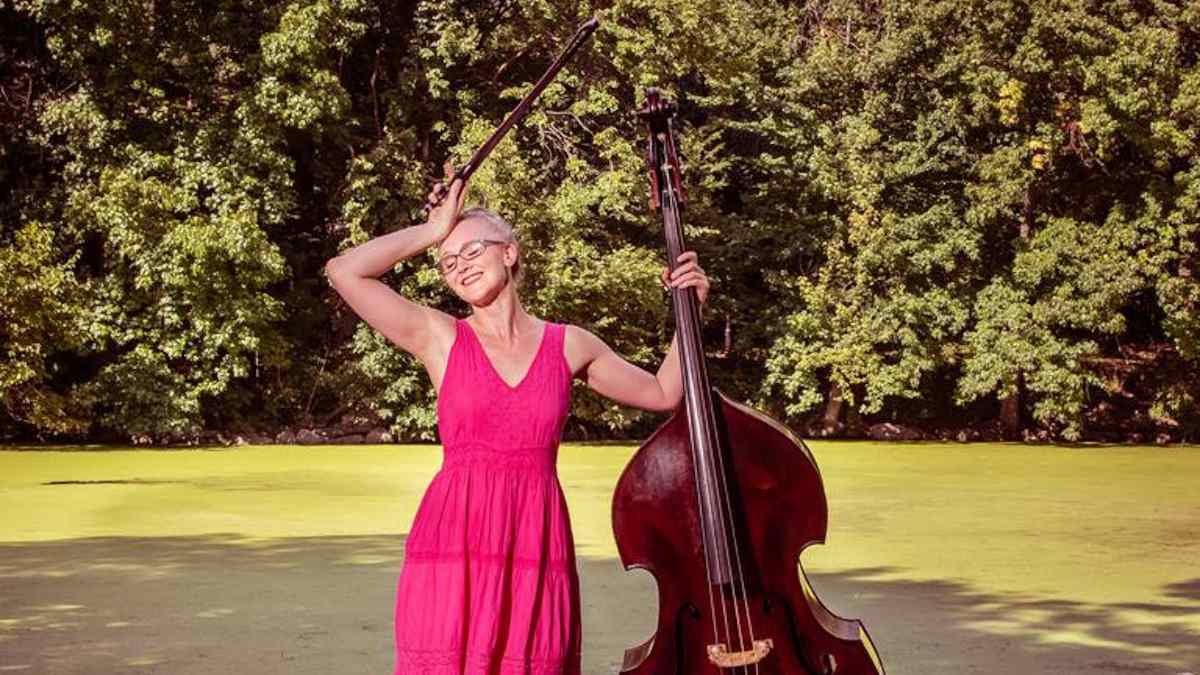 Jen Hodge is in Vancouver with multiple gigs coming up over the next week, both with the Big Bang Jazz Band and her own swing-oriented group, the Jen Hodge All Stars:
May 3rd at Guilt & Co. (All Stars)
May 4th at St. Michael's Hall (Big Bang Jazz Band, tickets)
May 5th at Evergreen Hall, Chilliwack (Big Bang Jazz Band, tickets)
May 6th at Frankie's After Dark (All Stars)
May 7th at White Rock Traditional Jazz Society (Big Bang Jazz Band) (Sold out)
---

Thank you to Pearson Instruments for sponsoring this free weekly article. Brad Pearson is a guitar tech and luthier in Marpole, South Vancouver. Take your instruments to Brad for setups, repairs, and more; find him at pearsoninstruments.ca.
---
Jen, 37, was born in Courtenay, BC and came to Vancouver for Capilano University's jazz program. With dance-oriented swing jazz at the heart of her playing career, she worked often in Seattle too before moving her playing career to New York City. She's perhaps best known here for holding down a regular swing gig at Guilt & Co. for 9 years during the 2010s.
The Big Bang Jazz Band
My interview with Jen started with the Big Bang Jazz Band, as those gigs have sentimental meaning to those involved in the Chilliwack-born ensemble:
"Our hometown hero Bria Skonberg's gonna be in town for that stuff. The Big Bang jazz band is a group that Bria and our friend Colin Farquhar started when they were teenagers. It's simultaneously a 20th-anniversary reunion for that band and also Colin's 40th birthday. His nickname has been 40 since we were teenagers, so we have literally been looking forward to celebrating 40's 40th birthday for decades."
One of the things that Jen and I have in common as bass players is that we've both played with Bria, but I did it only once and she has done it countless times:
"I met Bria when I started at Cap. She was a year ahead of me, but we became pretty fast friends, and we've been pals for 20-plus years. There's no substitute for just a vast amount of time that you've spent playing music with somebody and also all of the things that surround that, like riding in cars for hours at a time, or knowing somebody through all of life's ups and downs and changes. It does really deepen your musical chemistry. There's a bunch of us out in New York too that all met at Cap around the same time."
Jen Hodge All Stars
Jen's All Stars gigs will feature Chris Davis on trumpet, Josh Roberts on guitar, and Mike Daugherty on drums – who are all core members of the band on her latest record, The Girl in the Groove: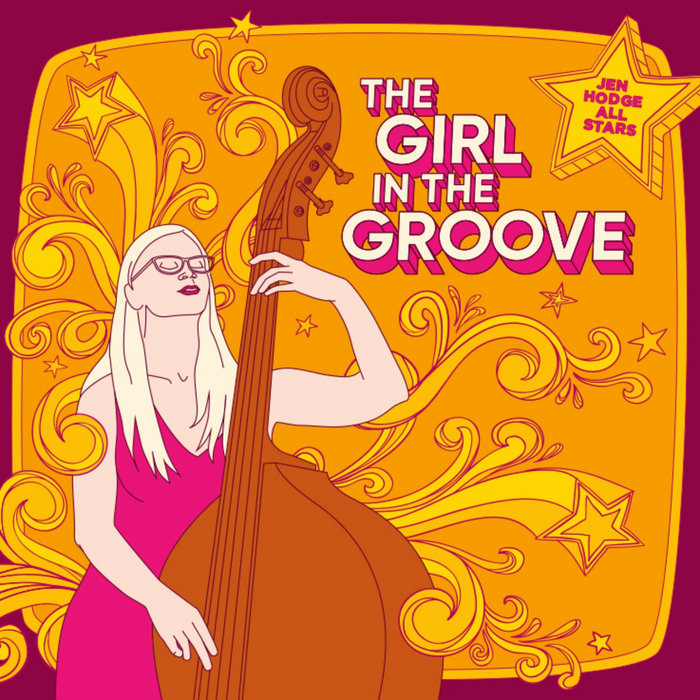 Jen was candid about her sense of the time that has passed since releasing this album in 2020 and about why she hasn't yet followed it up:
"I've been feeling painfully aware of the fact that my last album came out two and a half years ago and I'm like, 'It's time to make another one.' But it feels pretty daunting to try and approach that, because the way that I always did it in the past, we'd play stuff every week at Guilt and Co. and at the other gigs that I had in between; and it would get to a point where there's a batch of stuff that we're playing every week or more that's just kinda ready to be harvested.

"If I'm going to make an album out here, I have to approach it totally differently. I don't have my own gig. I probably have to come up with some ideas and then pay people to rehearse, and where am I going to get that budget from? That being said, I am really proud of the albums that we made in the past and The Girl in the Groove."
From Guilt to now
Jen feels that the defining shift in her move to the New York scene has been the new focus on side-musician gigs only, as opposed to leading a recurring gig:
"There's so many things that are already established and happening. Nobody needs me to come in and be like, 'Okay, I'm gonna start a new thing.'

"I don't need to start a thing and make myself not available to go learn from those people who are doing that. There's so many gigs and everybody needs a bass player. I'm definitely not hurting for work, which is amazing. I'm so happy that I can say that. But I do care about like helping to foster that kind of community vibe."
There is a venue that Jen has come to feel at home in on the New York side, similar to how she had settled into Guilt & Co.:
"Mona's is like the Guilt and Co. of New York for me, It feels like home base. I look forward to it every week, no matter what else I have going on. At two o'clock in the morning, Mona's is very busy. That session wraps up normally at like four. It's great!

"Being in the house band at Mona's so often, I invite people and if I see people where I know that the guy who runs the session doesn't know them, I can make a point to introduce them and try to make people feel welcome. He said that's one of the reasons that he likes to have me on that gig, because I do make people feel welcome and try to foster that same, same feeling that I did on my gig back in Vancouver."
From vibrant NYC nights to the Frankie's late show
I asked for more about how vibrant her day-to-day environment in New York feels:
"There's a cocktail bar in the village called Dante, which has been there for over a hundred years. It's the neighborhood where Bob Dylan and Simon and Garfunkel and Joan Baez were all playing. I often can go get a nice meal and some nice cocktails and play some great music in the afternoon there, and then go go to another gig in the evening. And if you're on your way somewhere, you're like, 'I can swing by Dante on my way, and there's people playing in the afternoon, I can sit in and it's great.'"
I had to note that Frankie's After Dark seems like the perfect gig for Jen, uniting the city that nurtured her musically with her love of late-night hours:
"I'm such a night owl and I'm so happy first of all that there's the option for me to do a gig that starts after 11 [in Vancouver]. I'm like, 'Oh yes! I love this.' So happy that there's something in Vancouver happening at that time. I used to be like, 'I would love to just go hear some other music when my gig is done.' So I'm very happy that Tim Reinert's filling that. It sounds like it's quite a musician hang, that late night at Frankie's."
For me, Jen was always the Guilt & Co. Wednesday band; my memory doesn't go back to before she started doing it. It's a rare treat to hear the return of someone like that after they go on – that and more is ahead of us this week.