Live music
Jennifer Kim on the New Generation Big Band
The band played six tunes, one of which is an original by Julian Borkowski.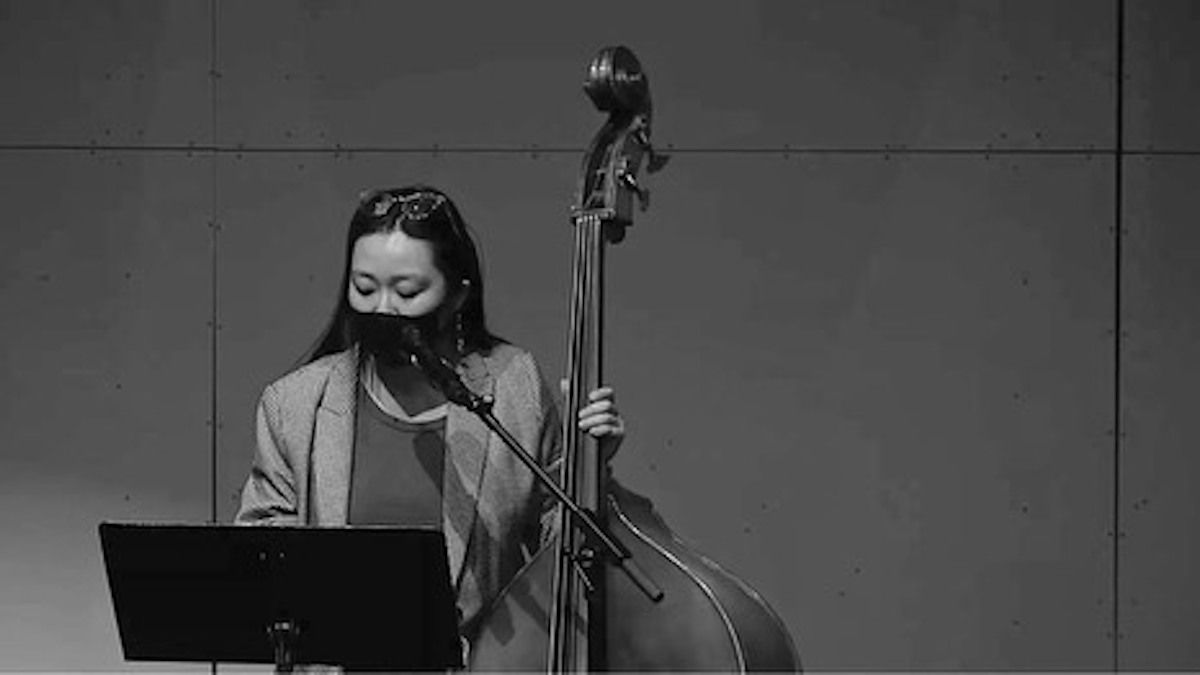 I first heard Jennifer Kim play upright bass in the Vancouver jazz community three years ago, in a series called Strong Women Strong Music, at Frankie's. Last week she directed a large ensemble called the New Generation Big Band.
The gig was at Jazz Evensong – the weekly series at Brentwood Presbyterian Church – on Wednesday, March 2nd, 2022.
You can find a recording of it on YouTube here.
New Generation Big Band members
Trumpet section
Julian Borkowski
Hugh Penner
RJ Abella
Rory Hislop
Saxophone section
Rowan Whitridge
John Carpenter
Adam Kyle
Gordy Li
Sofia Avelino
Trombone section
Gregory Dent
Nathan Lintott
Zoey Squair
Ricardo Galvez
Rhythm section
Dean Thiessen on piano
Matt Franceschini on guitar
Brad Pearson on bass, upright and electric
Jordy McIntosh on drums
Tunes from March 2, 2022
The band played six tunes. One was an original by Julian Borkowski, and another was an arrangement by Chris Berner – also a trumpet player, just not in this band.
Setlist
"It's Oh, So Nice", as performed by the Count Basie Orchestra (Sammy Nestico); likely a favourite of Jennifer's, because she has previously recorded a big band version of this tune; but only four members of the band this year – Julian Borkowski, RJ Abella, Sofia Avelino, Gregory Dent – played on that recording in 2020
"Stablemates" (Benny Golson), arranged by Chris Berner in a hard-hitting, contemporary style
"Closely Dancing" (Arturo Sandoval), a tango-ish ballad
"Look Ahead" (Julian Borkowski), an ECM-style tune with active bass and drums
"For Lena and Lennie" (Quincy Jones), a ballad
"Kogi" (Jacob Mann), an adventuresome arrangement with both R&B gospel grooves and some softer sections
Dean Thiessen played a piano improvisation in the middle of the set, unaccompanied.
The band's mission, according to Jennifer Kim
Jennifer is not in the performing lineup of the big band, instead standing in front of the ensemble to direct it.
Want to hear her play? Your options are limited so far. You'll find an audacious arrangement of "Giant Steps" on her SoundCloud but little else. Unless she has something major up her sleeve, this year you will enjoy more of her work as a director and arranger than her work as a bassist.
According to her Instagram account, the first time Jennifer directed a big band was at the Maplewood Taphouse – great work to fit everyone on-stage! – in late 2019.
Jennifer has a broadly appealing mandate for this big band. She told me:
With over 100 years of Big Band Music, we hope to play through the classics of the different Eras of jazz: From swing to modern and everything in between.

Of course, that includes some fantastic young composers as well! Julian Borkowski and Chris Berner's compositions were featured this past performance; there is a possibility of Shruti Ramani, Matt Franceschini and my compositions that will be played throughout the year as well.

My main goal with the group is to have more young people involved with Canada's jazz scene.
What's next
I asked Jennifer what her plans were for this band through the rest of 2022. She said, "The plan for this band is to play throughout the summer."
Where will the band play? I could see them getting into the Fort Langley Jazz Festival, or Khatsahlano as a changeup set; also, municipal outdoor concerts and city fests, or Jazz at the Pat. Any non-profit music presenter (or deep-pocketed promoter who wants to support 15+ musicians!) would benefit from having them.
---
I originally published this edition of the Rhythm Changes Update for subscribers-only and have since made it available for anyone on the web. Please enjoy browsing this website for more content.