The jazz vocal scat soloing of Laura Anglade
Laura's scat singing prowess kept me tuned in throughout each of the three numbers at a jazz student clinic.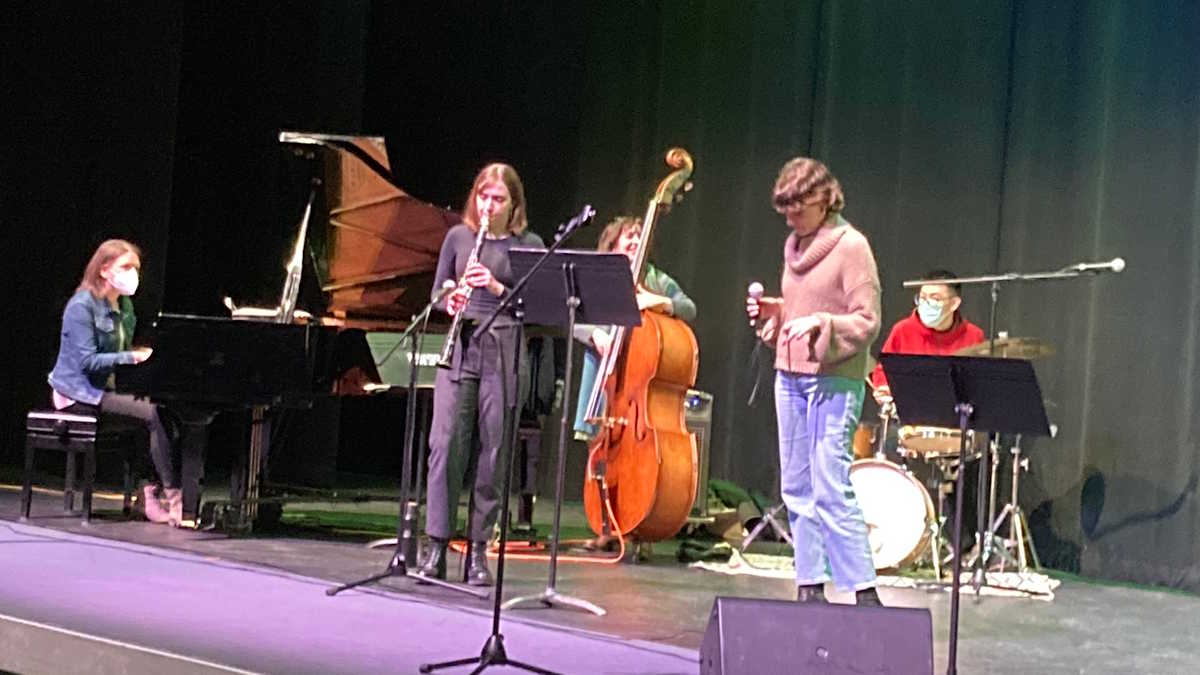 This is a quick follow-up to The High Standards Quartet article I wrote before Laura Anglade and Virginia MacDonald came touring to BC.
Laura Anglade only performs vocal jazz scat solos on two tracks of her album, I've Got Just About Everything.
On track three, "Easy Way Out", she gives a restrained and tasty solo before the saxophone solo.
Then it's all the way down to track ten, "Exactly Like You", which has the kind of arrangement that I discovered on the vocals-bass jazz duo albums of Karen Young and Michel Donato. She scats in unison with the bass, like it's a shout chorus or a transcription of a famous solo. From there, she breaks into a full-on improvisation over walking bass, and she does a great job of going from soft to strong dynamically.
But I heard Laura sing at New Westminster Secondary School, my home city school and the place where I found jazz for the first time.
At NWSS, she did a band clinic and a combination of performance and Q&A.
She sang with Virginia on clarinet beside her, and with Amanda Tosoff on piano and Jodi Proznick on bass; but also with my fellow NWSS alumnus, Tony Wang, on drums.
I heard first-hand that Laura has exceptional fundamental talent for scat singing. She performed scat solos on all three of the tunes they played:
"Straight, No Chaser", where she was the first soloist and impressed the students over the blues; she sounded as at-ease and fun as she would have at BuckingJam Palace a couple days prior
"I've Never Been in Love Before", where she also crafted the delivery of the lyrics in a personal way I enjoyed
"Three Little Words", which is the closing track of her album. She didn't scat on this uptempo swing recording – featuring her band's instrumental soloists instead – but she did it fluently in this performance
I could say equally great things about the performances of Virginia, Amanda, Jodi, and Tony, but Laura's scat singing prowess kept me tuned in throughout each of the numbers. That's a cool feeling in what can sometimes be a dry academic setting.
If you will go to hear her in Victoria at the James Bay United Church on March 1, 2022, look forward to those scat solos!