The Return of the Thing & Hero's Welcome with Tim Reinert
Tim talks about Jen Yakamovich's New Thing and the next show there, plus a new series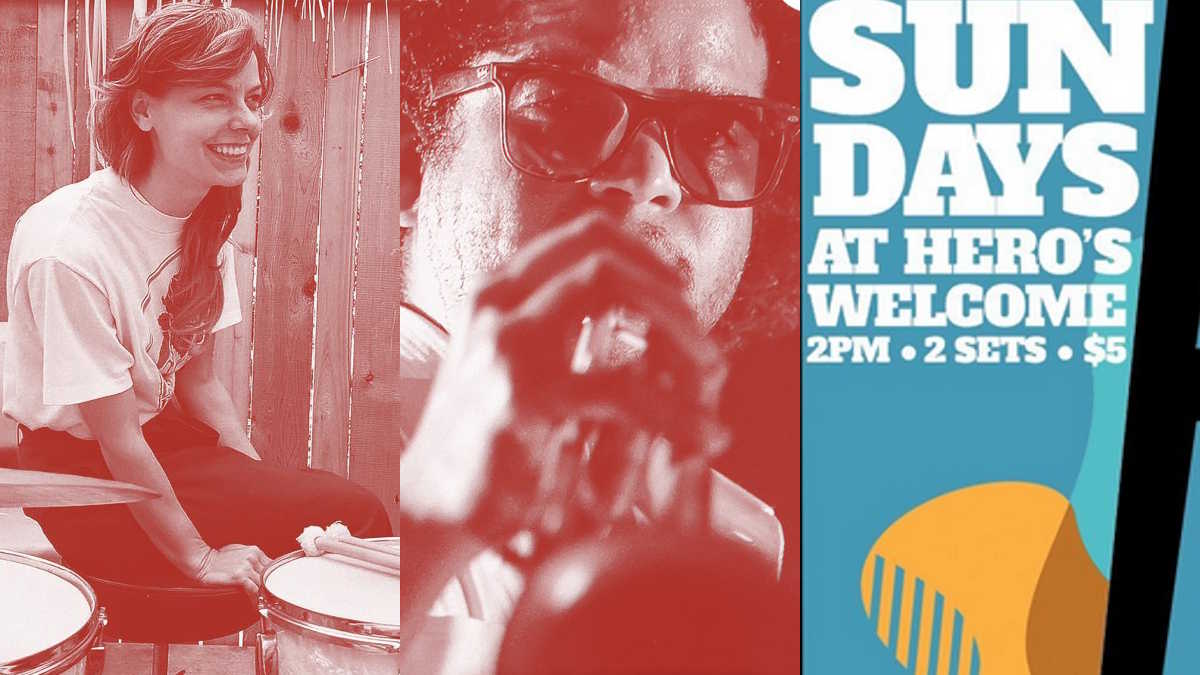 When I walked into Tyrant Studios for the returning iteration of the New Thing – the improvisers' monthly series presented by Tim Reinert – Tim asked me at the door, "I'm curious, of all the shows, why are you here?" I guess I have a reputation of being raised in the straight-ahead camp, but because he said the word curious, I was quick to reply: "Because I'm curious!"
Jen Yakamovich: New Thing at Tyrant Studios
The New Thing series has evolved into a co-presentation by The Infidels Jazz and the NOW Society. It previously happened in a Red Gate space, with an assist from Kevin Romain, and was on a few months' hiatus.
This gig on Monday, February 13 featured Jen Yakamovich on drums, Keenan Mittag-Degala on piano, and Andy Ziuliani on electronics; they played one set of free improvisation. I enjoyed it.
How did Tim feel about it? He told me after the gig:
"I couldn't be happier. First of all the musicians were happy with their set, which was really wonderful, and full of interesting textural interplay. Second, we had a great turnout for this sort of show, and the audience seemed really into the performance. That's really best case scenario for a show like this, I think. I should also mention that we had a bunch of people who had never been to Tyrant before, which is a really special place on the jazz scene thanks to Daniel Deorksen."
The next New Thing with Aquiles Navarro
Next month's New Thing on Monday, March 6 is kind of a big deal. Here's Tim on that show and what I can get excited about:
"Aquiles is the trumpeter in Irreversible Entanglements, who are somewhat of a supergroup in the US free jazz scene right now, and are playing the Chan Centre [on Saturday, February 25]. Lisa Cay Miller, who is co-presenting the New Thing series with us as part of her role as Artistic Director for NOW Society, suggested reaching out to Aquiles to see if he'd be interested in staying in town for a bit. He's already doing some workshops and shows for NOW, and was kind enough to stay even longer so that he could do the New Thing.

"I honestly have no idea what his show is going to be like, as he wants to wait until he gets here to figure out who he's going to play with. So it's going to be a night of surprises, which is what this music is supposed to be all about."
Tickets will go on sale for Aquiles Navarro's gig at Tyrant when the venue publishes its March calendar: watch the gig list for that.
Hero's Welcome
Tim also announced a new series this week at Hero's Welcome: a pub located on Main Street near King Edward Avenue in Vancouver. Running every other Sunday afternoon, the series kicks off on March 5 – the day before Aquiles' New Thing – with the Jimi James Sextet. It will be the most affordable cover charge in Vancouver jazz: $5.
Tim described what to expect there and contrasted the New Thing with Hero's Welcome:
"They are very different series, but the one thing they have in common is that they both are designed to fill a specific need in the community. In the case of Hero's Welcome, it's about trying to fill the void in the jazz community left by Pat's Pub halting their music programming last year.

"I've been trying to find a venue where we can present an affordable and accessible weekend afternoon jazz hang again. And with Hero's Welcome I think we've found the right partners. Great food, great drinks, casual atmosphere to listen to great music. it's going to be the ultimate jazz hang, I think. Jimi James launched our Pass the Hat Lido series for us last spring, and I'm confident we'll be able to have the same kind of success at Hero's Welcome."
That's everything Tim told me about. Now, a couple more thoughts of mine on the state of live gigs in town: