The Ostara Project launch: a supergroup is born
Their recordings will be one of the biggest Canadian jazz releases this year; here's the set that started it all.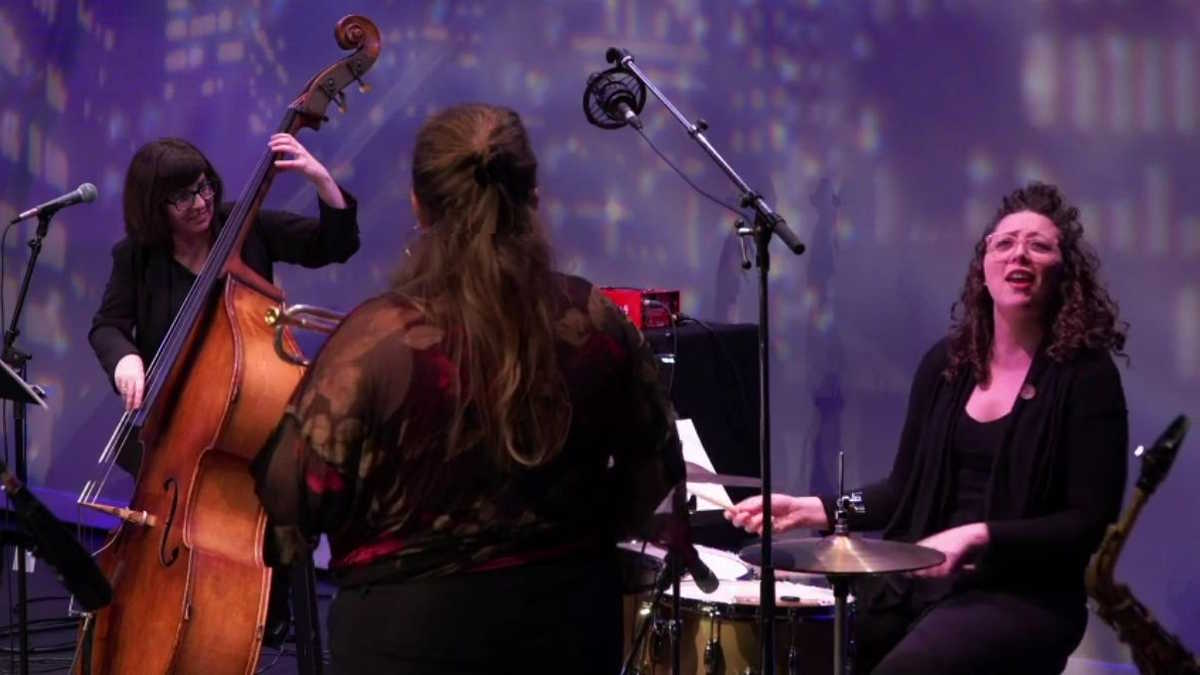 The Ostara Project launched at Jazz at the Bolt on Sunday, February 13, 2022, playing two sets of music.
And that wasn't all Ostara did with Cellar Music, the label who co-presented Jazz at the Bolt: they also recorded at Warehouse Studios in Vancouver the following day.
Why it matters
Book it: the recordings that Ostara made at the Warehouse will be one of the biggest Canadian jazz releases this year.
Cellar has dropped ambitious large-ensemble records with strings lately (Ryan Oliver, Cory Weeds), but this is a different kind of ambition: an all-female and inter-generational unity group.
This supergroup should be a major player at Canadian jazz festivals this year, and if we're lucky enough to have them again in Vancouver at our jazz festival, they'll get top billing at one of the mid-to-large venues.
That's why I'm writing about this gig in Burnaby at the Shadbolt Centre that started it all.
The genre is contemporary modern jazz with prominent vocals and lyrics. The performers are all charismatic, and they gave us a consistently great time at Jazz at the Bolt.
Ostara Project is a contemporary jazz collective
Each of Ostara's seven members are notable artists under their own names:
Allison Au on alto saxophone
Amanda Tosoff on piano
Joanna Majoko on vocals
Jocelyn Gould on guitar
Jodi Proznick on bass
Rachel Therrien on trumpet
Sanah Kadoura on drums
Ostara has an origin story in three different cities, and I'm also excited to share their Jazz at the Bolt 2022 setlist with you.
Before that, here's more on the origin story: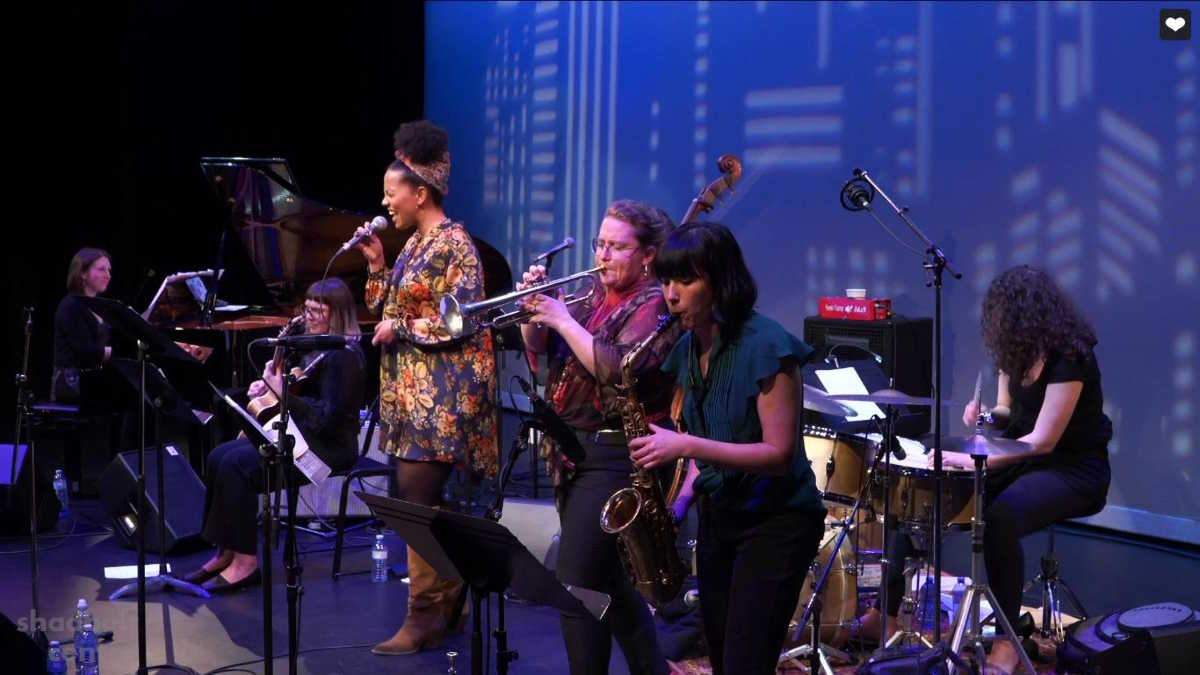 Behind the Ostara Project launch: Music Arts Collective & BuckingJam palace
Ostara traces its origins to Toronto, Vancouver, and Calgary.
Music Arts Collective: Amanda Tosoff, Jodi Proznick, & Francesca Fung (Toronto / Vancouver)
Amanda and Jodi – together with their colleague in Vancouver, Francesca Fung – run Music Arts Collective: "an online music school founded by a trio of passionate musicians, educators, and forever-students of music".
Jodi emceed the sets at Jazz at the Bolt; from that stage, she and Amanda gave off the most leader-like vibes.
BuckingJam Palace: Lisa Buck (Calgary)
BuckingJam Palace, which is a jazz venue in Calgary, worked with Music Arts Collective to launch Ostara.
Lisa Buck is the executive director of BuckingJamPalace via a non-profit; thanks, Lisa, for getting in touch and helping me learn more about that launch.
BuckingJamPalace and Music Arts Collective had been working on a video project involving the legacy of Judi Singh, when Jodi suggested they start something else: a super-collaboration.
Inviting the musicians to the Ostara Project
Jodi then connected with Cory Weeds to set up the performance and recording with Cellar Music. She also personally invited the musicians to join her and Amanda in the group.
Music Arts Collective uploads a videocast interview show to YouTube. Amanda and Jodi are the co-hosts, and in their videocasts from 2021, Ostara forms before our eyes: Allison, Jocelyn, and Joanna appear as guests.
On top of that, two more musicians joined.
Rachel Therrien plays trumpet in New York City and comes from Montreal; she had gigs on the calendar at the 55 Bar and Birdland before arriving here for Jazz at the Bolt.
Sanah Kadoura also works in New York, and her educational roots are in Calgary as well as at St. Francis Xavier University in Nova Scotia.
"We met on Thursday [three days before the gig]", Jodi said on-stage about Rachel and Sanah.
The setlist for Jazz at the Bolt
Ostara played two sets for Jazz at the Bolt 2022. With seven tunes in the setlist, each of the seven band members had the space to lead a composition or arrangement:
"Delta Sky" (Allison Au), a groove tune with pop-R&B style harmony
"Storms and Oceans" (Jodi Proznick), a soft ECM-feel or bossa nova song that features Joanna; Jodi shouted out Noah Franche-Nolan, who collaborated on the arrangement for this tune
"Little One" (music by Amanda Tosoff, lyrics by Jodi Proznick), a jazz waltz song dedicated to Jodi's son
"Lluvonia" (Rachel Therrien), an angular tune with vocals and saxophone in harmony; and a feature for Sanah, whose free improvisation with Jodi made for the biggest smiles of the set
"Tides are Turning" (Jocelyn Gould), a ballad song arranged for guitar and voice before the band enters
"Bye Bye Blackbird" (arr. Joanna Majoko), the only standard in the set, presented with a groove intro in 7/4 time
"Rise" (Sanah Kadoura), an energetic neo-soul song with horn arrangements
The setlist was the same for both sets, and none of these arrangements had been released yet on recordings.
I'm excited for the project's upcoming work; an Instagram account for the group is live now with clips from the performance.