Paul Rushka: Present Past, Kenny Wheeler, April gig week
The bassist returns to town next week with several gigs, including one as a bandleader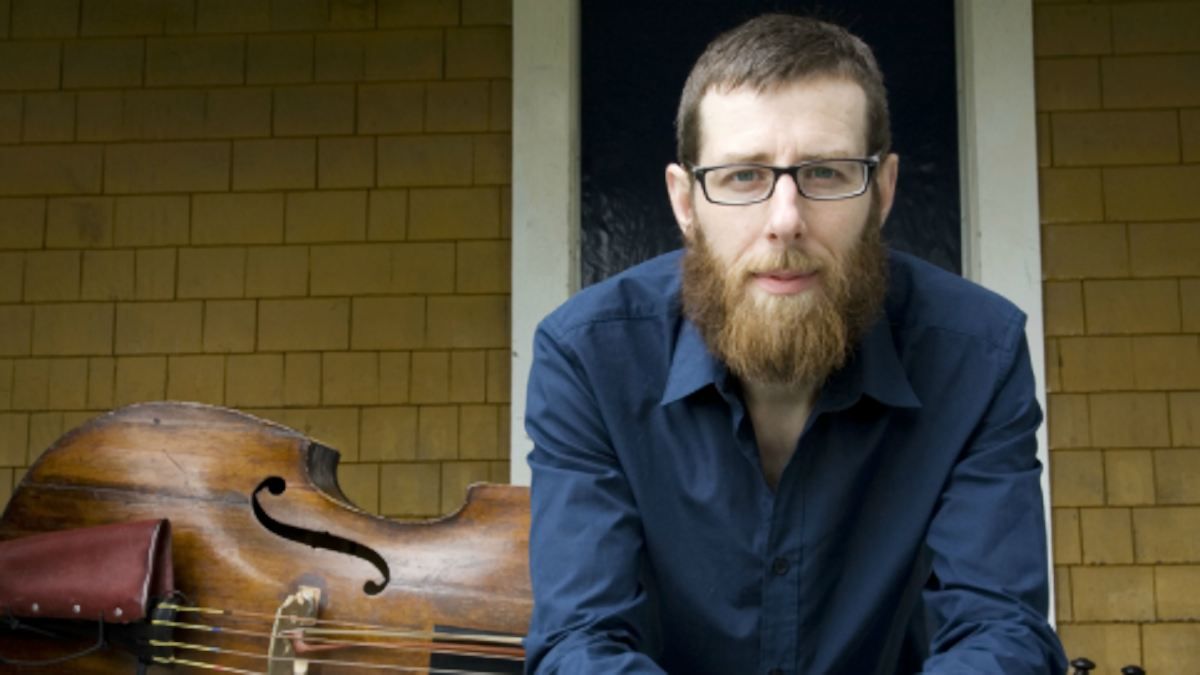 Bassist Paul Rushka returns to town next week, playing several gigs – including one as a leader on Thursday, April 27th at Frankie's, under what he calls his Present Past ensemble.
The upcoming Present Past night at Frankie's, featuring Jon Bentley on saxophone, Tristan Paxton on guitar, and Bernie Arai on drums, was the main subject of my recent in-depth interview with Paul.
---

Thank you to Pearson Instruments for sponsoring this free weekly article. Brad Pearson is a guitar tech and luthier in Marpole, South Vancouver. Take your instruments to Brad for setups, repairs, and more; find him at pearsoninstruments.ca.
---
Paul has other gigs, too:
Sunday, April 23 at the Shadbolt, with vocalist Nicolas Bearde (tickets here)
Tuesday, April 25 at 2nd Floor Gastown, in a trio with Cory Weeds
Friday, April 28 and Saturday, April 29 at Frankie's, with Cory, Miles Black, and Jesse to play the music of Bish at the Bank by Walter Bishop Jr. – a new archival release from the Cellar Music Group's label imprint Reel to Real
Since the summer of 2020 Paul has been a professor in the music department of St. Francis Xavier University, located in Antigonish, Nova Scotia, so this is an itinerary worthy of a trip across Canada.
Paul Rushka's Present Past
"That project's a pretty important project to me. It's a group I've dedicated to the spirit and the music of Kenny Wheeler.

"When I was doing my grad school at McGill, I was focused on large ensembles, first a quintet and then a six-piece with a lot of counterpoint in various things, trying to make the most of an ensemble that size. And I still love playing in a group like that and writing for a group like that.

"But as I'm sure you're aware, financially, it's not always the easiest thing to deal with. So this group with Tristan and John has been around for four or five years. It's usually just a trio, with no drums. We play a lot of Kenny's music, but also some of my compositions that I guess fit the ensemble.

"Because Cory gave us a budget for a quartet, I just thought it'd be fun to have drums. And Bernie Arai, of course, is a very old friend, and we played a lot together over the years."
Paul's values regarding 'tribute projects' dedicated to other musicians
"A lot of the time in jazz, when people do tribute projects, whether it's a recording or whatever, they play the music of the person: 'this is how it was in the record', of course there's improvisation and stuff too. But I wanted to get more into the spirit of Kenny's music.

"I definitely took some influence by those Dave Douglas records of the early 2000s. He did a tribute to Mary Lou Williams and you know, if there were 10 tunes on [each of these records], it was probably like six by Dave and four by the person being paid tribute to.

"I thought that's a cool thing because it's like, rather than just playing that person's music, it's demonstrating from multiple perspectives how that person's conception has influenced your own. So that's really the spirit of this ensemble."
The Present Past ensemble is making an album, recording remotely: I wonder what Paul would think of Dave Douglas' albums that were made this way, including the recent Songs of Ascent: Book 1 - Degrees. (Disclosure: I work for Dave by day and write for you by night.)
The artistry of Kenny Wheeler
Paul is a scholar of Kenny Wheeler, literally – Kenny was the focus of his graduate and doctoral studies:
"Kenny spoke about the act of composition and he was like, 'I think about it more like de-composition.' "When he would write, he was so prolific that he would write a bunch of stuff, and then for him the art of composition was less about getting ideas on a page and was more about, well here's the germ of a tune and then what if I take this away? What if I change that?"
Paul gives the example of Kenny's composition "Kind Folk", familiar to fans of Kenny's music as well as to many Capilano University students:
"When I was in the UK, I was a first visitor to the Kenny Wheeler Archive at the Royal Academy, and one of the things I found is I found the original lead sheet to the tune 'Kind Folk'.

"In this very first early iteration, the [written] melody was not how I knew the tune. I was like way down in a basement in this tomb of a room, and I discovered this thing. I'm like, 'What is this? Oh, this is 'Kind Folk', but it's not as I knew it. His first version of the melody was what ended up becoming the main theme and the counter theme.

"He had written this really gorgeous melody, but just. through this act of de-composition, as he called it, he realized that it was too cluttered. It wouldn't, it wouldn't be as effective as if he simplified it. So he chopped it into two parts.

"It seems like he does this a lot. There's a lot of repeated ideas in his music, but always changed just in the smallest ways. All of a sudden, you have a greater depth to the music and it's more interesting to listen to, and for people to play. You can't go on default [when you play it]. Not that I think you could on Kenny's music anyway!"
Nicolas Bearde
While the influence of Kenny Wheeler will come through in Paul's date as a bandleader with Present Past, his other engagements will take him to more mainstream places that nevertheless inspire him as a bassist. I asked Paul about his Shadbolt concert with vocalist Nicolas Bearde:
"I did a gig with Nicolas just before the pandemic started. For me it was like musical love at first sight. He has such a great sound. The arrangements were really great because they were very much tied to the tradition, but at the same time, certain elements made them feel contemporary as well, so that that performance was a lot of fun and meaningful.

"Nicolas was very complimentary about my sound as well, at one point saying, 'Geez, maybe I should do my next album here in BC with you guys!'

"This week that I'm coming to BC, I reached out to Cory just to see if he could put something together, and before I knew it, he had booked me on five things. I was like, wow, that's almost a whole trip, you know? I didn't realize at first that the gig at the Shadbolt would be with Nicolas. When I found out, I was so excited because I can't wait to play with him again and reconnect."
And about the rest of the playing he'll do with Jesse Cahill and with Cory and Bill Weeds:
Playing with Jesse Cahill
"I remember pretty early on when he had moved to Vancouver. He had been studying at McGill, did his undergrad there; that was before I had gone there for my grad work. We were playing a session at his place, and afterward, he's like, 'Man, you must really love Israel Crosby.' And I didn't realize it at the time, but I had taken the rhythm from that famous bassline, 'But Not For Me' [from Live at the Pershing by the Ahmad Jamal Trio] and played it. I was like, 'I do love Israel Crosby. How did you know?'"
Re: the bass legend Israel Crosby, RIP Ahmad Jamal, whom Crosby famously played with and who passed away between this interview and today.
Playing with Cory and Bill Weeds
"I've known Cory for a really long time. We have a pretty special thing because I played – for a number of years before I left for Montreal, and then when I got back – in a trio with Cory and his dad.

"I get along extremely well with Cory's dad. He's probably the funniest guy I've ever met in my entire life. Bill Weeds is just so freaking hilarious. You can't help but have fun when you're around him, so it just bleeds into the music and so we just have a good time and laugh."
From this coming Sunday through next Saturday – April 23 to 29 – Paul is clearly set to make the most of the cross-continental trek.
One last thing: you can hear Paul on one of my favourite Cellar albums ever, Flicker by the Chad Makela Quartet also featuring Brad Turner on trumpet and Jesse on drums. We talked more about this album in The Update.