On to the Phil Dwyer Connections Quartet at Fort Langley
Brad Turner swapped horn and piano playing with Phil; they showcased their personalities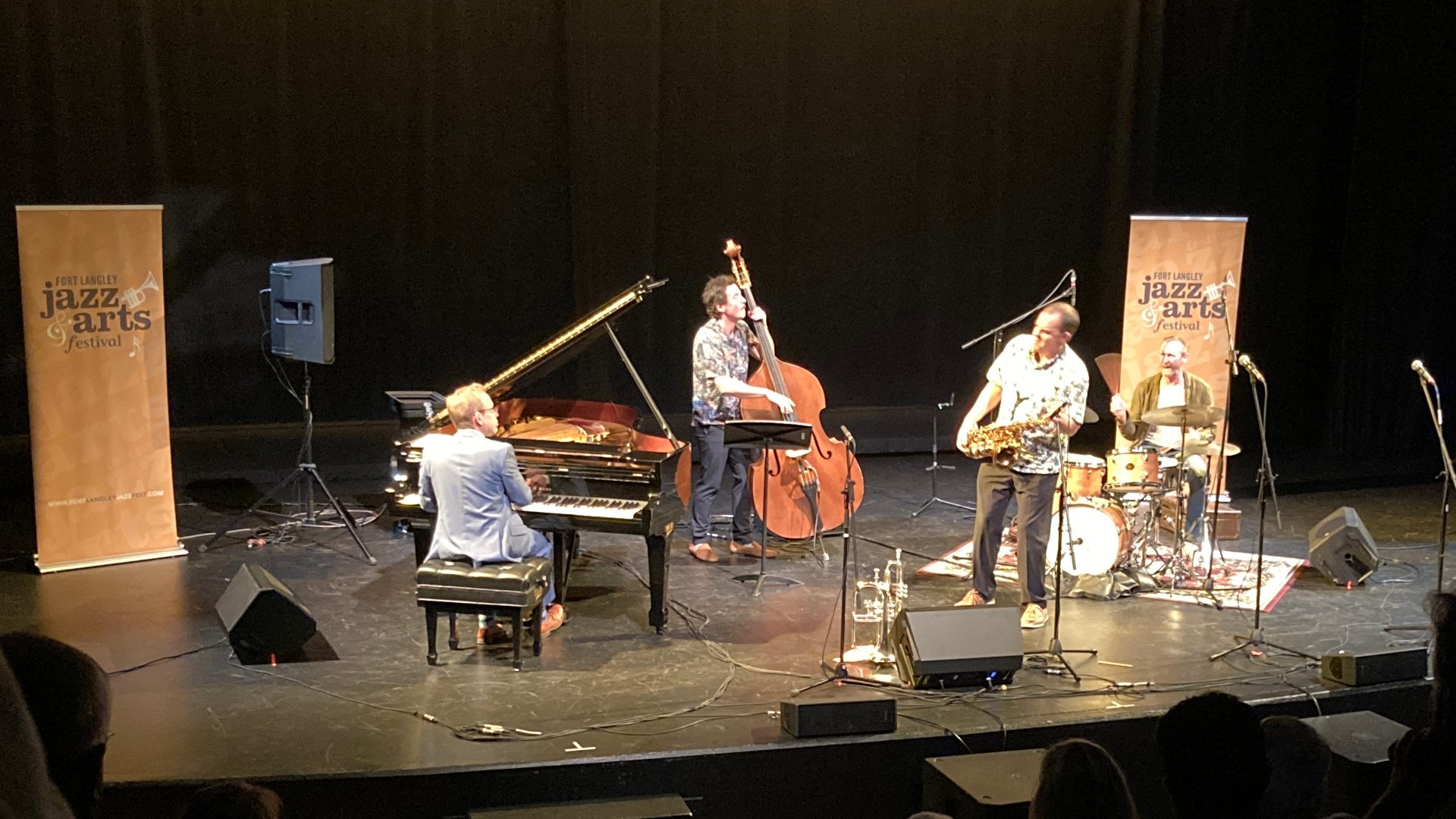 Phil Dwyer's Connections Quartet played the festival-opening concert for the 2023 Fort Langley Jazz & Arts Festival at the Chief Sepass Theatre last night, Thursday, July 20th. The concert featured Ethan Lawrence's quintet in an opening set, followed by this quartet of Phil on saxophones and piano, Brad Turner on trumpet, flugelhorn and piano, Phil's son Ben Dwyer on bass, and Portland-based drummer Alan Jones.
The connections go deep indeed with Phil and Alan's collaborative history going back almost 40 years. Brad Turner met Phil in the mid-80s too, at a high school big band festival.
I met Ben Dwyer the same way. From about 2010 to 2013, him and I – the same age – were some of the biggest keeners on the upright bass at what is now called the Surrey Schools Jazz Festival. (Except he also played fantastic alto saxophone!) I recall that either him or I held down all the scholarships and awards available to bass players there across those four years. Can't remember who took each of the four years, but his senior year of 2013 was definitely his, as I was into CapU and out of high school.
Ben is now based in Toronto after growing up on the island and then first departing our rivalry-that-wasn't-a-rivalry for McGill and Montreal. While Ken Lister has often played bass in this Connections Quartet, I enjoyed seeing Ben's attentive and agile presence back there, given the connection of my own.
(I have a very tangential connection to Alan as well, because Vez and I spent our honeymoon in Portland and happened to catch a show of his at The 1905 during that week!)
Phil and Brad switched chairs for the set, alternating between playing their horns and sitting at the piano.
The difference of personalities is fascinating. Phil is a powerhouse saxophonist but played sensitive piano on soft arrangements; Brad's trumpet took the lead on two introspective tunes, but his piano playing was fiery and driving. Phil visibly dances, shakes, and shimmies with a smile on his face through others' solos, while Brad finds the least obtrusive place side-stage.
Neither looks better or worse for their chosen mode of behaviour, they just are who they are, standing in contrast.
Alan's drumming is always lively, propelling the band through every turn. Ben is a cool cucumber plucking his bass so efficiently and smoothly that I'm amazed I can hear it so well.
Here's what the band played, with some recordings that served as the references: