The Sister Jazz Orchestra plays Chelsea McBride
Talking about two tunes in the setlist from a composer I admire.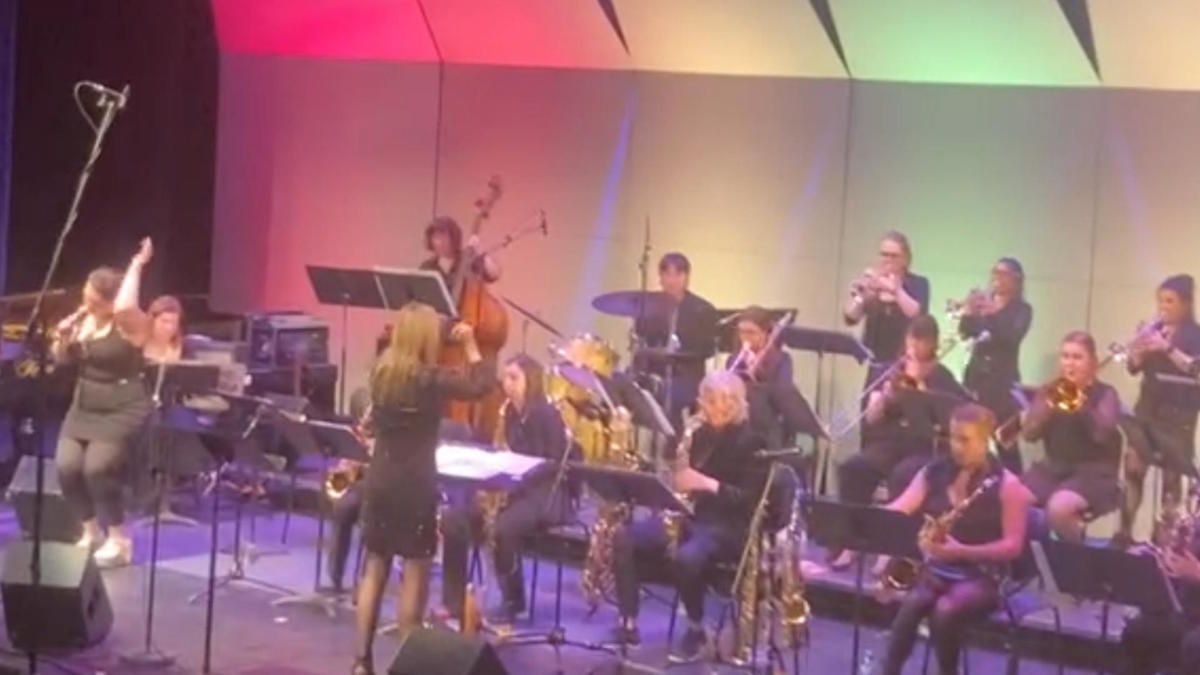 A follow-up from the Sister Jazz Orchestra concert
I wrote about an upcoming concert by the Sister Jazz Orchestra (SJO) in last week's free article. The concert happened on Friday, and my favourite part was SJO's performance of two Chelsea McBride songs.
Chelsea grew up in Vancouver jazz a few years ahead of me, then moved to Toronto; and she has become the Maria Schneider of our cohort, writing some of the most interesting big band music in Canada today.
Of her two songs that SJO performed, the first one is emotional deep-listening, and the other is groovy.
Here's the first one...
"In Dreams"
The vocalist at the concert, Matt Shipley, was a great match for Alex Samaras, who sings on the recording. My favourite part of "In Dreams" is the ending, where the arrangement hits a big minor chord then resolves softly. And the very last chord is breathtaking suspense, keeping the album (or concert) moving.
"In Dreams" recalls the feelings when someone close to you is on their deathbed. You'll see why SJO, when planning out their setlist, put this song first and the other one second.
"Porcelain"
Next, "Porcelain" is a weak track on Chelsea's best album to date. It's a groove song: old-school R&B, a mood-lifting departure from "In Dreams", too slick and trying too hard to groove – like getting funky in a supperclub before a respectful audience of seated boomers, who have an hour-long drive home.
Alex Samaras is again the vocalist on the recording, but for SJO – instead of Matt Shipley singing again – Bonnie Northgraves came out of the trumpet section to sing. Bonnie is a powerful performer who always gets down: she leveled-up this song.
I wish you had been there on Friday to hear it. A few hundred people of all ages, in North Vancouver, got (re-)acquainted with the music of Chelsea McBride – a true original in my generation of Canadian jazz, someone who is un-copyable, to whom I've always looked up – through strong interpretations of her work.
Chelsea stands out because she creates big musical moments, to the tune of over $80,000 in Canada Council funding received so far, and her music is autobiographical. Epic and vulnerable, at the same time.
SJO's set was far from weak, so it's all the more impressive that Chelsea stood out. Jill Townsend was in the audience to hear one of her pieces, and the number after "In Dreams" and "Porcelain" was a composition by Christine Jensen.
With respect to Jill, a beloved veteran, SJO's performance of Jill's 20-year-old composition is just another notch in her championship belt of Vancouver jazz big band music. It's hardly an epic or vulnerable repertoire choice; It's expected on both fronts. (I liked Christine's tune too, but same!)
Both must be unexpected. Epic and expected? That's a budget deficit, a not-full house on a Canadian tour. Expected and vulnerable? That's an indie singer-songwriter.
No, the magic happens when you go epic and get vulnerable – at the same time. Chelsea's recordings do that, and she allowed SJO to provide it for us in concert.
To start your week like mine, put on one of those records by Chelsea: The Twilight Fall and Aftermath.
And get going on what makes you stand out.
---
I originally published this edition of the Rhythm Changes Update for subscribers-only and have since made it available for anyone on the web. Please enjoy browsing this website for more content.