Vancouver albums
Tissa Rahim: "Missing Love"
I caught up with Rahim on the phone at the end of August 2020 to chat about "Missing Love".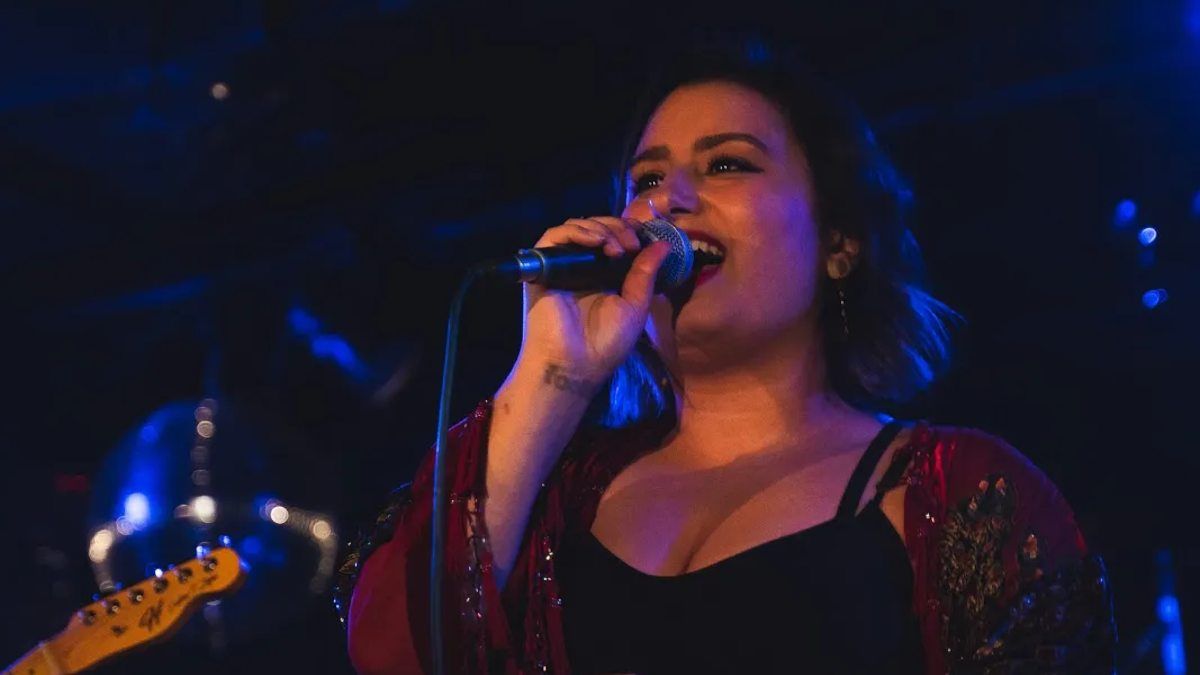 Today we feature R&B singer-songwriter Tissa Rahim and her new release "Missing Love"!
"Missing Love" dropped on Friday, September 25, 2020 and points toward a forthcoming 4-track EP by Tissa.
Check out the music video, which dropped on the same date and was shot at Barnet Marine Park:
The song
I caught up with Tissa on the phone at the end of August 2020 to chat about "Missing Love". She was in the middle of a family gathering to celebrate the birthday of one of her dogs; she said of her parents' attitude, "They need to treat all their grandkids!"
We first met on March 6, 2020, when Tissa performed a solo set on a triple bill at Cafe Deux Soleils: just her and her signature red Gretsch Electromatic, a hollow-body guitar. Also on the bill was her friend Sade Awele, who appears in the "Missing Love" music video as a vocalist.
Not only did Tissa engage charmingly with the full house that night before the pandemic accelerated in Canada, but she had travelled Europe in late 2019. On top of that, in her non-music career—public health—she had completed a contract with the BC Centre for Disease Control. "It feels like a parallel universe," Tissa says. Talk about timing all around!
"Missing Love" puts Tissa in the spotlight with no features or collaborations, contrasting with her two previous singles of 2020. The song is credited to Tissa and three co-writers:
Braeden "Pockets" Rangno, who also handled the song's production
Andrew Tarves, best known as the artist Young Friend (stylized in all lowercase as young friend or youngfriend)
Paul Robinson, a UK expat who is an artist under the name Kruso.
Tissa recalls looking out the window of a bus ("I couldn't get a car anywhere because I couldn't drive stick") on a long trip to Edinburgh, Scotland, getting a notification about the demo of "Missing Love" from Pockets.
Young Friend had made the demo, and Pockets took the initiative in crafting the song for Tissa from that point forward. Kruso's main contribution as co-writer was adding lyrics and editing the flow of lyrics.
The recording
"Missing Love" features a four-piece band backing up Tissa:
Alvin Brendan (guitar), perhaps the most prolific jazz-trained session player under 25 in Metro Vancouver today
Niall Harvey (keyboard), known as Harvey Paris, who collaborates with Rangno in a project called Salsahall Collective
Derek DiFilippo (bass), a key member of the Guilt & Co. session musician collective alongside Jonny Tobin and other pros
Tim Proznick (drums), a multi-genre veteran musician and producer
According to Tissa, her keyboardist Harvey also contributed as a co-writer on two other upcoming tracks. While Tissa worked in the past with Jeff Zipp at the studio Light Machine Records, this time she's with Rangno at another Vancouver studio: Rain City Recorders.
The gig
I was lucky to hear Tissa perform live, with Brendan on guitar and DiFilippo on bass, at the 2nd Floor Gastown on August 29, 2020. As always, Tissa brought the Electromatic. Derek's mauve 5-string fender jazz had a balanced, muted tone, and Alvin's slick silver Telecaster with matching pedalboard screamed preparedness. The venue played canned music between their sets straight off of a vinyl record player.
Set 1
(originals in bold by Tissa Rahim)
"Better Off Alone" (Ruben Naranjo Cueto / Tissa Rahim)
"Something's Got A Hold On Me" (Etta James / Leroy Kirkland / Pearl Woods)
"Our Day Will Come" (Bob Hilliard, Mort Garson)
"Won't Come Through"
"Makhlough" (Googoosh)
"Playboy Tendencies"
"Late Nights & Heartbreak" (Kanan Keeney)
"Me, Myself and I" (Beyonce Knowles, Robert Waller, Scott Storch)
"Put Your Records On" (Corinne Bailey Rae, John Beck, Steve Chrisanthou)
Set 2
"Missing Love" (B. Rangno, A. Tarves, P. Robinson, T. Rahim)
"Let's Stay Together" (Al Green, Willie Mitchell, Al Jackson, Jr.)
"That's It, I Quit, I'm Moving On" (Del Serino, Roy Alfred)
"Let Me In"
"Make Me Feel" (J. Michaels, J. Tranter, J. Monae, M. Larsson, R. Fredriksson)
"Googoosh"
a Farsi song I didn't identify but forgive me, I at least have a quote about it - "it was my staple road trip music along with Queen. My parents had good taste in music!"
"Treat Me Like I'm All Yours"  (Sasha Keable)
"I Heard Love Is Blind" (Amy Winehouse)
The covers from this gig include songs performed by Christina Aguilera, Beyoncé, Adele, and Amy Winehouse, giving a strong indication of Tissa's influences.
Yes, Tissa titled her own song after the singer Googoosh, whom she also covered. Tissa calls Googoosh "the Persian Cher" and says, "I started off by sampling one of her songs, but now that's just the beginning."
Tissa wants to perform more music in Farsi. "Persian lyrics are always fun to translate into English, because we're always dramatic," she says and laughs. What we write isn't always what we speak."