Live music
Unwritten Thursdays curated by Cole Schmidt recap/preview
NYC duo up next; in Oct I heard a two-guitar improv duo and a piano/trumpet/drums trio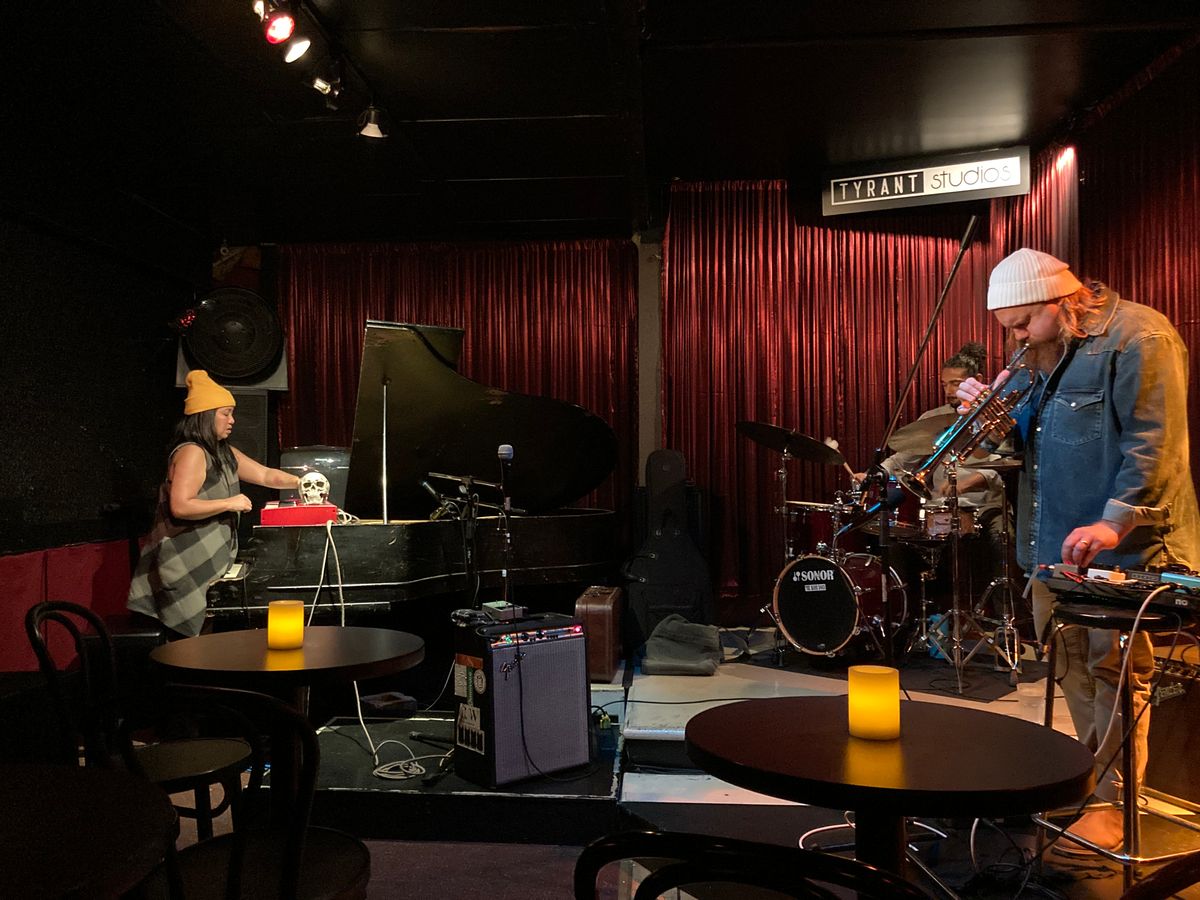 New York guitarist Miles Okazaki and drummer Dan Weiss will perform together at Tyrant Studios on Thursday, November 16, 2023, playing from their improv-focused 2021 Music for Drums and Guitar project.
Tyrant has tickets both for a 9:30pm set and a 10:30pm set, with prices of $15 or extra-donation at $20.
The Barking Sphinx Performance Society – a boutique new music presenter helmed first by Ron Samworth for over a decade, then Dylan van der Schyff, and now Cole Schmidt – and Coastal Jazz are making it possible.
Coastal's promo calls the Okazaki/Weiss concert "the first show" in Schmidt's "new monthly series" called Unwritten Thursdays. Au contraire! I actually went to an Unwritten Thursday last month.
Back on October 18th, I attended the second outing in the series – I had missed the first one in September. Last month I heard two improvised sets: a double-guitar duo of Schmidt and Jo Hirabayashi, and then a one-off trio of Mary Ancheta on keyboards, JP Carter on trumpet, and Shaquille Headley on drums.
The duo of Schmidt and Hirabayashi rejected the unwritten name right away, though; they pulled out sheet music and played Cole Schmidt originals plus pieces from guitarists Mary Halvorson and Ava Mendoza, more orderly and less abrasive than I expected. I dare say it was grunge, with their aesthetics of coats and cardigans, messy hair – long hair for Hirabayashi – and shy, soft-spoken banter.
Mary Ancheta's trio was called sous vide. They played an improvised half-hour set with Carter staring down the trumpet through the barrel of the mic, and below to his pedalboard; and Headley playing drums like I'd never heard on the R&B projects I associate with him. Mary played a small keyboard atop the Tyrant piano, sitting down to the piano in the middle to get active and hit harder. It was a fun and unexpected one-off experience that spoke to the curation philosophy at Barking Sphinx.
I was the only pre-sale ticket – apparently the cool kids just walk-up to Tyrant...