Ardeshir Quartet - Jazz at the Bolt 2022
This saxophonist's post-bop band, featuring three other musicians from the Tangent generation, is my jam.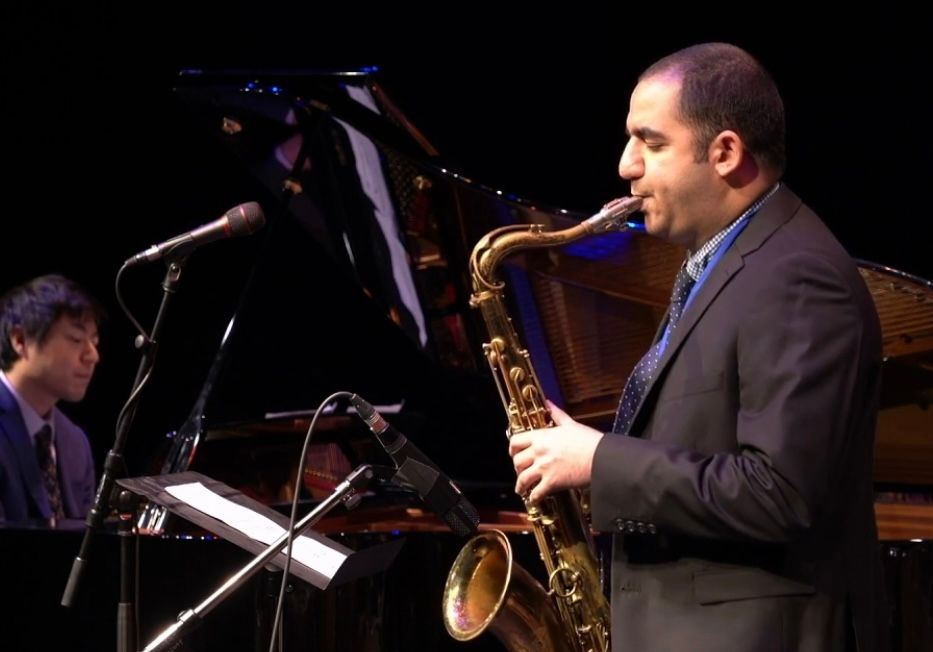 This weekend, Ardeshir Pourkeramati is one of many saxophone players in the lineup for Jazz at the Bolt 2022.
I streamed his live set with Winston Matsushita on piano, Wynston Minckler on bass, and Graham Villette on drums.
About Jazz at the Bolt
Jazz at the Bolt is a music festival of sorts. It happened, at the Shadbolt Centre for the Arts in Burnaby, for the first time in 2019. It's back there this year for a second annual presentation, breaking the hiatus.
Three stages run throughout the weekend on-site: the James Cowan Theatre, the Studio Theatre, and Room 103. At 11:45am on Saturday, February 12, 2022, Ardeshir's quartet opened the Studio Theatre stage.
Jazz at the Bolt is a co-presentation by Cory Weeds, Cellar Music Group, and the Shadbolt Centre.
The many saxophone players
Those saxophonists I mentioned: who are they? Ryan Oliver, Steve Kaldestad, and Cory himself, to name a few on the local side; and Nicole Glover and Eric Alexander, to name a few more, from the international side.
But Ardeshir's band, featuring three other young, local musicians from the Tangent Jazz generation, hits closest to my heart.
The Ardeshir Quartet set
Tim Reinert joked, when he introduced the set, that it was the only time in jazz history when two Winstons shared a stage.
I'll extend it, Tim: we have Winston on piano and Wynston on bass, with two different spellings to boot.
Ardeshir opened nonchalantly with "It Could Happen to You". He sounded strong from the beginning.
He and the band played post-bop all the way through, though they had the right variety of different grooves. When Ardeshir gets going, he channels Michael Brecker, using those fast finger patterns that define post-Coltrane sax soloing.
Winston set the tone on the acoustic piano. He plays all the keys, as you can hear online, and that's rather cool; at one point, Ardeshir introduced him as "also known as Keyboard Grinder". Hearing Winston at his most straight-ahead is also cool.
Graham got a drum solo midway through the set, and he sounded solid throughout.
Wynston's bass, at least in the live mix on the video broadcast, had volume that helped me enjoy his solos. He played agile solos that would have fallen away from my ears in a muddier mix.
Towards the end of his set, Ardeshir called "Delta City Blues", which is a Michael Brecker tune. The composition is a one-saxophone showcase on how to accompany yourself on the blues. Adding this tune to his setlist is a mix of humility and audacity.
As Ardeshir keeps gigging – and recording, I've heard – his way through the renewing Vancouver jazz scene, that mix is the right stuff to have.