Inside the Inlet Theatre Music Series with Darlene & Bill
Darlene Cooper and Bill Sample's Port Moody series featured the Vince Mai Quintet May 6th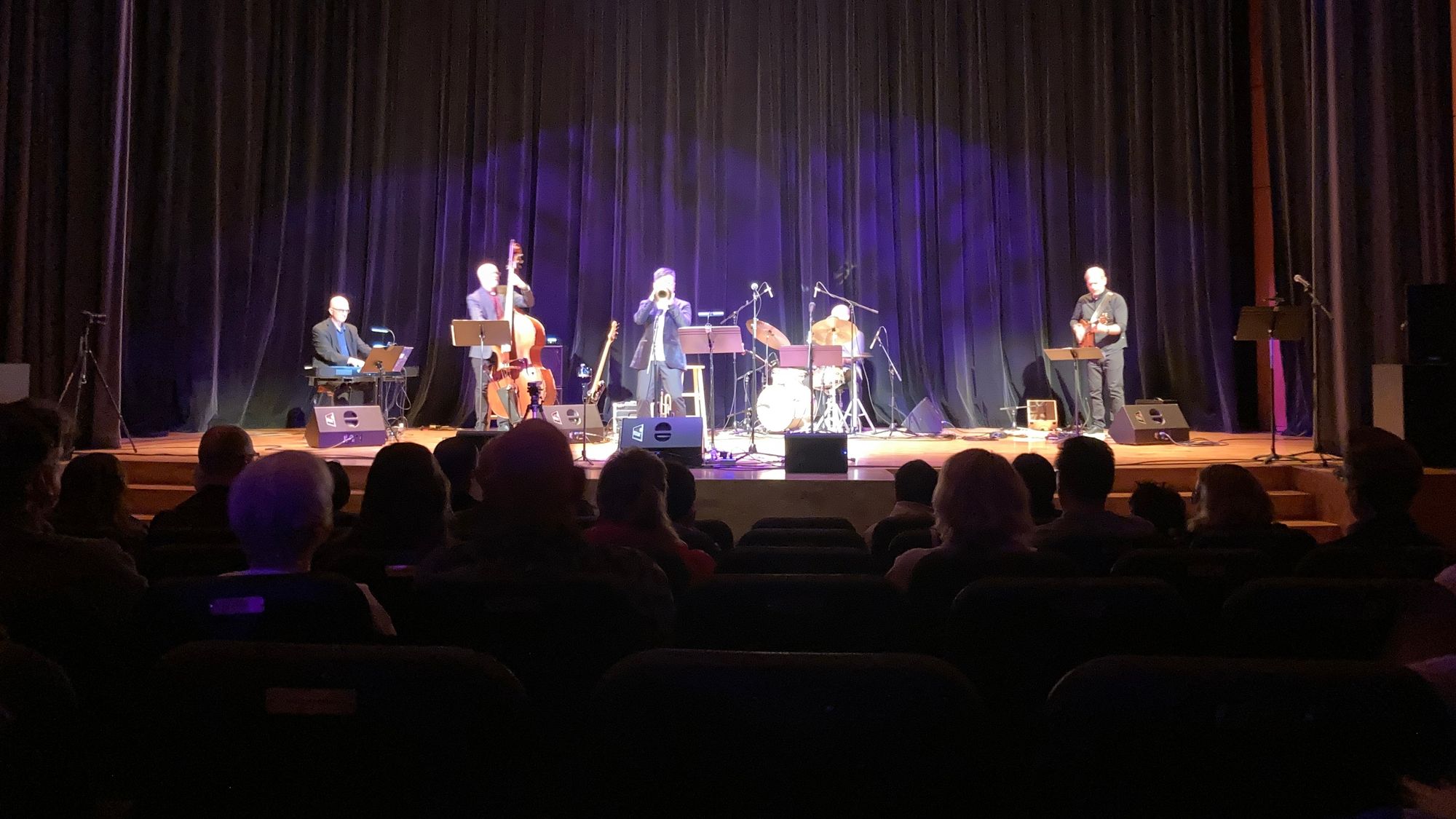 The Inlet Theatre Music Series in Port Moody completed its first season of concerts on May 6, 2023, featuring the Vince Mai Quintet with Miles Black, Daryl Jahnke, Laurence Mollerup, & Bernie Arai. PoMo residents and musicians Darlene Cooper and Bill Sample are the co-producers of the series.
Darlene and Bill joined me for an interview about the series, but first, I'll discuss my experience at the concert two weeks ago and set the scene just a little.
My most recent non-music day gig was an office job at a manufacturing company. That was 2018, when I used the paycheques to fund the launch of my former band.
For reasons that I can't fully flesh out here, part of the job took me into the boiler room of Port Moody municipal politics around the 2018 election, including visits to city council meetings. Those meetings were, and are, held on the same city-hall site as the Inlet Theatre.
So I hadn't been to this venue in five years. The concert experience was excellent, from the warm chatter beforehand to the superb live sound to the thoughtful presence of Vince Mai as a bandleader. On top of assembling his formidable band, he even brought out his son Thad Bailey-Mai for some two-trumpet features.
About half of the set list came from Vince's 2016 album, Music for Rehearsal – as in the soundtrack to a film called Rehearsal. These tunes are straight-ahead vignettes of particular things from the popular jazz canon: for example one of them evoked "Billie's Bounce" by Charlie Parker, another one the Miles Davis muted trumpet ballads.
I had two favourite numbers, one from each set. The first one was "Butterfly" by Herbie Hancock, which really threw me for a loop because if you dare, click here to hear my (attempt at a) performance of it with Thad Bailey-Mai when we were 18 years old. Thad's dad's version in Port Moody was deservingly, delicately crafted.
The other was "Why Didn't You Tell Me", a post-bop Vince original that he recorded on a 2000 album of his called For All We Know. When I found out that not only was this album not on streaming, but that it was available on CD at the Inlet Theatre merch table, I bought an old-fashioned copy for myself.
The band were in great form from Vince's frequent collaborator Daryl Jahnke playing Metheny-esque guitar solos, across the stage to Miles Black being masterful about saving his piano comping for exactly when the arrangements needed it. Laurence Mollerup played both upright and electric bass to a high standard as he always does; he got plenty of solo time, too. And apparently Bernie Arai hadn't played drums much with Vince before, though you wouldn't have known it.
Overall, I'm happy to have seen and heard this event from season one of the series. I look forward to season two, which is why I talked to Darlene and Bill briefly about how they got here and where they're going next with it: