Vancouver albums
Ted Kadonoff, Clayton Poon, & Lisa Matsugu on Noxious Obs
3 students in a brass band and their latest EP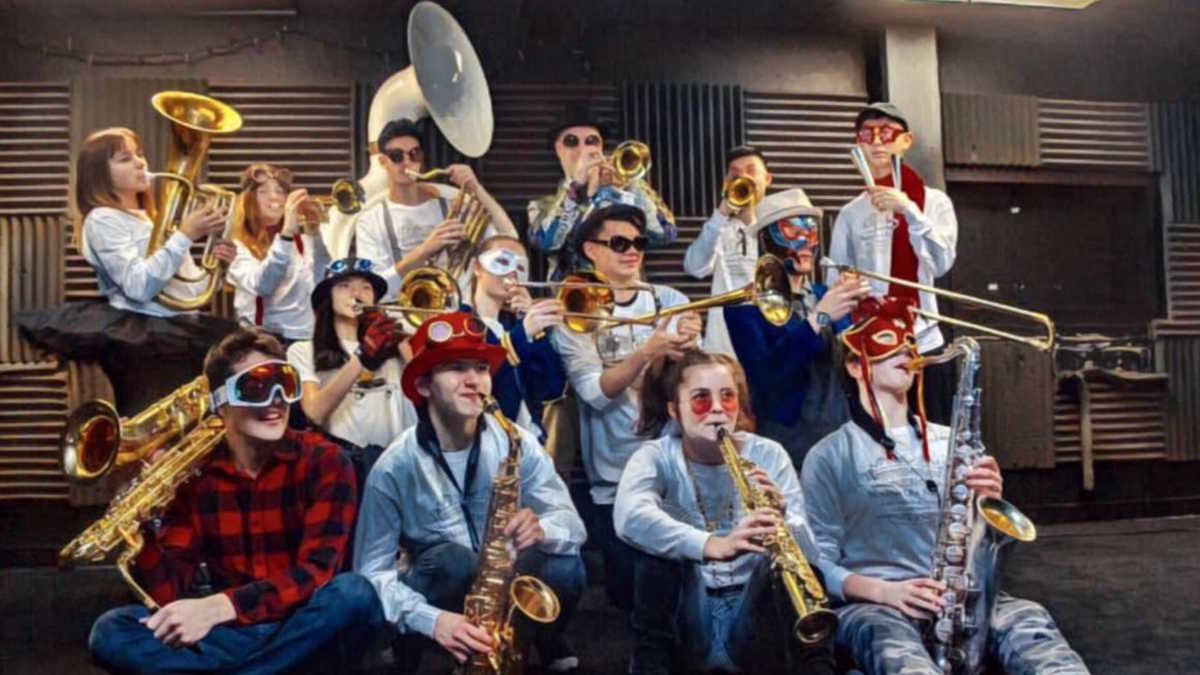 Noxious Obs Society (called "Nox" by some folks whom I talked to) dropped this brass band EP on November 8, 2020.
I chose to publish long after the release date for two good reasons:
The EP's title. What better time to do it than the first feature of 2021?
This group is a large band of students, so I needed time to interview multiple members.
Talking with three student band members about the project was a blast. They often reference Steve Clements (as "Mr. Clements" or just "Clements"), a brass musician who has taught bands at New Westminster Secondary School (NWSS) since the early 2000s.
At NWSS, Clements has educated most, if not all, members of Noxious Obs. His son Will Clements recorded this project in the school's band room and also mixed the tracks.
Happy new year, and please enjoy my chats with:
Ted Kadonoff (she/her, trombone, NWSS)
Clayton Poon (he/him, trumpet, Capilano University)
Lisa Matsugu (she/her, trombone & flute, McGill)
---
WILL CHERNOFF: What was recording the project like?
CLAYTON POON: I had no idea the band room [at New Westminster Secondary School] could be set up that way, to be like a recording studio!

During the recording, it felt good. Recording with such a diverse group of people can hinder but also help the process. When you work with people who are better than you, you can listen to what they're doing and learn.

All in all, it felt natural. I really enjoyed working with everyone and can't wait to do more in the future!
TED KADONOFF: We could record only a couple people at a time; not the entire band coming in at once. We did it over several days, by instrument. So the trumpets would be in for five to six hours, then the trombones, and so on.

We did one session in the second week of July and recorded two tunes. We did the second session in the last week of August for the other three.
LISA MATSUGU: I think Mr. Clements' philosophy on education is to bring people together, and that really is shown in the way he writes out the parts. There are instances where Clements just says, "Everybody improvise at the same time!" And it's so murky, but at the same time it's liberating. You can play whatever you want. It's more acceptable to be not at a super-high prestigious level.
WC: How did Noxious Obs decide which tracks to record?
TK: Nox shuffles through a lot of music. Members of the band will write and arrange for the band all the time. We have a couple people who will write a whole bunch: Alison Cardinall, Clements and Will. But it's just what suits us, and the whole band is in on the discussion.

There's also the soloing thing. Solos are always up for grabs. I recorded a solo, but so many people did it, that mine didn't end up on the record. Which is fine, because my soloing skills are iffy!

"Another Glass of Wine" is my favourite track. On the previous EP, the trombones didn't have much melody. For that one, the trombones sounded good, and we wanted a chance to have the tune.

"Latino" is one we've been playing for years, so all of the original Nox members have it memorized.

For most of the tracks, we just picked them out of a big group of tracks. At any given time, Nox probably has 10 tunes or more that we're playing.

The songs that we put on this album aren't necessarily new to the band; they're just our favourites.
WC: What was different between making this project and making Nox's previous one, The Ruckus Has Struck Us?
CP: For Dumpster, it was a different environment with different charts. In Ruckus it was more dance tunes. But in Dumpster it's more folky, and we also did a pop tune. It brought a new vibe to the whole band. The guest artists that we brought were also really cool, because it amped up the musical quality.

I kept trying to pull things from Dan Green's playing that I could use for mine, but our styles were so different. It just didn't work! But I could hear how he was connecting it with his mind and his horn.
TK: For the last one, we spent 12 hours recording three tunes at Monarch Studios. I really enjoyed that one. It was really rushed, but fun! We were all cheering each other on.
LM: We had everyone there, so it was nice to get that bonding experience. We were there all the way til sundown. This was different, because we were in our sections, but we still got a chance to hang out and do nothing together. That's bonding as well, enjoying each other's company.
WC: Tell me about your parts and the arrangements.
CP: I've already improved a bit in my trumpet playing, and looking back I can point out so many things I was doing wrong in terms of technique. I wish I could have done a better job! But at the time, I was doing the best I could.

I liked how the tunes had simple harmonies but also an ebb and flow. Some parts were strange to me, because I'm not used to playing some of the music styles. I'm more used to playing standards, like AABA forms. It got difficult for me to wrap my head around, because I've been so accustomed to jazz.
TK: I play bass trombone, so I'm at the bottom end of the ensemble and sometimes double the bass line with the tuba. On "Another Glass of Wine", there's a lot of four-note things that I have but nobody else has. I think that's super-cool! Clements arranged it with me specifically in mind.

On "Don't Start Now", the entire band has a chord together, and I have the bottom note. That's one of my favourite moments.
LM: In the trombone section, it's nice to still get to know people who are in the high school. I thought I would know people from grades 10-12, but after I graduated, I felt like the band room totally turned over. So that was a nice opportunity to connect with the high school musicians.

A lot of [my part] is repetitive music, but complicated music isn't necessarily good. It's meant to be easy to memorize, not like a concerto. It's supposed to be digestible, relatively simple stuff that you want to dance along to and have a party.
WC: What are the moments or stories that will be the most memorable to you?
CP: Whenever I record with [fellow trumpet player] Jaden Chong, we instantly lock in together and know what we're doing. We can read each other's minds. But when I'm recording with anyone else, I just kind of fall apart! It makes sense, because we've played together for a year-and-a-half. It's the rapport we share. We developed that type of relationship where we can understand how we play.

Also, while we mixed the solos, on one of the tracks Dan had a solo but his part accidentally got doubled onto a lower octave. But it sounded good, so we kept it!
TK: My favourite thing was being in the office with Clements and Will, who were listening to a take of one of the songs and full-on dancing with each other. That was a fun moment, because I don't know if they realized we were watching! You'd hear Will in your headphones saying, "Yes! Perfect. You got it. Let's move on." The way he spoke to everyone was so funny.

After I finished my parts on "Another Glass of Wine", they told me to play [the root note] again and if you go to the end of that tune, you hear one random extra note that I played. There were a whole bunch of little funny details that go into the whole thing.
LM: In school, they always want you to categorize what you do. Are you going into classical, jazz, music education, performance? It's never really both or all, even though in real life, that's what people do.

In this stage of my life, it's given me the opportunity to be more well-rounded. Nox has really given me the chance to improvise in a more safe space. It was always hard for me to get out of my comfort zone and play jazz.
---
The Noxious Obs takeaway
Some of my closest friends try their best to control how much of the music they recorded in younger years, is available to the public.
They're concerned about how their instrumental technique was so raw back then. Maybe some of my interview subjects here would agree.
I respectfully reject this idea. Release all the music that you're willing, from all across your life. Your development story is way cooler than any level of perfection.
So, bravo to Nox for recording dozens of development stories in my hometown!