tourdefrance 2: Carson Tworow
Interview with Carson Tworow (one half of tourdefrance) and a special guest, Nik Pisko-Dubienski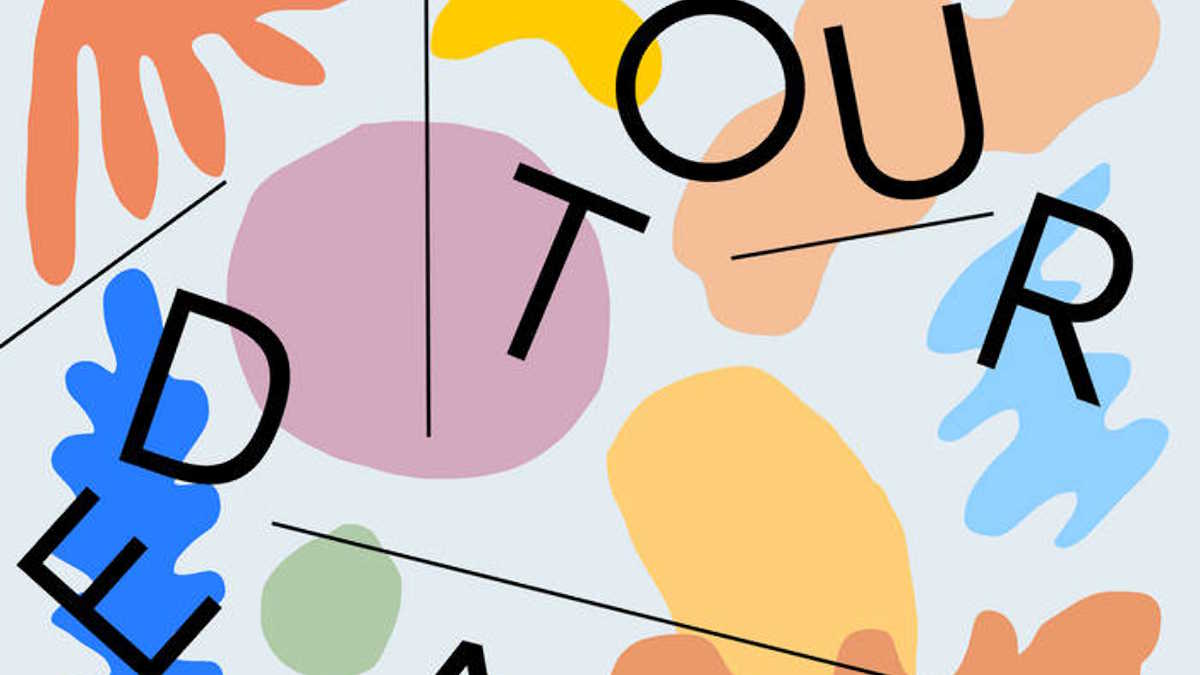 tourdefrance 2 dropped on Friday, November 13th. This duo is an international collaboration between Carson Tworow and Luke Fantom, who met in Metro Vancouver. Fantom now lives in the UK. However, Tworow's still in East Van
If you know me, you know that I'm clueless about dance music in general. So, what better way to cover this release than with a deep interview and a special guest!
First, you'll find my interview with Tworow from tourdefrance. Then, you'll find my chat with my brother-in-law Nik Pisko-Dubienski. I talked to Nik because he DJs and understands dance music, unlike me!
Let's broaden our horizons.
---
Interview with Carson Tworow of tourdefrance
About each track
WILLIAM CHERNOFF: Tell me how you named the tracks.
CARSON TWOROW: "For 'Ezra', we  were playing with sounds from the Prophet synthesizer, and Ezra was a  prophet. We just searched the names of prophets and that was the best  name!

"'Nterini' was the name of the track we sampled, so  we just called it 'Nterini Edit'. But, for 'Mori Affair', we're not  going to reveal the source of the first sample.

"For 'Shimmer', it was an aesthetically inspired name, and I can't really remember!"
WC: What was the first piece of each arrangement that came to you?
CT: "First, for 'Nterini  Edit', Luke started chopping it up. We wanted to make a more  dance-focused version of the original track. Then, for 'Ezra', it was  just playing around with the Prophet.

"For 'Mori  Affair', Luke found a sample of some Japanese jazz that he really liked,  and you can hear that there's sample distortion, which we liked a lot.  In 'Shimmer', the tune is in six [6/4 time], and that inspired the keys playing."
Editor's note: we learned from a source that the sample on 'Mori Affair' comes from "Romance" by Hiroshi Suzuki. We asked Tworow if we could publish that information, and he consented.
About collaborating with Luke Fantom on tourdefrance 2
WC: You've played in bands, but this project is remote. So, how are those collaboration methods different?
CT: "Actually, at the start of  each track, it's not very collaborative. By the time the second person  gets involved, there's usually something fleshed-out for the other  person to jump in and contribute to. At the outset, very rarely are we  both doing something.

"You can divide these tracks into  either Luke or Carson tracks. In a band, when you're co-writing, often  the initial spark is very collaborative. But, here, the initial spark is  one of us or the other."
WC: Which ones are Carson tracks?
CT: "'Nterini Edit'. I  contributed the vibe with all the keys, and I did a fair amount of the  drum work. Also, 'Ezra' is a 'me' track.

Luke started off the other two. But, at the end, they're all fully collaborative."
WC: Tell me about how music-making fits in your day-to-day when you both have careers in tech.
CT: "Well, it's an evenings  and weekends thing. When Luke finishes writing, it's my morning, because  of the time difference. So, I wake up and see that Luke has done  something. Or, vice versa.

"We also don't put any hard  deadlines on these projects. Most of these tracks were finished months  ago, and it just takes time to get them mixed and prepare for promotion.  So, at the end of the day, it's a passion project."
About influences and record labels
WC: I'd love if you compared tourdefrance 2 to the kind of music you both enjoy listening to in general.
CT: "So, there's a big  difference between the two of us in that regard. Luke has been making  and listening to dance music a lot more and for a lot longer. He listens  to dance music quite a bit, and he's introduced me to a lot of it.

"I  wasn't super hip to it at first. I listen to folk music, a lot of jazz,  and experimental electronic music. But, Disclosure influenced both of  us."
WC: What do you understand about making great dance music because you're a drummer?
CT: "Rhythms from different cultures that I learned while I was in jazz school.

"For example, on 'Solou' [from the first tourdefrance EP release],  the rhythm pulls directly from something that I learned when I was  working on West African rhythms, on the drum kit. They're not typically  found in dance music, but they're really cool rhythms from around the  world."
WC: Tell me about working with record labels.
CT: "We're going fully  independent for this one, although we had a great experience working  with Nurvous Records from New York, and they were easy to work with.

"The label does have built-in fans, and it also gives you the option to get the music onto things like Beatport and Traxsource.

"But, when you're at this small scale, there's not much difference working with a label versus working independently."
About the dance music community
WC: What makes the dance music community so enthusiastic online?
CT: "In dance music, that's where it exists [online].

"In  rock music, the enthusiasm can only go so far, because you haven't seen  it live. To get really excited abut an independent band, part of the  experience is to see them live. For dance music, the internet is it.

"So,  you have DJs really excited about encountering new music.  Listeners  get excited about discovering new music through them, and then they  become curators themselves.

"With the advent of  streaming services, it's a big thing: the commodification of music. I  don't think it's a positive thing always, but, you have people who spend  a lot of time with long, curated playlists. The context for dance music  stays online, and it doesn't always need shows."
WC: Does dance music have an advantage in today's industry?
CT: "The actual economy of  dance music is more broken than the economy of other music genres. So,  most of getting people paid is about DJs reporting their sets to PROs [performance rights organizations, like SOCAN in Canada], and artists getting paid performance royalties.

Although  buzz can come easily through enthusiastic fans, it's more difficult for  DJs and producers to stay afloat when there haven't been clubs open.  DJs are hard-up right now!"
---
Chatting about tourdefrance 2 with my brother-in-law, Nik Pisko-Dubienski
WC: What do you think of each track on tourdefrance 2?
NIK PISKO-DUBIENSKI: "Well, I'll start with the first one…"
Nik on 'Nterini Edit'
NP: "Fantastic! A lovely  mid-tempo, Afro House banger with a French touch. I think it's my  favourite. It's got an afrobeat feel that I love, and it's right on  board with what I personally seek out when I'm crate-hunting.

"It's  got the four-on-the-floor dance to it, but it's more interesting than  some straight-up house. I can see it fitting in most of my sets.

"I  like the long intros. I'm really into that. But, some of their first EP  seemed harder to mix with, because it would jump right into something.  Super-convenient to use and mix into something easily. Drops right off  at the end, though…"
Nik on 'Ezra'
NP: "Reminds me of Flume's  debut album! But, it could also be the airy synths and floaty vibe.  Then, it drops into some lofi house vibes, and halfway through it gets a  persistent beat. The vocal sample keeps it up.

"I don't  know if I'd mix it personally, but I'd throw it on while driving around  the city or biking around the seawall at sunset.

"It breaks up the EP pretty well. It pulls you back a little bit after you come in strong with 'Nterini Edit'."
Nik on 'Mori Affair'
NP: "When it starts, it sounds  like it'll be the most straight-up house track. But then the sample  comes in and brings the jazziness. It uses the sample to its full  advantage and keeps a warm jazzhouse vibe.

"I can feel it playing out for a daytime set, or late in the night when things are getting weird. It's a hidden gem!"
Nik on 'Shimmer'
NP: "'Mori Affair' keeps it a bit more lowkey, but 'Shimmer' is more of a dance track. It comes down and then builds back up.

"I  thought it would be electro-folky and slow-paced, but then as soon as  the beat came in, it merged into something like Bonobo's later albums.  Or, maybe Nicola Cruz or El Buho. It leans deep into the afro-Latin  vibes in a great way.

"I think afrobeat is the new big  thing, for people who are maybe tired of deep house. It brings a sunny  vibe, and the different percussion instruments can make it more fun  while still being accessible."
The last question brings it all together
WC: Now that you heard tourdefrance 2, what do you think of "Solou" from their first EP?
NP: "It feels like they hit  something great with that track and ran with it. This second EP feels  like they set out to make something out of the idea of that track.

"So, it feels a lot tighter."
I agree with Nik's last answer. tourdefrance are coming into focus as  reliably creative producers, and their music has a charisma that's  beginning to draw a global fanbase.