23 students, 5 bands: the Fraser MacPherson Jazz Fundraiser
A full house of Cap combo recitals at Frankie's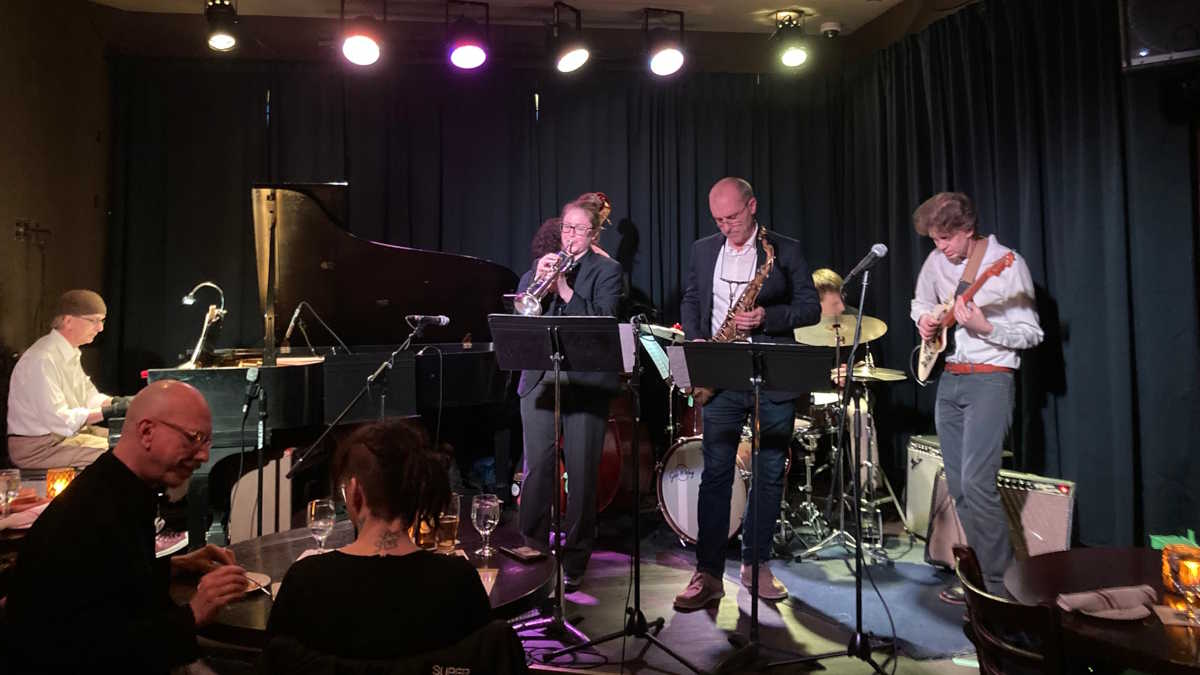 The Fraser MacPherson Fundraiser at Frankie's
You won't get a more comprehensive dose of local jazz students' talent than this: a fundraiser for the Fraser MacPherson Jazz Fund (FMJF), held at Frankie's last Thursday, March 31, 2022.
The FMJF is a non-profit organization that provides local jazz students with scholarships and workshops, so this event is a perfect brand match – all the more so because Cory Weeds is now the president on FMJF's board.
At the fundraiser, mostly fourth-year students at Capilano University performed their ensemble recitals ("combo class") with some faculty – Brad Turner, Steve Kaldestad and more – as guests.
This roundup of the night's five combos will walk you through some of the outstanding traits on display by the up-and-coming musicians.
First band
photo at the top
Robin Comeau on trumpet
Robert Helgason on guitar dropped an enviably good piece of stage banter, about how he wrote his original tune while driving a tractor in Saskatchewan (you had to be there!)
Glenn Lemieux on piano
David Caballero on bass, who played a full-on gig at Frankie's with Atley King earlier in March 2022
Casey Anderson on drums
Faculty guest: Steve Kaldestad on tenor saxophone
Relapse (Robert Helgason)
Yardbird Suite (Charlie Parker)
---
Second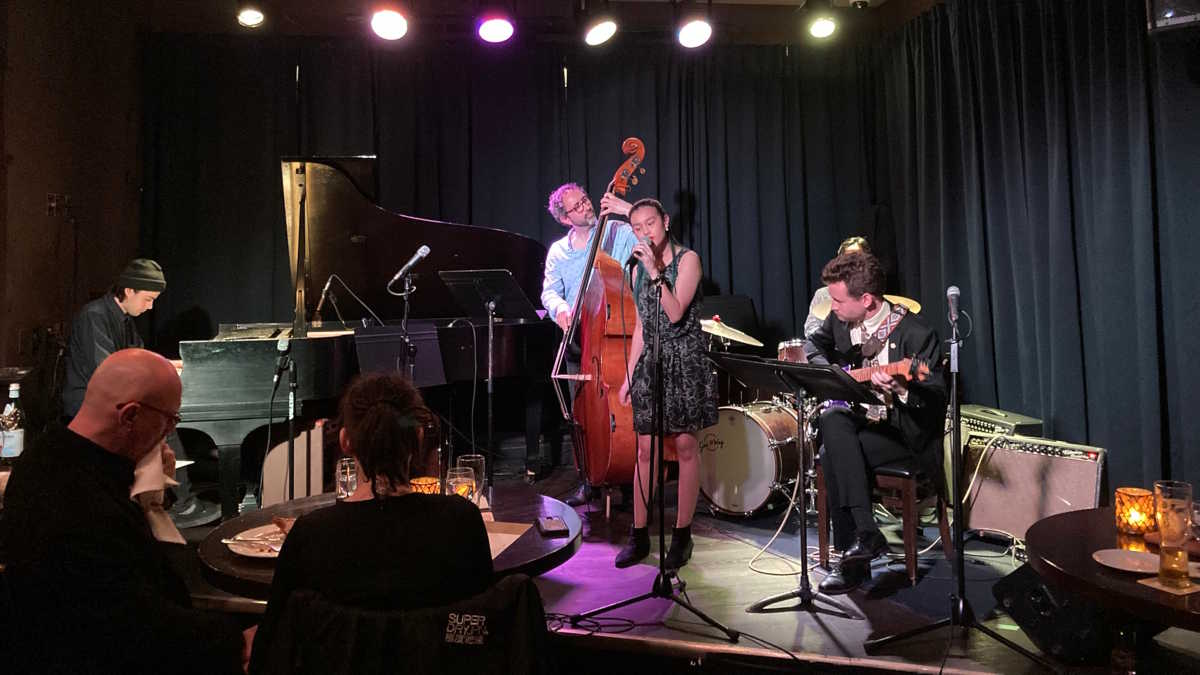 Michelle Escudero on vocals
Eric Bates on guitar
Jacob Chapman on piano
Faculty guest: André Lachance on bass
Elijah Tisalona on drums
Overture (Jacob Chapman)
You Don't Know What Love Is (Don Raye & Gene de Paul)
Meant to Be (Michelle Escudero)
---
Third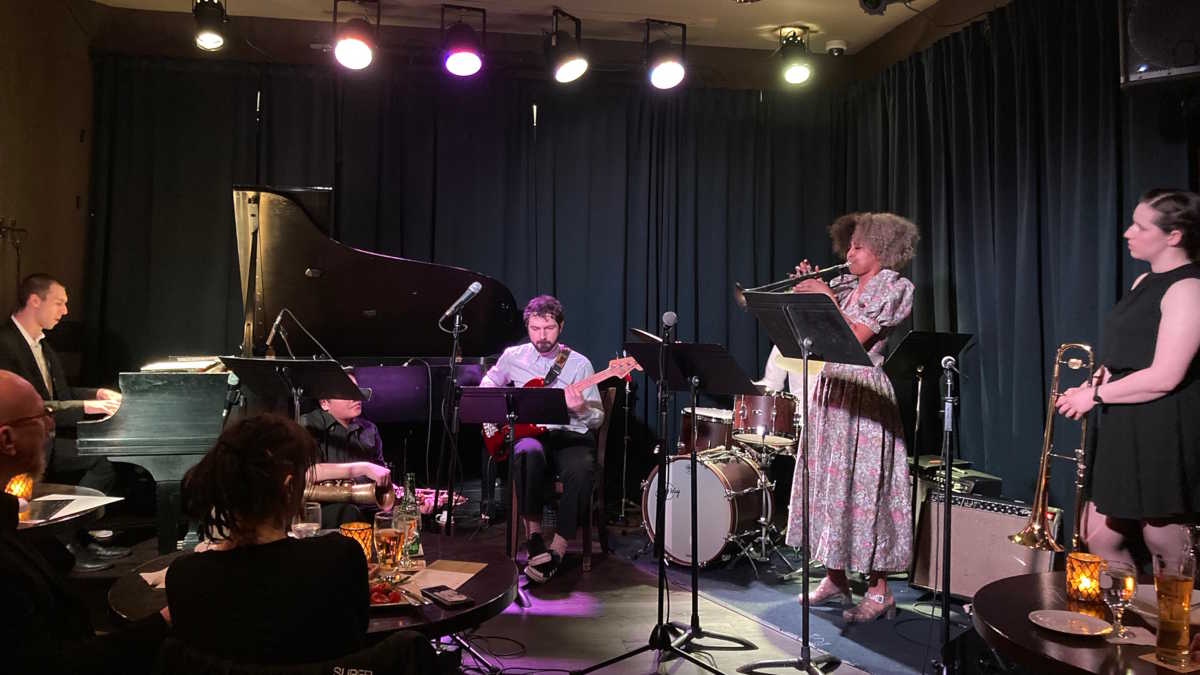 Feven Kidane on trumpet; I've heard Feven a lot lately, and although she brings unfettered force to the trumpet, she is a good listener and respectful bandmate
Gordy Li on tenor saxophone
Casey Thomas-Burns on trombone and vocals, who performed with Sister Jazz Orchestra and NiteCap recently
Ben Millman on piano, who plays a lot of keyboard gigs out there in the broader pop/R&B/folk music scene, was the biggest showman of the night but came across as likeable
Cole Woodland on bass
Adrian Leung on drums
Virulence (Cole Woodland)
Inner Urge (Joe Henderson)
What Shall We Do (Moonchild) featuring Casey on vocals
---
Fourth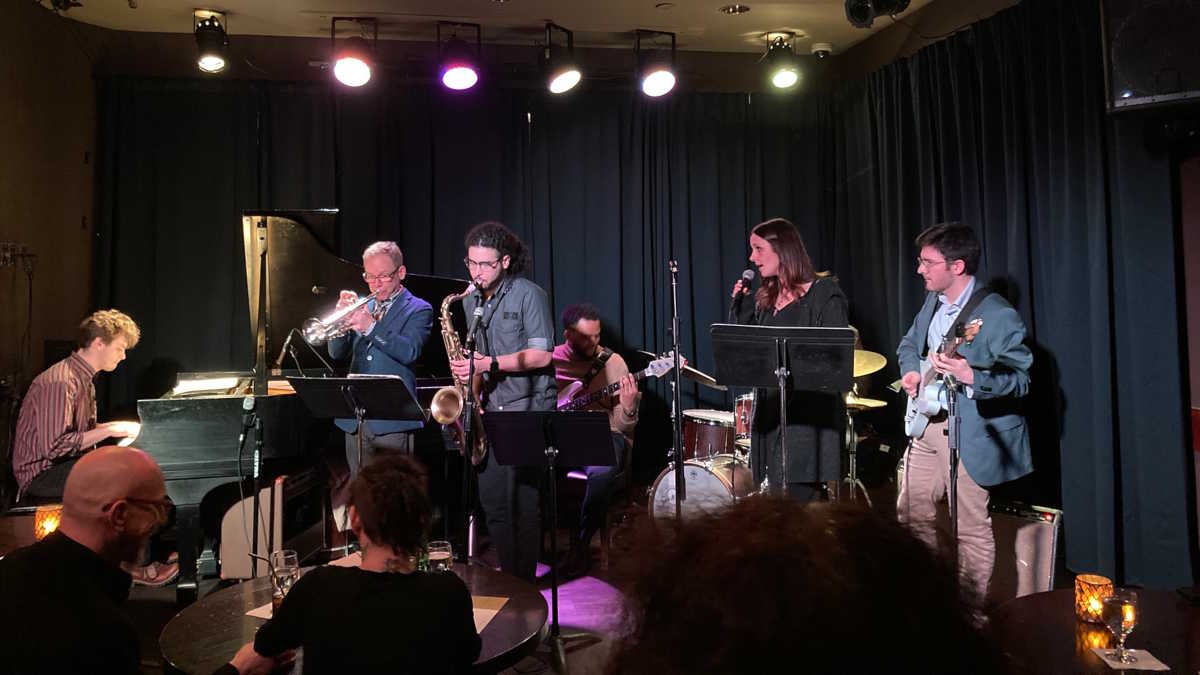 Tess Meckling on vocals; she says she doesn't really like singing jazz, but sounded pretty good
Jacob Elwood on saxophone
Andrés Coronado on guitar
Arlo Spring on piano
King Udofia on bass
Karl DeJong on drums
Faculty guest: Brad Turner on trumpet
Horizon (Karl DeJong)
If You Could See Me Now (Tadd Dameron with lyrics by Carl Sigman) featuring Casey Thomas-Burns on trombone
Mr. Turner in Spain (King Udofia), the most comfortable non-swing groove of the night
---
Fifth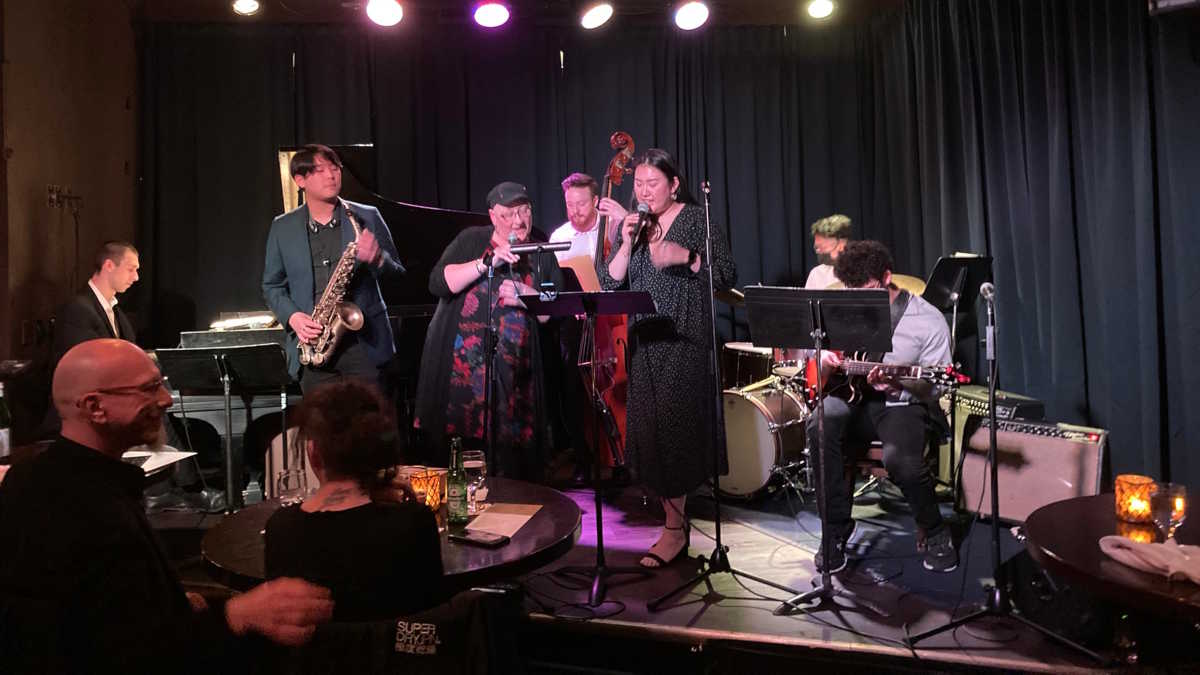 Mackenzie Tran on vocals
Connor Lum on alto saxophone, probably the most outstanding soloist of the night
Harrison Ivaz on guitar, who had the biggest crowd reaction with his John Pizzarelli-style guitar+scat solo on the final number
Ben Millman on piano again
Colin Zacharias on bass
Adrian Leung on drums again
Faculty guests: Brad Turner on trumpet, Jennifer Scott on vocals
Love You Better (Ben Millman), a cheesy vocal swing number but played with a nice timefeel
Blue (Connor Lum)
Death to a Star (Colin Zacharias) featuring Jennifer Scott; Colin said he drew inspiration from Vincent van Gogh
Tripod (Harrison Ivaz), a rhythm changes tune
---
Wrapping up
As you can imagine, on Thursday night, dozens of performers shuffled around a packed, excited room at Frankie's while cheering each other on.
Keep an eye out for some of these young talents.
---
Correction: the delivered version of this Update didn't include Jacob Elwood in the list of the fourth band's members. I apologize for the omission, and I've added Jacob's name to that list.
I originally published this edition of the Rhythm Changes Update for subscribers-only and have since made it available for anyone on the web. Please enjoy browsing this website for more content.