Sitting in and jamming
Young people and what happens when they get their own space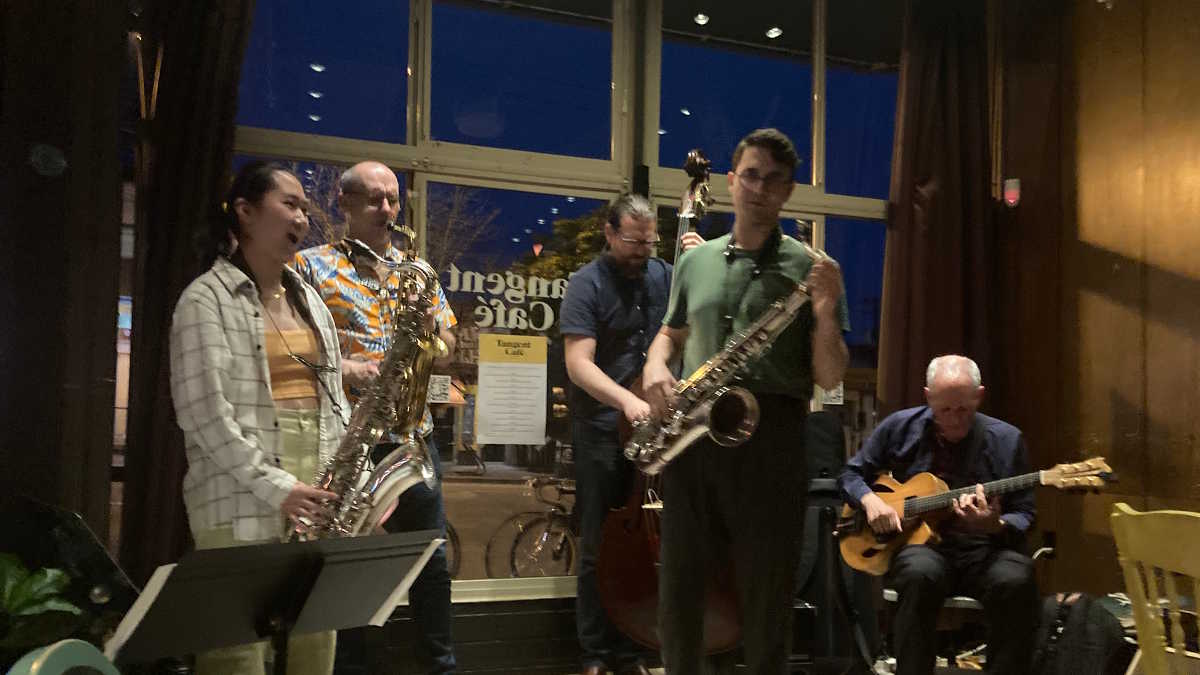 On Wednesday, June 8, 2022, Steve Kaldestad played alto saxophone at the Tangent, in a trio of Conrad Good on bass and Bill Coon on guitar.
Steve invited three different horn players to sit in over the course of the evening: Ilhan Saferali on trumpet, and both Erika Chow and John Nicholson on tenor saxophone.
Ilhan and Erika wouldn't consider John a young player, but we sure can. So that's three young players sitting in on the same night.
---
Fast-forward to Saturday, June 11, 2022. This time, Ilhan is the bandleader. It's his second of back-to-back, sold-out weekend nights at Tyrant Studios with Clay Wilkinson beside him on alto saxophone, Atley King on vibraphone, Raphael Agustin on bass, and Julian Ferrer on drums. Atley is the old man on this stage, at a couple years younger than me.
It's the start of set two. The Tyrant space is full of people of all ages, but mostly young people. In a crowd of about 60, maybe a quarter have their horns at the ready or in their cases.
Ilhan opens set two with one tune and then initiates a jam session. He talks over a rhythm section blues, he thanks everyone once again for making the night possible, and then he says something like, "We're going to open it up for a jam now. This is a B-flat blues. Do you want to get up and join us? I've asked the venue if we can keep it going a bit later than usual... and they said yes!" The crowd cheers while flashing a bunch of trumpets and saxophones.
Tyrant Studios normally runs until midnight. Since that's often too late for my circadian rhythm as opposed to too early of an end, I left the venue at the start of the jam. But I left feeling at home.
---
Some takeaways from these nights:
This is the real stuff, right? As far as regular local gigs featuring local musicians go, these kind of moments seem like what we should aim for.
On Saturday, we had not one but two venues going after midnight, thanks to Frankie's After Dark and Feven Kidane's performance there. How often does this happen?
Do young (and to be clear, I mean quite young, around age 19-to-22 – not me!) people get enthused the most about jazz when they feel like they can do it in their own space, unsupervised?
Sitting in – not in their own space – is great for young people. But so is unsupervised jamming, especially to a serious audience of peers.
I originally published this edition of the Rhythm Changes Update for subscribers-only and have since made it available for anyone on the web. Please enjoy browsing this website for more content.