Live music
The Vancouver Jazz Orchestra launch at Pyatt Hall
And five Ellington tunes I loved from the setlist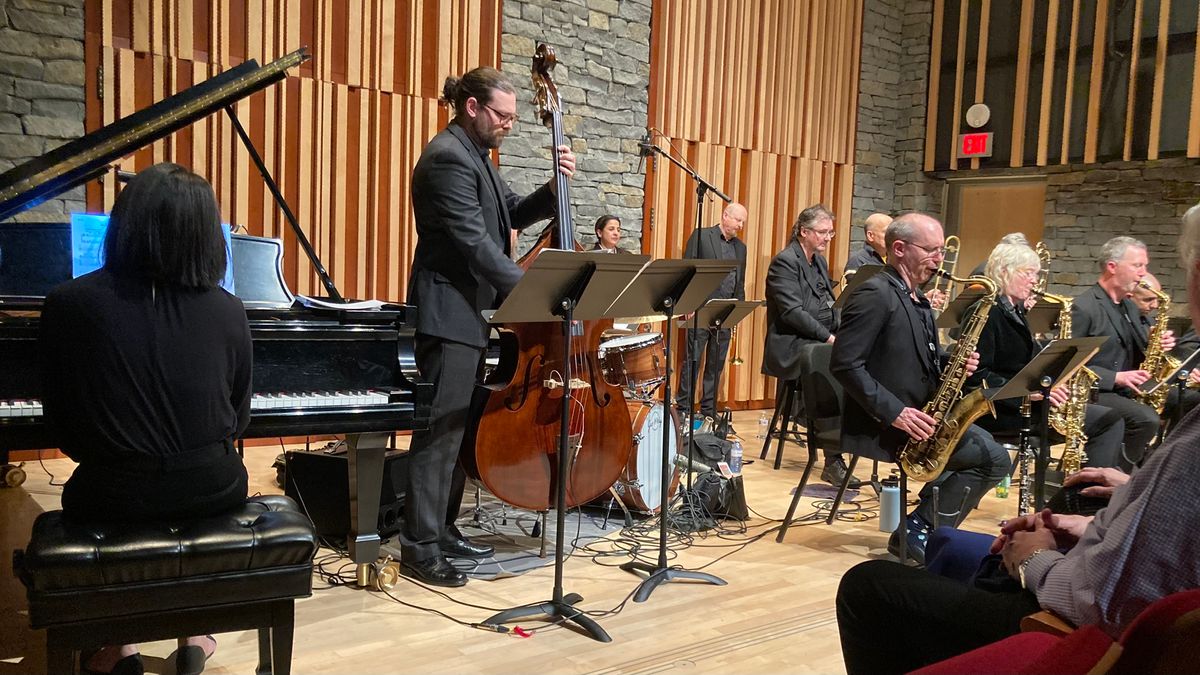 Launching a new big band for free
Cory Weeds and James Danderfer co-led the Vancouver Jazz Orchestra (VJO) – which is a new big band – through a one-set show at Pyatt Hall on Thursday, April 28, 2022.
The admissions were free of charge; the room was full. According to Cory, VJO will play a few more times over the next year-ish – with real ticket prices! – after proving they could draw 100-to-120 people to start. The band used sponsorship revenue and in-kind contributions to put together this free show.
Cory took the emcee duties, while James focused on the band and its arrangements. The setlist featured Duke Ellington and Billy Strayhorn.
Vancouver Jazz Orchestra: big band lineup
Saxophones: James Danderfer (alto 1), Ingrid Stitt (alto 2), Steve Kaldestad (tenor 1), Ardeshir Pourkeramati (tenor 2), Cory Weeds (baritone)
Trumpets: Derry Byrne (lead), Jocelyn Waugh (second), Geeta Das (third), Thad Bailey-Mai (fourth) – I couldn't think of a more perfectly-balanced trumpet section in the city, bravo!
Trombones: Brad Shigeta (lead), Brian Harding (second), Ellen Marple (third)
Rhythm: Sharon Minemoto (piano), Conrad Good (bass), Jesse Cahill (drums)
VJO intends to not have a fixed lineup, instead rotating many of the city's finest musicians and younger talents.
Music
My top five picks from the setlist; links to YouTube or Spotify so you can check out the music...
"Happy-Go-Lucky Local" (Duke Ellington, Billy Strayhorn), known to me as the source of "Night Train" and the recordings of that tune by Oscar Peterson et al. For VJO, Derry Byrne held to his excellent standard of lead trumpet playing right from the get-go on this number
"Rockin' in Rhythm" (Ellington, Irving Mills, Harry Carney) – VJO had more stuff going on than you'll hear in the link for this one. It sounds like in this recording, Duke had a smaller band with only three woodwinds (instead of five in VJO and the typical band). But it still has a trombone solo – which Brad Shigeta did with great energy in VJO – and a clarinet solo, which James played from his leader's chair.
"Mount Harissa" (Ellington/Strayhorn), which I had never heard before; I'd only listened to "Isfahan" from the Far East Suite album! Thanks for getting me up-to-speed. Ardeshir featured on a long and powerful solo; he deserved every inch of his seat as VJO's youngest member.
"Purple Gazelle" (Ellington) – as soon as Cory and James introduced this tune and I heard the first few notes, I thought, "Doesn't this tune have another name? I was taught the tune at Cap, but not by this name." Boom! "Angelica". Can't believe I wasn't imagining things.
"In a Mellow Tone" (Ellington), my favourite tune from Ellington's repertoire, with this version by Count Basie holding down the special spot in my heart since I played it in my community big band as a teenager – my most memorable saxophone soli and shout chorus one-two punch! Brad Shigeta was a perfect soloist for the mood of this number.
A season of new big band projects
We had the Sister Jazz Orchestra in March, we have this one from April, and we'll have Dean Thiessen in May – and there's more where that came from.
The optimism of no-holds-barred event planning and making up for lost time is manifesting in large-ensemble get-togethers. And the idea of launching a group for free is a nice way to test the waters, especially since the project came with such legitimacy that it got sponsored.
---
I originally published this edition of the Rhythm Changes Update for subscribers-only and have since made it available for anyone on the web. Please enjoy browsing this website for more content.